Heya everyone! Mea in Bacolod is really excited to announce that Expo Mom Negros 2017 is happening tomorrow, June 24, at the District North Point from 10 AM – 9 PM. You might not have heard of Expo Mom before so here's all the information you need:
What is Expo Mom Negros?
Expo Mom is a big event which happens, I think, every year. The event started in 2008. It was well-received by mommy attendees, and so its first-ever success propelled it to the event it is today. It's basically an expo with a mommy theme.
What will you do at Expo Mom Negros?
Expo Mom will not only bring in the most modern mommy and baby products and services to the Visayas, it will also be a wellspring of parenting trends, mommy solutions, and inspiring advocacies.
I think it was last year when I dropped by the expo just to check things out. I was just in time for Dr. Jenny Uy-Kho's talk about preserving your child's cord. She is my Gyne. Make-up Doc, the lovable Doc Kath, was also there to give her talk about, if I am not mistaken, breastmilk.
That's the thing with Expo Mom. You don't just go there to check out what mompreneurs are selling. You can attend to get parenting tips, learn about new parenting trends and so much more.
What is this year's theme?
Last year, I can't remember what the theme was but this year it's all about #TeamMom.
We are stronger together. That's what moms have come to realize when faced with the multitude of issues and concerns that come with motherhood. When a mom has a group of mothers behind her, the business of taking care of the everyday just seems easier. She has an ear that would listen to her worries, a smile that would brighten up her mood, and a hand that would hurry along the accomplishment of important tasks.
Who are the Sponsors this year and featured exhibitors?
Caltrate Plus joins Expo Mom Negros #TeamMom as a major sponsor, together with Sun Life Financials and PLDT Home as co-presentors. Some of the featured exhibitors include:
Cycles and Cradles
Electrolux
Nestle Cerelac
Sanicare
Tempra
BabyZone
doTERRA Therapy
Halo Sleepsack
Vpharma
Footsie Toesie, a mompreneur business based in Negros, will also be joining Expo Mom Negros #TeamMom
#TeamMom CONTEST & Grand Giveaway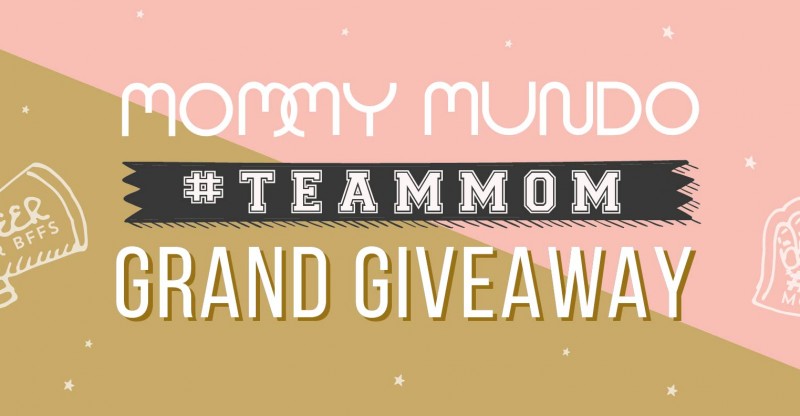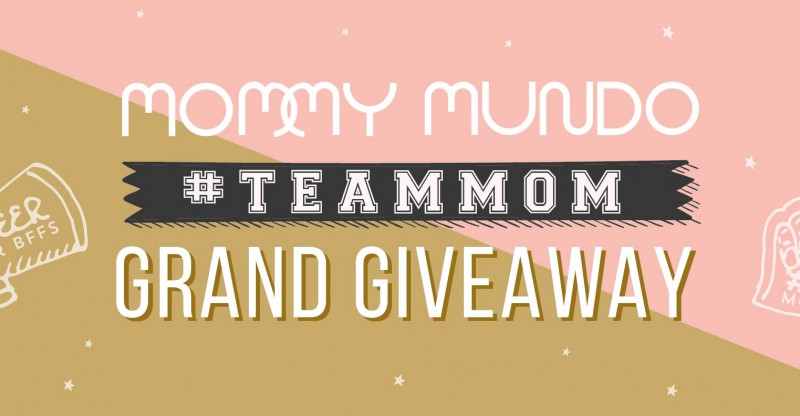 Motherhood brings different moms together. We share the same ups and downs, we empathize with other moms, and we have this sense of belonging and community. It's no wonder then that every mom has a #TeamMom behind her, borne out of the same interests, hobbies, advocacies, challenges, or goals. Every mom has a #TeamMom cheering her on.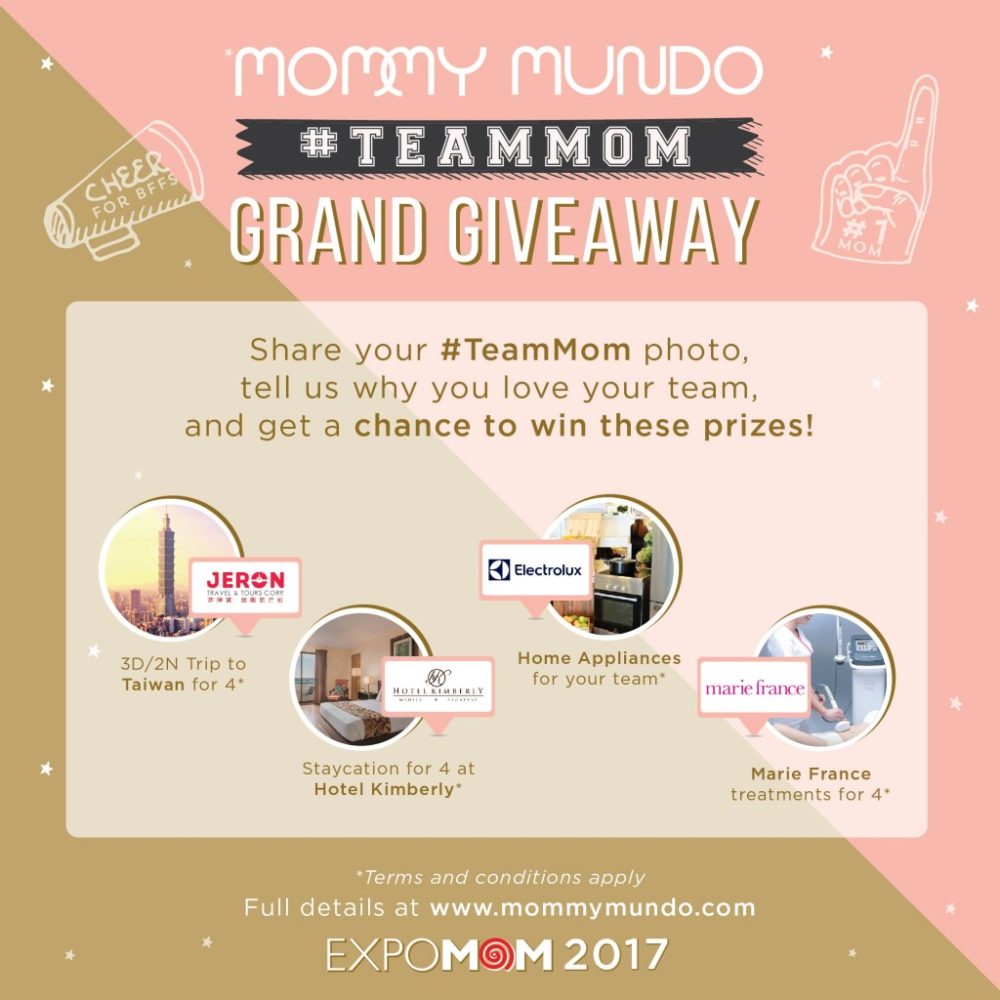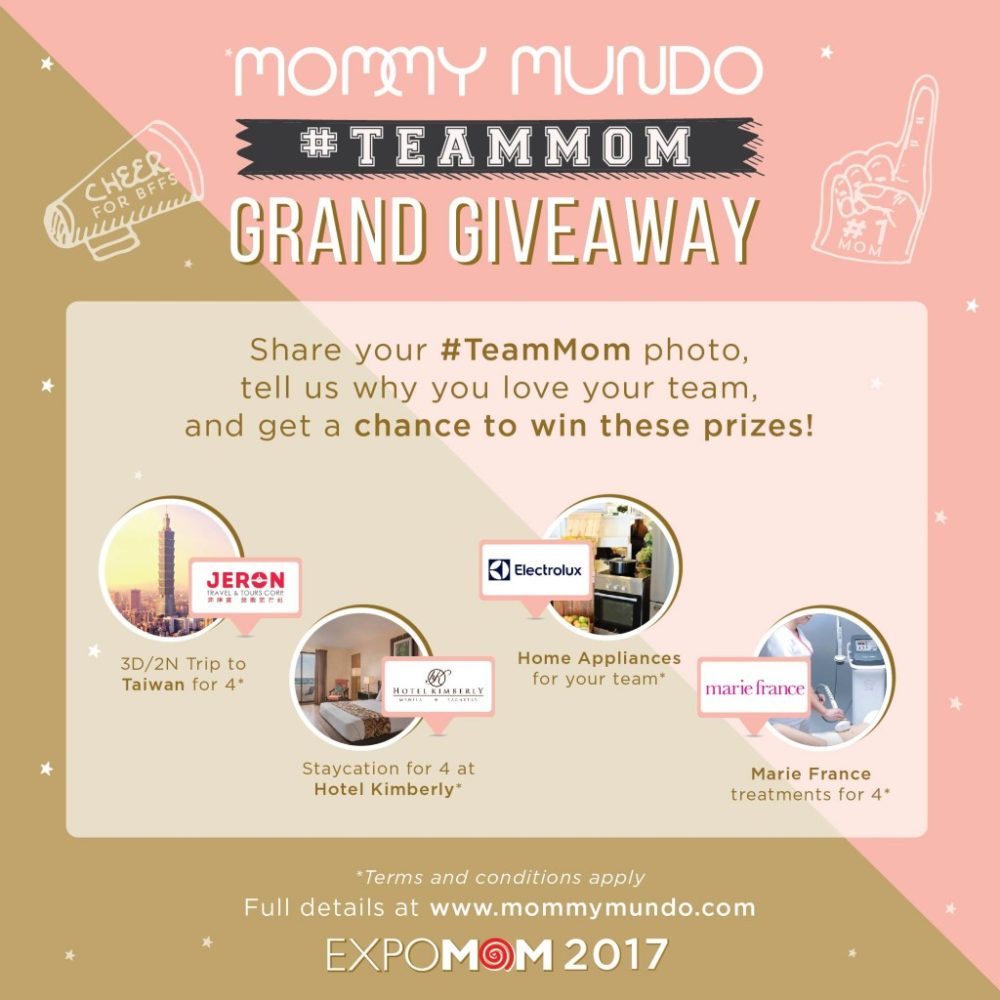 This year, Mommy Mundo wants to recognize and appreciate #TeamMoms all over the country with a grand giveaway, the biggest Mommy Mundo has ever had!
MECHANICS:
1. Like Mommy Mundo on Facebook and follow us on Instagram.
2. Post a photo of your #TeamMom on social media and write a short caption on why you love your team, or you can also drop by our Expo Mom events and have a photo taken with your #TeamMom there. (1 entry per post)
May 5 to 7: Expo Mom kickoff (Glorietta, Makati)
June 17: Expo Mom Cebu (Ayala Center Cebu)
June 24: Expo Mom Negros (North Point Mall)
July 2: Expo Mom South (Alabang Town Center)
July 15 to 16: Expo Mom North (TriNoma)
September 2: Expo Mom Davao (Abreeza Mall)
October 21: Expo Mom CDO (Centrio Mall)
November 10 to 12: Expo Mom Holiday (Glorietta, Makati)
3. Share it via Facebook and Instagram, and don't forget to tag @mommymundo and use the hashtags #MommyMundo #TeamMom #ExpoMom2017
4. Posts published between April 1 to November 12, 10 pm, will be deemed valid.
5. The draw dates for the Mommy Mundo #TeamMom Grand Giveaway are as follows:
July 31, 2017: Home appliances for your team from Electrolux: One (1) ZMO1530 MobiOne Vacuum Cleaner, One (1) ETG724GK Tabletop Gas Stove, One (1) ETD29PKB Portable Induction Cooker, One (1) EMM2003W Microwave Oven
August 30, 2017: Win a vacation for you and three of your friends at Hotel Kimberly in Tagaytay
October 9, 2017: Marie France treatments for 4 worth Twenty Thousand Pesos (P20,000) each
November 9, 2017: Win a 3D/2N trip for you and 3 of your #TeamMom friends to Taiwan courtesy of Jeron Travel
*The winners will also be invited to be special guests at Expo Mom Holiday 2017 and have their story featured on Mommy Mundo!
*Terms and conditions apply.
What are you waiting for? Be proud and be loud! Show your #TeamMom love to the world!
TERMS & CONDITIONS
1. Mommy Mundo #TeamMom Grand Giveaway will be valid from date of announcement until November 12, 2017.
2. Your #TeamMom must have at least two members, including the person who posted, who are moms, or are expecting.
3. Winners will be chosen based on the following: 70% content and 30% creativity.
4. All accounts must be set to public during the whole duration of the contest.
5. Multiple posts are allowed, for as long as each entry is a different photo or different #TeamMom.
6. All prizes are non-convertible to cash, not for sale, and non-transferrable.
7. This contest is open to Philippine residents. For the trips, however, winner must come from Manila.
8. The person who posted will be authorized to choose who gets the prizes and who goes to the trips.
9. Should the current winner not be available to take the trip or any of the prizes, Mommy Mundo has the right to choose the next winner.
10. The company reserves the right to document the trip and use the materials (photo / video) for its purposes.
11. The following terms and conditions for the trips will apply:
* For Hotel Kimberly, an overnight stay for up to 4 people are provided, including transportation to and from the destination.
* For the overseas package:
– Round trip airfare (exclusive of other taxes) based on V Class
– 3D/2N quad sharing accommodations, breakfast packages will be provided
– Visa costs, meals, and incidentals and passport requirements will be shouldered by winner/s
– Travel dates must be within 1 year from the awarding date
– Exclusive of use for holidays and peak seasons