Bacolod, a city renowned for nurturing talented athletes across various sports, has recently captured collective curiosity with a rapidly growing phenomenon: Brazilian Jiu-Jitsu (BJJ). Notably, Bacolod proudly boasts its first and only Black Belt in Western Visayas – Prof. Don Villacin. However, as of August 15, 2023, this distinction extended to include two homegrown Black Belts: Prof. Alton Yu of 6100 Jiu-Jitsu and Prof. Jojo Casilao of BC Martial. This monumental achievement resonates deeply within the local Jiu-Jitsu community, forging a new era of excellence in Bacolod.
Brazilian Jiu-Jitsu (BJJ)
For those who are not familiar with BJJ, it is a martial art and combat sport that focuses on ground fighting and grappling techniques. BJJ was developed from Japanese Jujutsu and Judo, and it has its roots in Brazil, where it was further developed and refined.
In Brazilian Jiu-Jitsu, practitioners learn how to control and submit opponents using techniques such as joint locks and chokeholds. The emphasis is on using leverage and technique to overcome larger and stronger opponents, making it a popular choice for self-defense and sports competition. Or a much simpler way of describing it is the gentle art of folding clothes while people are still in them.
Seminar and Promotions with Prof. Roberto Nacaya
August 15, 2023, marked a pivotal moment as Prof. Roberto Nacaya, a 3rd degree BJJ Black Belt and the founder of Tokai BJJ, held a seminar at the 6100 Martial Arts & Fitness Gym. Demonstrating techniques and engaging in sparring with students, Prof. Nacaya's visit culminated in a thrilling series of promotions.
Here is where Prof. Nacaya promoted the two new homegrown Black Belts. He also promoted Prof. Don Villacin to a 2nd-degree Black Belt, another first in Visayas, and another feather in the cap of the head instructor of 6100 Jiu Jitsu.
The journey to becoming a Black Belt in BJJ is not easy. It is a feat only a few have accomplished. It will take time, consistency, and lots of effort and hard work. How long will it take to be a Black belt, you may ask? A minimum of 10 years of consistent training. 
The stories of the 2 new homegrown Black Belts are not different. Theirs are stories filled with ups and downs, injuries, frustrations, struggles, stories of stumbles, and triumphs that everyone pursuing a dream can relate to. These challenges magnify the true essence of pursuing a dream. The price is steep, yet the fervor and yearning for that dream remain paramount.
Fresh Chapter for BJJ in Bacolod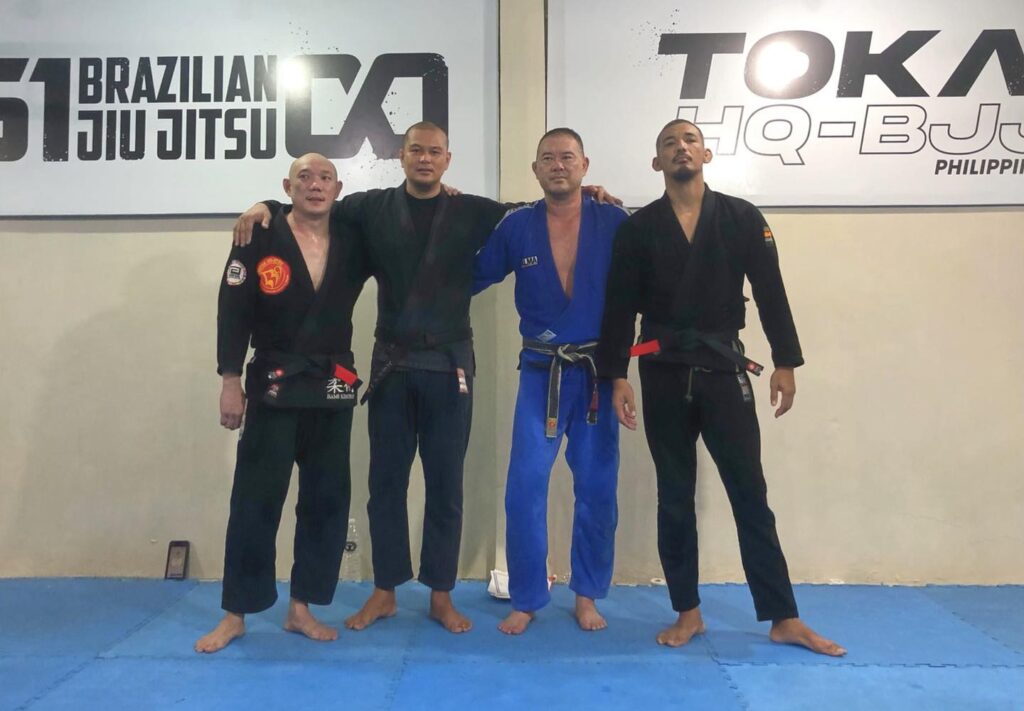 As a local practitioner, witnessing the emergence of these homegrown Black Belts is an honor. Bacolod's martial arts history gains a fresh chapter as history is made within our very city. This achievement instills a sense of pride, affirming Bacolod's place on the map of martial arts excellence.
The remarkable promotion of Prof. Alton Yu and Prof. Jojo Casilao to the rank of BJJ Black Belt, alongside the distinguished Prof. Don Villacin's promotion, signifies a triumph of tenacity, dedication, and passion.
Bacolod's BJJ community represents the power of relentless pursuit, serving as an inspiration to aspiring practitioners.
With history unfolding within its borders, Bacolod's martial arts legacy continues to flourish and inspire generations to come. If you are interested in starting your BJJ journey, you can train with Prof. Alton Yu & Prof. Don Villacin at 6100 Jiu-jitsu. And at BC Martial with Prof. Jojo Casilao.