The Nobu Hotel Manila at the City of Dreams is known for its excellent service, Japanese-inspired aesthetic, and it's attention to detail. It first opened its doors in December 2014 with the aim of becoming a premier leisure and entertainment destination in the Philippines. It's also where the Nobu, the worlds most recognized Japanese restaurant, is located. Is it worth staying in?
Hotel Review: Nobu Hotel Manila
About the Nobu Hotel Manila
Based on its website, the Nobu Hotel is the first-of-its-kind in Asia. It's a boutique hotel that was formed in collaboration between Melco Resort Philippines, Chef Nobu Matsuhisa and Nobu Hospitality partners including Robert DeNiro and film producer Meir Teper.
• Address: Asean Avenue corner Roxas Boulevard Entertainment City, Paranaque, Luzon 1701 Philippines
• Phone number: (+632) 800 8080
• Email for general questions: guestservices@cod-manila.com
TripAdvisor Stats & Recognition
As I am writing this in 2018, the Nobu Hotel Manila on TripAdvisor has garnered 900+ reviews with an excellence rating of 4.5. It has received the Certificate of Excellence from the travel site. It's also the Travelers' Choice 2018 Winner, the highest recognition which is presented every year to the top 1% of businesses across categories.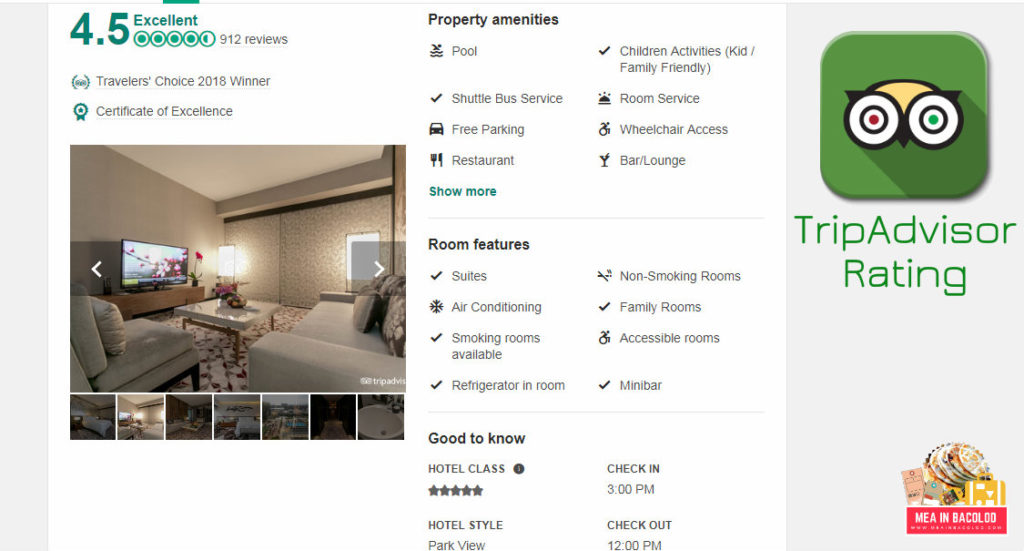 What's Makes Nobu Hotel Manila So Special?
I've stayed there thrice already. Let me break down my experiences so you guys can decide if it's a hotel that you would want to stay in. From checking in, staying in the rooms, having breakfast at the Nobu Restaurant, to checking out, here are my thoughts:
Upon Arrival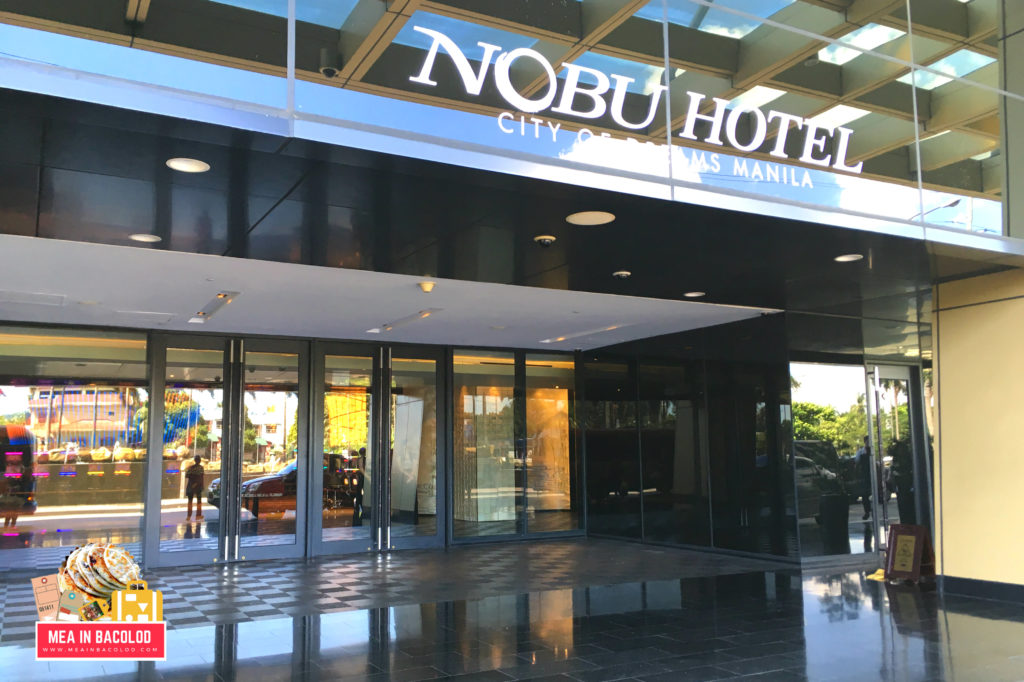 As soon as you arrive, there will be bellhops waiting to assist you with your bags. You'll have to pass through security to get to the lobby. I appreciate that each entry of the hotel has security personnel who checks your bags or pieces of luggage. You and your carry-on bags have to go through a scanner before you can enter.
Checking in
There are usually a lot of people checking in at any given time. There are more than two counters, but you would have to expect a bit of waiting time before you are fully checked in. You'd have to line up to get to the registration counter. The personnel will then check to see if your room is ready. Don't worry, there's plenty of seating for you to relax on as you wait for your room. In my experience, the check-in process is smooth and the staff manning the desks are always smiling and assistive.
Rooms
All of my stays have been in the Nobu Deluxe rooms which are 36 sqm. On my first and second time, there were two Queen beds which could comfortably fit 2 people each. The room itself can cater to 3 adults or 2 adults and 2 children based on the website.
What I like:
• The turndown service & cleaning was done daily.
• The complimentary bottles of water were replenished daily.
• Inside the cabinet under the TV, you will find complimentary coffee and Ikaati Premium Tea. There's also complimentary fruit. These aren't replenished though.
Bathroom
The bathroom has enough towels (both big ones and small ones) for three people. At the back of the door, you will also see two robes, one black, and one white (matching the two black and white slippers you will see inside the closet). Please take note that the Deluxe Rooms do not have a tub, at least in my experience.
What I like:
• You'll have a Natura Bisse vanity kit and a toothbrush with a small tube of toothpaste. These are approximately good for one use. You'll also find a set of Natura Bisse shampoo, conditioner, body wash, round soap which is good for about two to three days depending on how often you take a shower.
Wifi Speed
I am so happy about the room WIFI. You don't need to pay extra for the WIFI because it comes with the room. You don't have to log in too becuase the connection doesn't have a password. You'll have no problems accessing social media like Facebook, Twitter, or Instagram so it is posting galore when you're in your room, or any area of the hotel, for that matter.
What I like:
• I also love movies, especially right before I go to bed. When I go to my streaming sites, I have no problems watching a movie. Pausing and waiting for the movie to load for 5 to 10mins is not necessary.
The View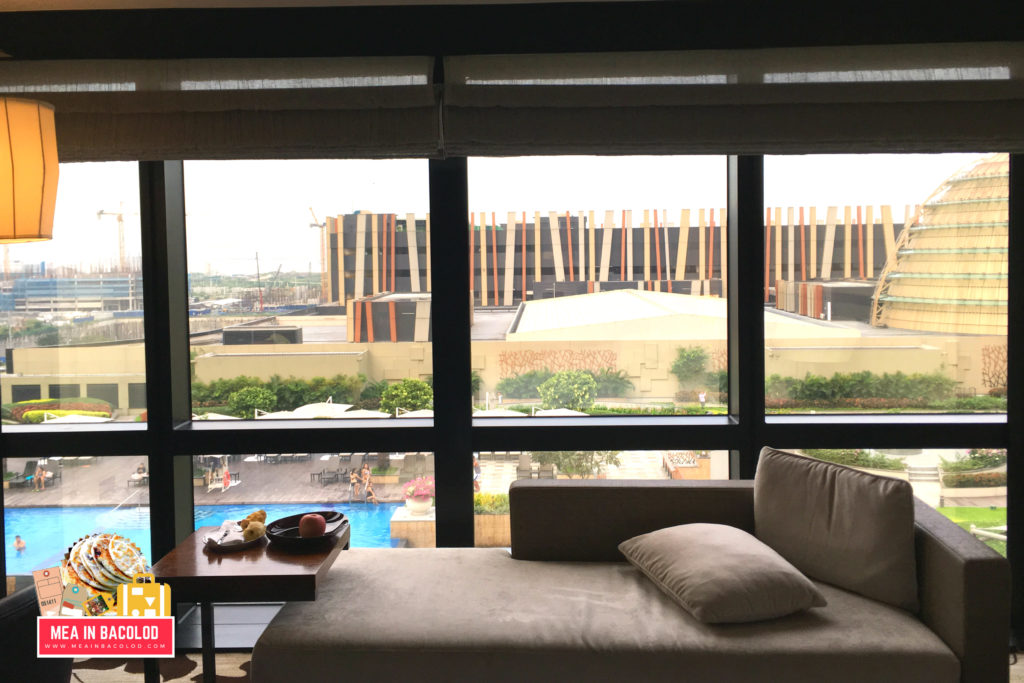 Each of my stays had the most beautiful view of the City of Dreams Promenade, as well as the pool area. During the daytime, the greens of the plants and the blue of the pool complement the gold, orange, and beige colors of the infrastructures.
However, the real treat is when the sun sets. On my latest stay, I was treated to a wonderful view of the dome and the strategically-lit promenade. It's a wonderful site to take in. You might even be tempted to leave your blinds up as you go to bed.
Breakfast at the Nobu Restaurant
It's important to take note that there are rates that come with breakfast and there are ones that don't. All of my stays had breakfast so I had the chance to eat at the famed Nobu Restaurant, located at Level 1 of the hotel.
My first two breakfast experiences were wonderful. There were so many choices! And, yes, it is an eat-all-you-can breakfast buffet at the Nobu Restaurant. You have your salads, cereals, yogurt, fruit, bacon and etc. The third time, there weren't as many choices as the first two. Please understand that the third time still had a good selection of food, but fewer than the first two.
City of Dreams Promenade
View this post on Instagram

If have the chance to eat at the Nobu Restaurant, make sure that you visit the City of Dreams Promenade. It's a great place for photos. The plants look manicured. Find the spot you see on my Instagram post (@meainbacolod) to get a great shot of the gold building that looks like they meet in a point.
Checking out
Checking out is smoother than checking in because all you really have to do is pack, then go downstairs. Take your access key with you. You'll have to surrender this at the front desk. Easy-peasy.
Overall Experience at the Nobu Hotel Manila
I love staying at the Nobu Hotel Manila because the rooms are spacious, clean, and very comfortable. You can expect to have a good night's rest everytime you stay here. But, what really brought it home for me was the service. The staff is very approachable and friendly. They were always offering to help with anything. Plus, guests are always greeted with a smile. For me, an already great experience can be made even more wonderful when the people that work for the hotel are always willing to go above and beyond the call of duty. I'd say that it is worth it to stay at the Nobu Hotel Manila, City of Dreams.
Disclosure: Two of my stays were sponsored by Nobu Hotel Manila. All of the statements are my own and have not been influenced in any way.