Next ReKindle Run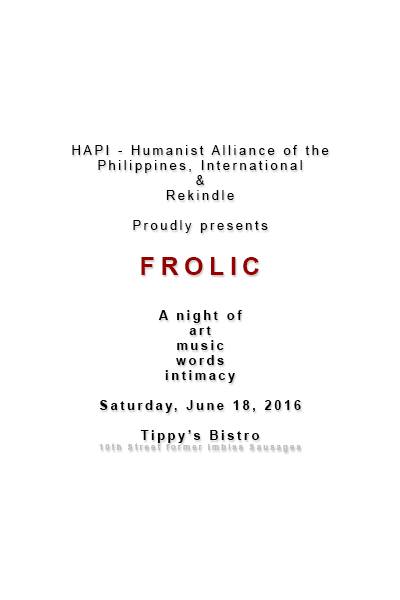 Check the PAGE for event details
ReKindle has been happening since late last year, I think. The team has already done 3 runs, but I feel like people still think that ReKindle is only for the artsy-fartsy crowd who wear all black, paired with dark rimmed glasses (pardon the stereotype).Nope. It's not just for hipsters either who listen to underground bands and Frank Sinatara. ReKindle is for everyone! So, here's a bit of light shed on basic questions you may have about ReKindle, answered by team head (although he doesn't like labels), Jrik Villa:
What is ReKindle and what does it aim to do?
Rekindle is an art event that emphasizes more on what goes behind every art and their superficial values. The event revolves around artists or presenters showcasing their work/s and share the inspiration and techniques that molded their work or what they did. The idea is to bring everyone open and cultivate collaborations.
Why was it started and how did it start?
The plan prior to what's happening now is to put HAPI Bacolod on radar while the group is idled from the normal activities like outreach programs and various movement based on the group's advocacies. Also, the event is supposed to be a venue for HAPI Bacolod members to meet & greet and also meet other organizations for possible tie ups for future projects. The initial pplan was to just cater mostly to spoken art like poetry and spoken words and just grew from there.
Who started it?
The event is headed by HAPI Bacolod and the Rekindle team with collaborations from different organization, groups and establishments as well.
Who's part of the ReKindle team?
The team is composed of a Bacolod collective ranging from visual artists, to musicians, to bloggers, etc. Although the team is under HAPI Bacolod's umbrella, Team Rekindle is composed of HAPI members and volunteers outside of it.
What can you tell me about HAPI?
HAPI or Human Alliance of the Philippines, International is a secular group with its ideals revolving around humanism in general. We focus more on cultivating human interaction and relationship outside of any religious beliefs and congregations to prove that morality and kindness doesn't only exist in a religious setting. But with that said, we still work hand-in-hand with some religious groups if it calls for it and if everyone benefits from it. Bacolod branch in general had been a big advocate of the LGBT, environmental and artistry cause. We have members residing around the globe and HAPI exists in the Philippines with various chapters nationally.
What kind of ART does ReKindle focus on?
Any artwork that the team can get their hands on. Visual arts, digital arts, original song compositions in various genres, poetry, spoken words, standup comedy, even tattoo, and we're trying to get a hold of more as we go along.
How does the event help artists?
We wanted a venue where everyone is at a state where they become a sponge to each and everyone. We want everyone to see other art in a perspective where inhibitions and stereotyping is virtually non-existent. Everthing revolves around exposure and collaborations to broaden every artists market. The good thing about having seasoned artists with the new guys is that the seasoned guys see how these new guys are hungry hopefuls trying to find their place in the market, just like how they used to be. For the new guys to see seasoned artists give them this whole idea of where they're heading too. Everyone is at a level where it helps them stay grounded or atleast that's what we want them to see.
If I wanted to join ReKindle as a presenter, how do I do that?
You can visit our Facebook page /rekindle6100. The page is monitored almost 24 hours or you can graze the event and just volunteer. Most of the artists supporting us now started as a volunteer on the event proper and now have been a regular goer.
Read About the ReKindle Runs
The Team