Are you a local? I have a question for you: think of a Bacolod backpacker inn that you can recommend to your foreign friends, or friends and family who are out of town. Couldn't think of anything? That's precisely the point. I grew up in Bacolod, but I have yet to see an inn, hostel or bed and breakfast that pars up with the ones I see in other Asian countries (on the internet because I have yet t travel). Well, not until The Hostelry opened.
The Hostelry
A chic but affordable and fun place to stay. At this hostel, you'll get more than an
affordable bed, you'll get an authentic Bacolod travel experience. (Taken from their Facebook Page)
This is, most probably, the first Bacolod backpacker inn that looks and feels expensive, but will not break your wallet with their daily rates. They're located at La Salle Ave., Roli's Arcade. If you ride a jeepney going to La Salle University, you cannot miss it.
Upon entering, you'll find yourself at the lobby where you'll find the front desk. You'll see 4 clocks behind the front desk with different time zones. There's seating available, and the staff manning the desk, in my experience, always welcomed questions and extended her assistance with anything.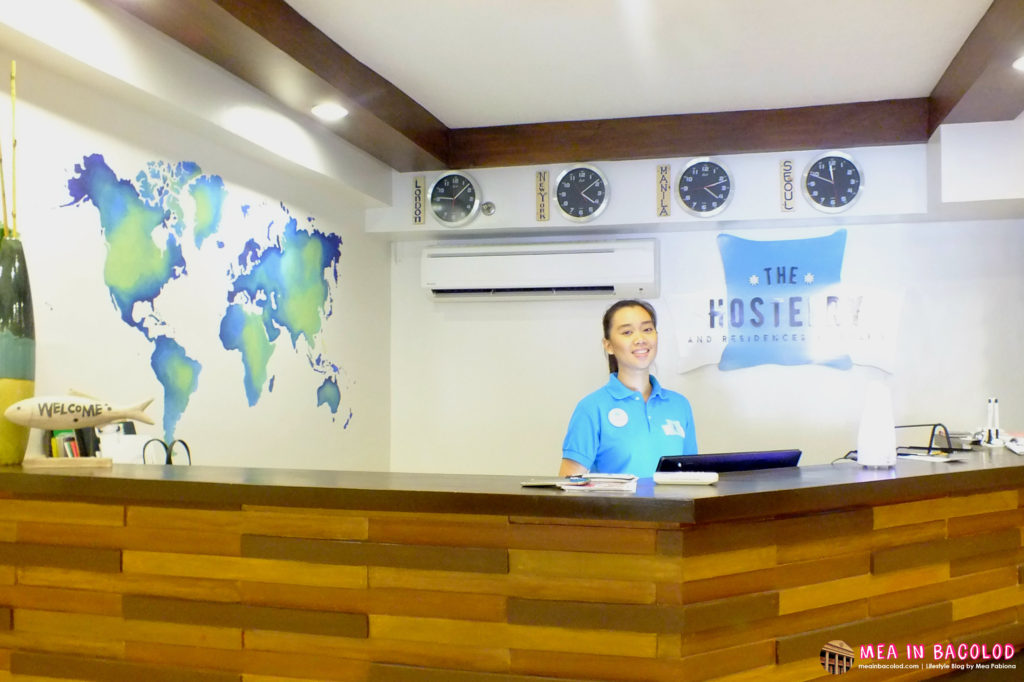 Rooms & Rates
This Bacolod backpacker inn currently has 4 types of rooms:
Matrimonial Room – P999/Night
1 Matrimonial Bed
Please double check if the available Matrimonial room has a private restroom. When I came over, the room we saw had a private bathroom.
This room is spacious! It also has enough closet-space for your things.
Extra bed: P200/Night
Twin Room – P999/Night
2 Twin Beds
This is very similar with the matrimonial room except that it has 2 beds. You may also double check if there's a private restroom in an available Twin Room, but I was shown one that had a private bathroom.
There's also enough room for your clothes and bags.
Extra bed: P200/Night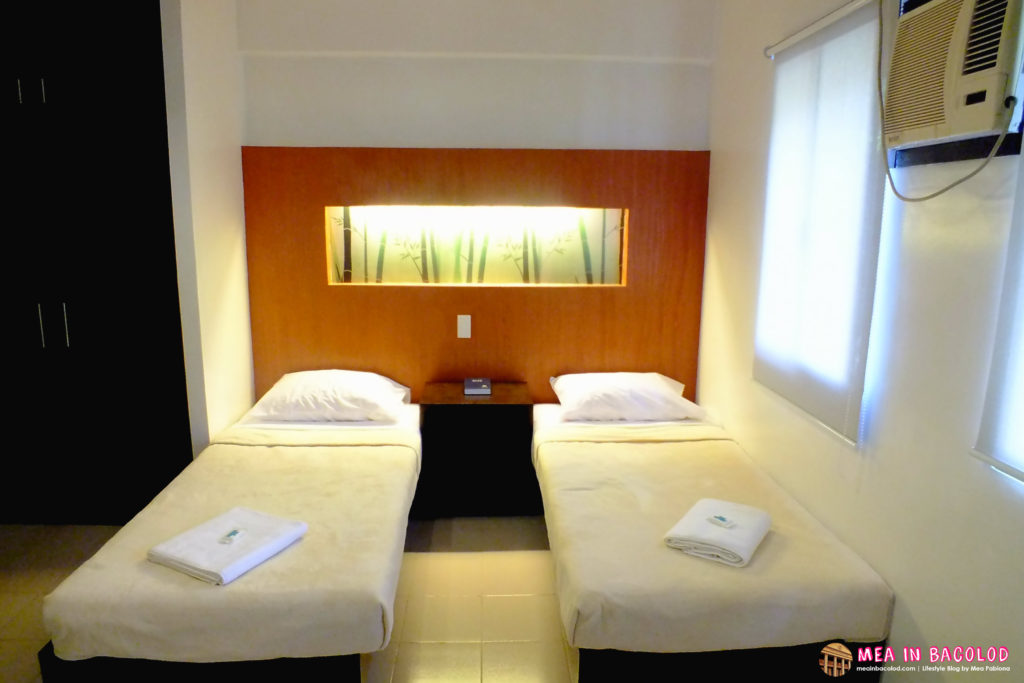 Bunk Beds – P350/Night per Bed
In every bunk room, there are 4 bunk beds. You'll be sharing the room with 3 other people, in short.
With own bathroom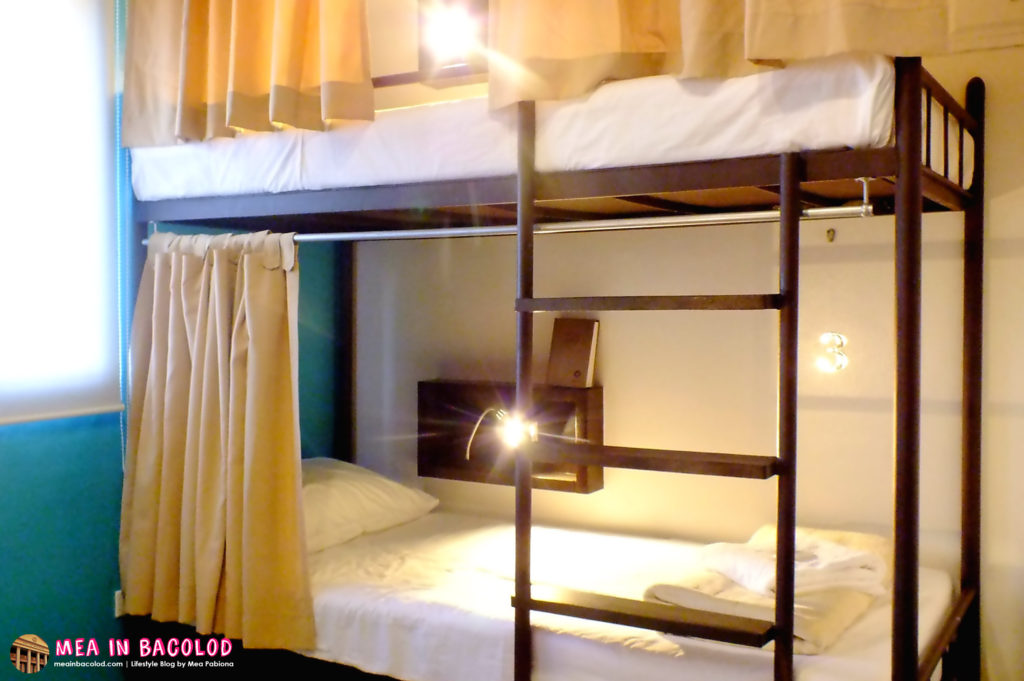 You'll have a curtain for privacy. Your own light, your own shelf space beside your bed, as well as your own socket.
Single Shared Room – P399/Night per Bed
There are 5 single beds in every single shared room.
With own bathroom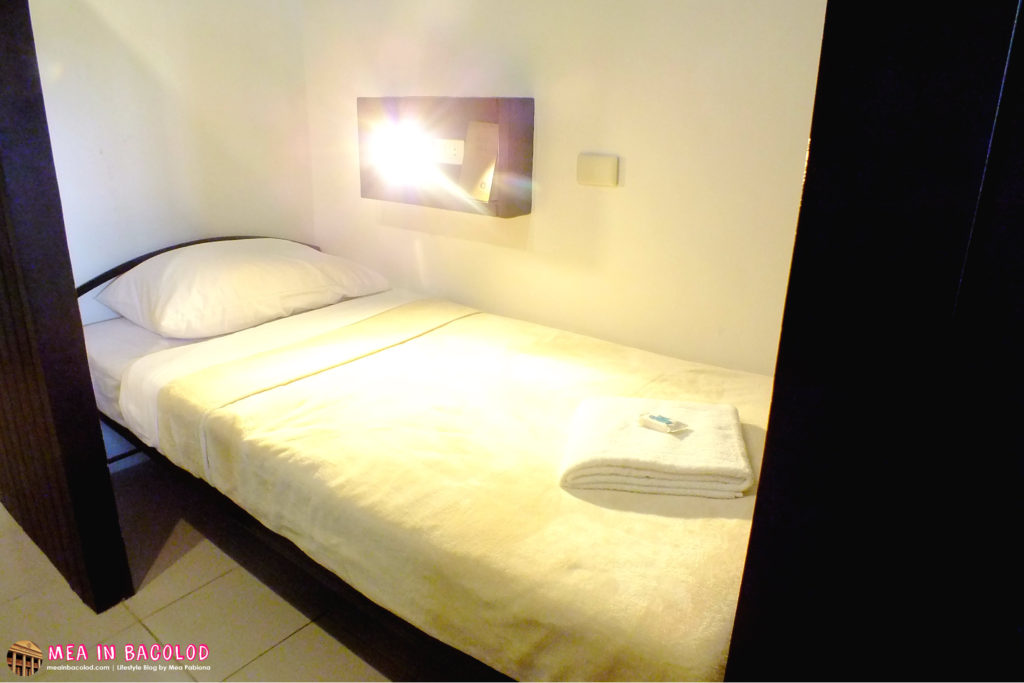 You'll also have your own light, socket and bedside shelf.
It may look like the space is cramped from the picture, but you'll actually have enough space to move around. See next picture.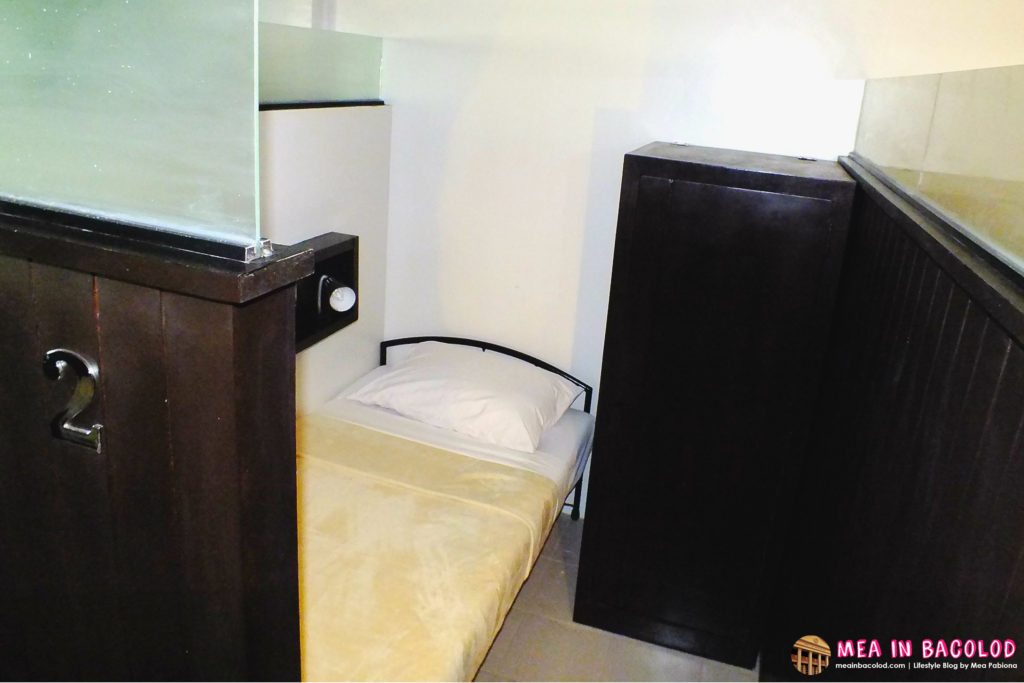 Each space also has its own locker for you to keep your things in.
Communal Areas
You'll be glad to know that this Bacolod backpacker inn has designated areas where guests can relax and mingle outside their rooms.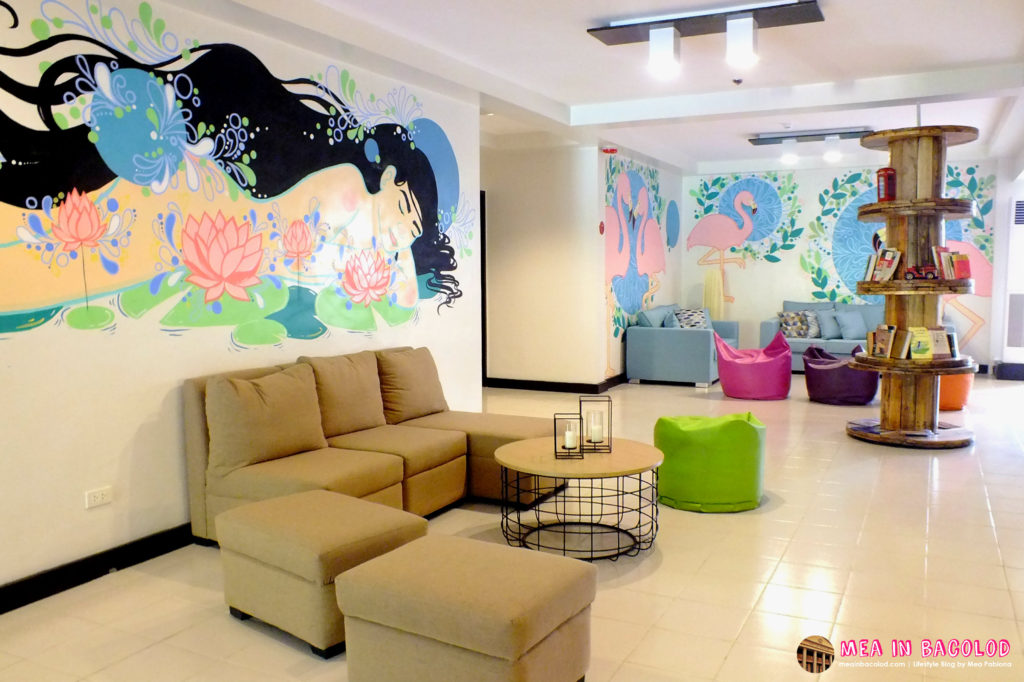 Guests can lounge here, read books, chit chat with each other or receive guests. They also have a media room available for guests to use.
There are communal rest rooms as well. There's no kitchen yet, but the hostel is working on it. There's a Roli's Restaurant downstairs where guests can eat at, but there's plenty of other places to chow down in within the area.
Why stay at The Hostelry?
All rooms have ACs.
The place is clean (and so are the restrooms).
Bacolod guests will have easy access to food (of different price ranges), with a restaurant downstairs and plenty of places to eat within walking distance.
There's plenty of convenience stores within walking distance.
Transportation is very accessible. Just go outside and wait for a jeep or taxi.
Two major fast food places are located within walking distance.
The prices are great for backpacking travelers.
There's plenty of spots at this Bacolod backpacker inn that's Instagram worthy:
Instead of going to a hotel (that can be expensive), try The Hostelry for almost the same kind of comfort at a lesser price.
Bacolod Backpacker Inn The Hostelry – Make it Your Choice
Telephone #:

(034) 432-2663

Cell #:

(+63) 928-987-6003 or 995-153-2064

Email:

thehostelrybcd@gmail.com
CONTEST ALERT: Stay at The Hostelry for FREE