Chifa Comida Latino is probably the only Peruvian restaurant in the City of Smiles (I could be wrong, though). So, since Peruvian dishes are served in the fairly new restaurant, you're probably wondering why my title involves "Chinese". Well, as explained by the owners Luis Kilayko and Paolo Consing, Chifa is actually a term used in Peru which refers to Chinese cooking.
FACT: In the late 19th and early 20th century, a lot of immigrants from the southern province of Guangdong and Guangzhou came to Peru, bringing oriental influences that birthed Chinese-Peruvian dishes.
Location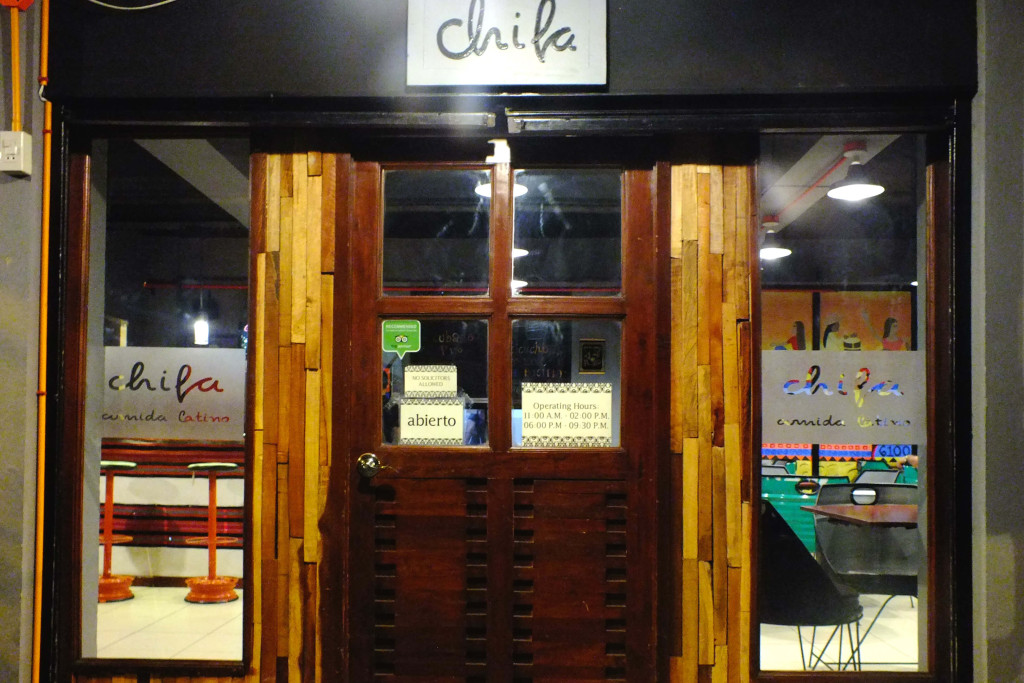 Chifa is located at the 17th Lacson Street. I am not very good with street names nor am I good with directions but as long as you stick to 17th street, you cannot miss it.
Inside Chifa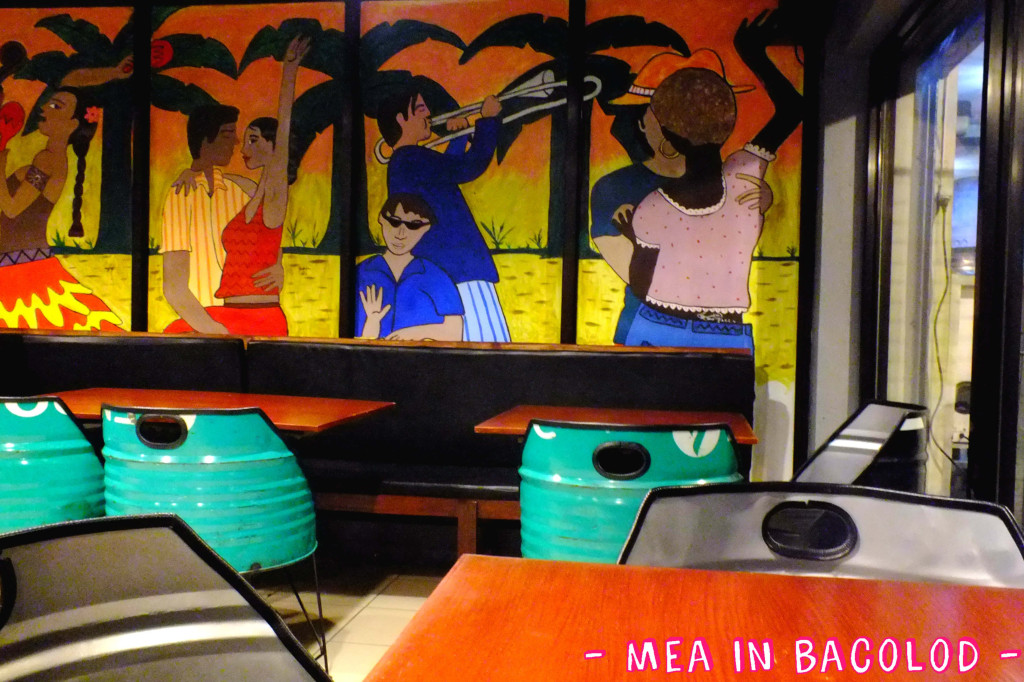 I love how everything is so colorful in the inside. The chairs I love to bits because they are steel drum containers fashioned into seats. The paintings on the wall also go with the entire Latino theme of the restaurant. The atmosphere was very comfortable and casual, making it a great place for that much needed weekend dinner with friends or family.
Chifa Dishes
Starters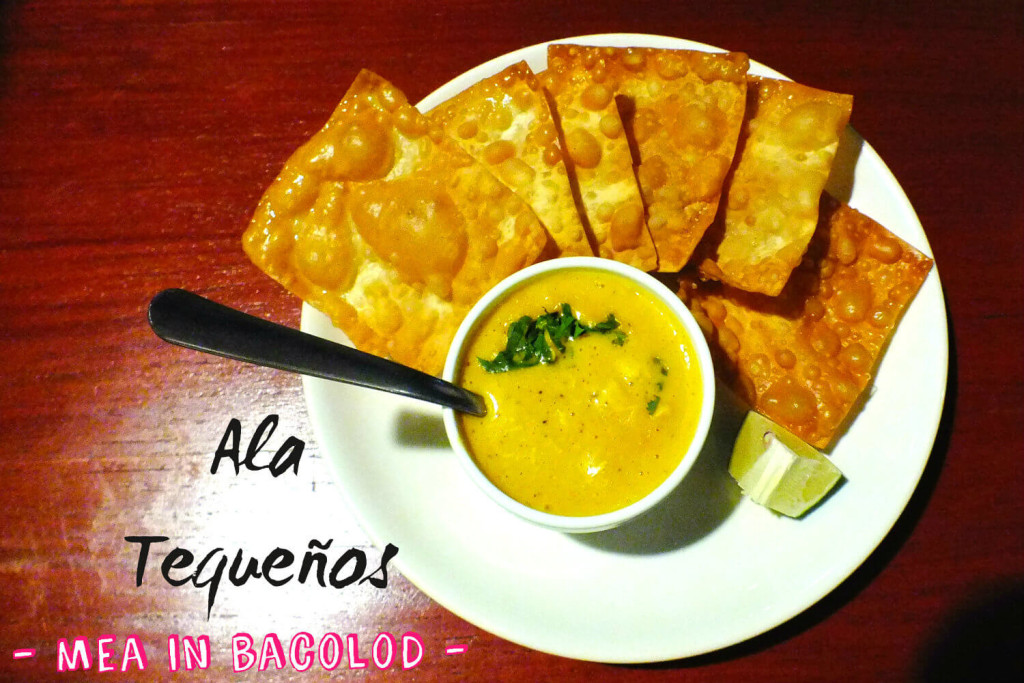 Gutom na kami when I and my company arrived so we first ordered something to kick start our dinner. This is Chifa's Ala Tequeños which is crispy wanton with spicy creamy chicken dip.
Thoughts: Highly Recommended
I am not an expert dissector of food tastes, but to me this tasted cheesy but not the usual american kind of cheesy. Maybe it was the cream. I loved that it had chicken bits and that the spiciness was not over the top. You could really taste the flavor despite the spiciness which I think is also a characteristic of Chifa's other spicy dishes.
Rice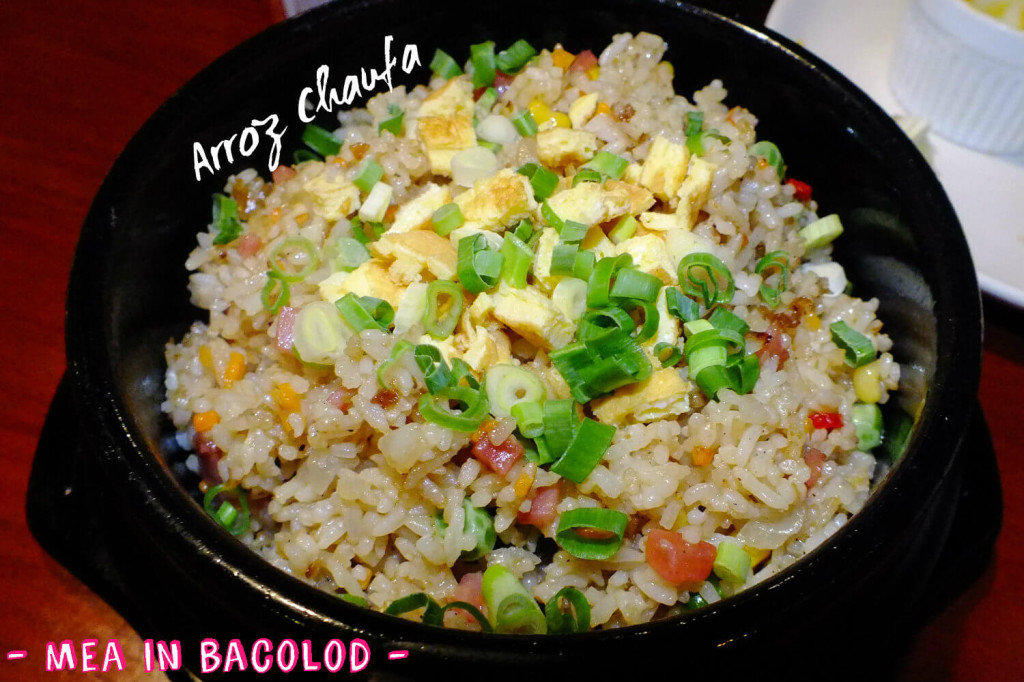 This dish is called the Arroz Chaufa – Chifa's best seller when it came to rice. The whole bowl is good for 2-3 persons but if you were hungry, you might need two of these in one sitting.
Thoughts: Highly Recommended
This rice dish has bits of Chorizo in it. It looks like your usual fried rice but it has a Peruvian twist which makes it taste a tad different.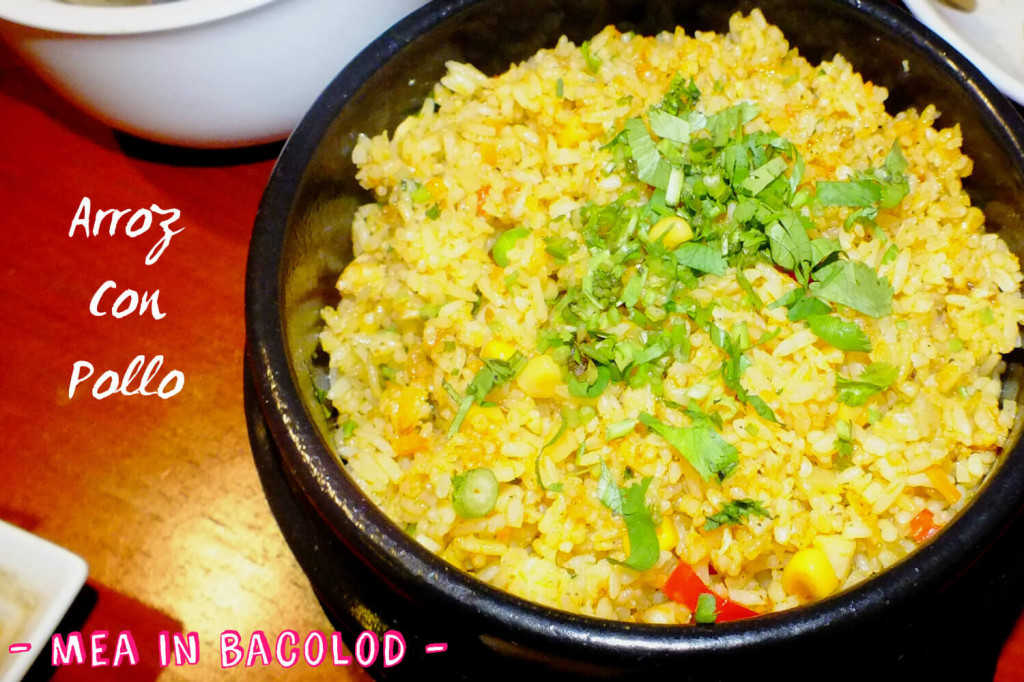 Diba hambal ko gutom kami? So we had a second serving of rice and since I wanted to try them all, we went for Arroz Con Pollo which was spicy. It had chicken bits in it!
Thoughts
This rice dish has a different taste and different texture than the Arroz Chaufa. If you want your palette to experience something new, you can go for this one instead of Arroz Chaufa. Did I mention that this one is a little spicy?
Viands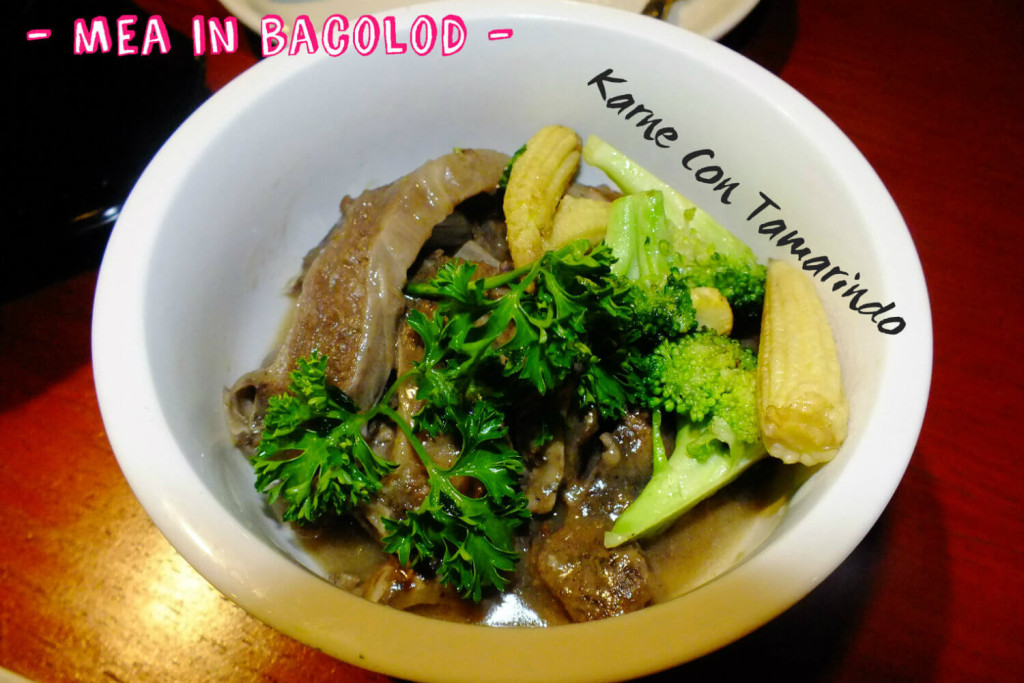 This is Chifa's Karne Con Tamarindo which is soft, short ribs, cured in tamarind sauce. I think this is also one of the restaurant's best sellers.
Thoughts
When we Bacolodnons see "ribs" on the menu, we instantly think of a rack of juicy ribs sitting on top of a grill, bbq-ed to perfection. Nope. The Karne Con Tamarindo is not this kind of ribs as you can see in the picture. Because it has been cured in tamarind sauce, you can taste the sourness but it's not overpowering at all. The beef was tender (very tender) and the dish had a hint of sweetness to it.

Chifa's Pollo Con Colla was probably my favorite. I love coke, I love chicken and the fact that the chicken in this dish was braised with Coco-cola gives me joy.
Thoughts: Highly Recommended
I have to admit that my taste buds are not very sophisticated and, like any other Bacolodnon, I usually search for the "sweet" in the viands I eat. Bacolodnons will definitely love this dish. Too bad I had to share it.
Dessert
The waiter brought out this ball of heaven for me and my companions to share. Torta de Chocolate is basically a chocolate cake rolled into a ball.
Thoughts: Highly Recommended
If you're an avid reader of my blog, you'll know that I make faces whenever I taste something I like. I made a face with the first bite of this Torta goodness. The cake is not too sweet, moist on the inside and oozing with fudge on the outside (*makes face while typing*).
Menu Tips and Service Comments
Chifa Comida Latino's menu is in Spanish and English. The dishes are in Spanish but, not to worry, they have English translations of what they are. It's also fun reading the menu because you'll see fun facts about Peru and it's cuisine on there.
Also, 3 icons can be found right next to dish names: a chef hat (chef's recommendation), a chili pepper (indicates that a dish is spicy) and a leaf (meaning that it is vegetarian). Watch out for these icons when ordering.
If you're not a fan of hot food, you can always request for the spiciness to be toned down. You can also just ask for more water from manong waiter who is prompt at refilling half empty glasses of water on the table. Let me just say this though: there's Korean spicy which is level hell and then there's Chifa spicy which is a kind of spicy that doesn't sacrifice the flavor of the dish.
Nice to Know Tit Bits about Chifa Comida Latino
It was nice to see both Luis and Paolo present when I visited. I got the chance to ask them a few questions about their restaurant:
Why Peruvian?
Luis explained that it's something new to bring to the people of Bacolod. Also, Paolo (in charge of the kitchen) has had cooking experience with these types of dishes so it made sense to go with Peruvian or Chifa.
Can you tell me anything about Peruvian dishes and Chifa dishes?
Paolo told me that Peruvians always have this pattern to their meals: 2 carbs + 1 sud-an (viand). There's also quite a bit of lime and cilantro involved when making Peruvian food.
The two owners said that they went for Chifa because they wanted the food as well as the ingredients to be versatile. They fashioned the menu to have every type of protein. They explained that dishes are cooked fresh and that there's no freezing or marinating involved because they follow a first in-first out rule.
Ready for Some Chifa?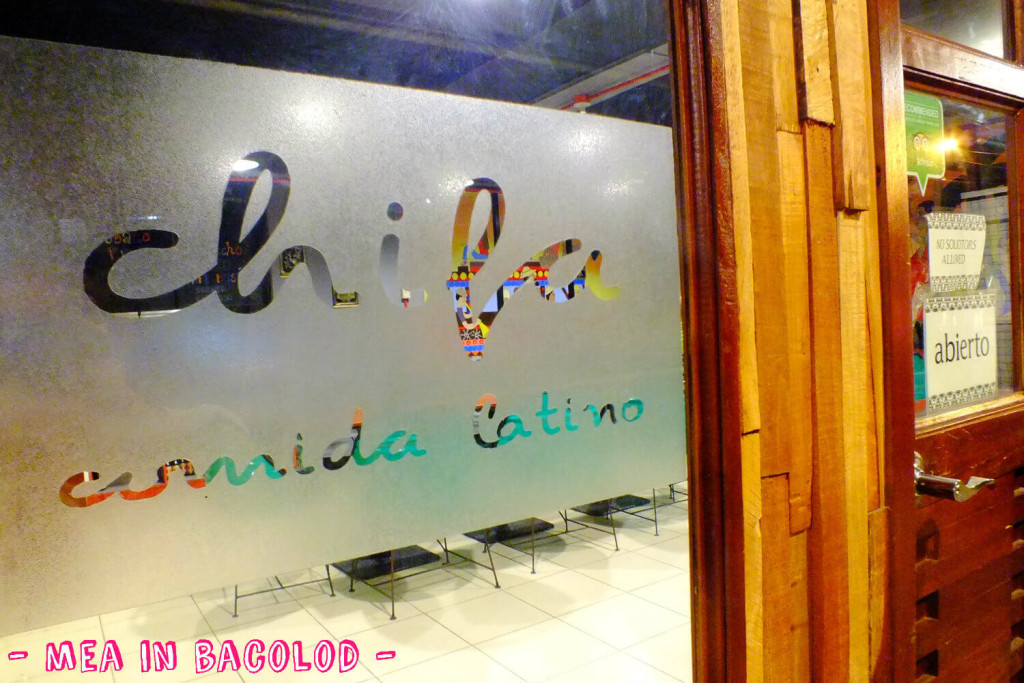 Contact number: (034) 431 4607
---
 Opening hours:
MONDAY
11:00 am – 2:00 pm
6:00 pm – 10:00 pm
WEDNESDAY – SUNDAY
11:00 am – 2:00 pm
6:00 pm – 10:00 pm
---
If you want to take a sneak peak at Chifa's menu and prices, check out Mea in Bacolod on Facebook. Don't forget to LIKE Chifa's page on Facebook as well.