Last year, EigasaiPH graced the City of Smiles with a treat for those who are fans of Japanese films. They brought several FREE MOVIES for the public to watch. This year, they are coming back to do it all over again. EigasaiPH is making its way to Bacolod this August 2018. For the EigasaiPH Bacolod Schedule, read below.
EigasaiPH Bacolod Schedule And Everything Else You Need To Know
In case you didn't know, EigasaiPH is a Japanese Film Festival organized by the Japan Foundation, Manila for enthusiasts of Japanese cinema, arts and culture. The organizers go from one Philippine city to another to show popular films from Japan. The best part about this is that they show the films for FREE at SM City Bacolod.
August 2018 Movie Schedule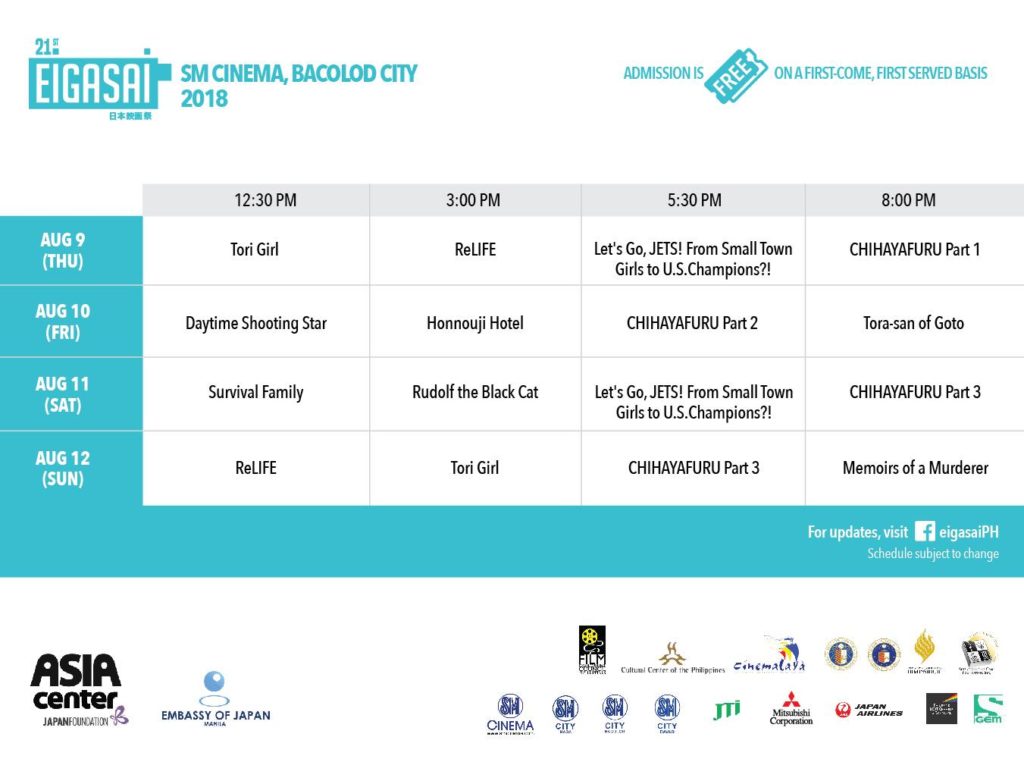 The best way to remember the EigasaiPH Bacolod Schedule is to bookmark this post or you can LIKE EigasaiPH on Facebook to get alerts and updates about the upcoming festival. I grabbed the photo from their Facebook post (with permission) and it did say that the schedules might change without prior notice.
How To Watch EigasaiPH Movies For Free
It's actually very straight-forward. For you to watch EigasaiPH's FREE FILMS at SM City Bacolod, just show up at the cinema on the dates and times posted on the EigasaiPH Bacolod Schedule. If you'd like to watch Tori Girl, for example, just show up at the cinema on August 9, Thursday, 12:30PM.
Frequently Asked Questions Watching EigasaiPh Films
Do you need a movie ticket?
Last year, movie-goers would go straight to the theatre, but I'm not 100% sure this year. I will ask, and then update this post so everyone can be informed.
First Come, First Serve
Just like last year, you cannot reserve seats. The arrangement is first-come-first-serve. If you are dying to see ReLIFE, you have to arrive early so that you still have seating.
See You At EigasaiPH Bacolod
Based on the schedule, a total of 12 films will be shown. The festival only does this once a year so we really have to grab this chance to appreciate Japanese films together with people who have the same interest. See you at SM City Bacolod this August 2018 for EigasaiPH.