It's not everyday that you buy a house, sell a house, get a property appraised or seek counsel on real estate matters. When the time comes that you need to, however, you need a Bacolod Real Estate company that can take care of everything. The problem is, with all the real estate companies that are in the city, how do you choose one that will address your needs and give you the best service possible? Here's how:
Look for the Basics
The basics would have to include:
Company Licenses – they definitely have to be legit.
Realtors' Licenses – the people that represent the company have to be legit as well.
You can search for more credentials such as awards, accomplishments and reviews. Most of these you will find on the company's website. If not, you might have to do a little digging on the internet: use Google and type in the name of the Bacolod Real Estate Company.  You should get a lot of information about the company this way.
It's important to do your basic research so you know that you will be contacting the right people.  Aside from their licenses, it might do you good if you know if the company the realtor is under offers other services such as bridge financing.
Talk to the Realtor(s)
The realtors basically represent the company. If they don't put their best foot forward, potential clients might turn into harsh critics, especially with today's trend of ranting on social media.
Talk to the realtors from the company and see what they're like. Test their knowledge by asking questions – ask about estate loans or another real estate issue that's been bugging you.
Did they answer your question thoroughly? Did they explain their answers in a way that's easy for you to understand? Did they set realistic expectations at what they can do for you? Did they do everything in a professional manner? If your answer is yes to all of these, then it's highly likely that you are in good hands.
Check Past Transactions and Clients
So what do past transactions and clients have to do with choosing a Bacolod Real Estate company?
One, if a real estate company has sold a good number of houses over the past year, it indicates that they may be applying the right marketing strategies to get a house sold. It, therefore, means they understand the local market and how it is behaving.
Two, past clients are great feedback givers. If they had a good experience with the real estate company, I'm sure that they'll be glad to tell you so. The same goes when former clients have a bad experience. But, how do you hunt down former clients? You ask Google or you refer to the company's website.
Looking for a Bacolod Real Estate Company?
If you're looking for a reliable, knowledgeable and experienced company to handle your real estate needs, consider E. Gatanela Realty Co.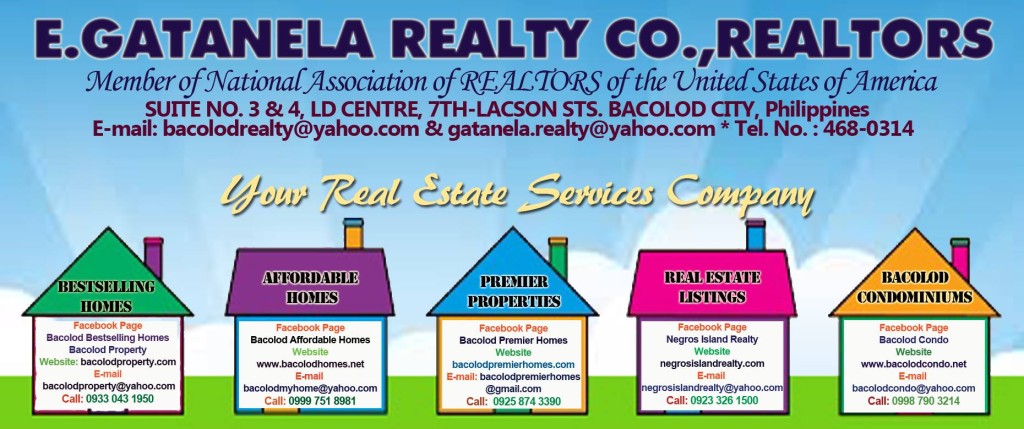 The company is a Securities and Exchange Commission (SEC)-registered realty services company since January 3, 2007, offering a full range of services to real estate owners and buyers in the Philippines, especially in Bacolod City and Negros Island Region. They offer the following services:
Real Estate Appraisal, to know the fair market value of your property and determine its highest and best use, to maximize your income potentials.
Real Estate Brokerage and Marketing, which includes free listing of your property for sale, promotion and advertising to find buyers, and actual sales transactions.
Legal Counseling and Advisory Services on real estate, which includes settlement of estates, cancellation of liens and encumbrances, including litigation to protect your rights as property owner.
Contact them today!  Email: gatanela.realty@yahoo.com. Telephone: (6334) 468-0314.
E. Gatanela Realty Co. offices is located Suite 4, 2nd Floor, LD Centre, 7th-Lacson Streets, Bacolod City, above Chowking-Lacson, in front of Capitol lagoon. LIKE them on Facebook.