Retro KTV at theMarket Place is a new Bacolod bar that's a little bit different than most bars here in the city. It's retro-themed, it has disco KTV rooms as well as an upper deck, and Barbie – their unique, head-turning barbeque grill.
Retro-Themed Bacolod Bar at The MarketPlace


When you're at the MarketPlace, it's easy to spot the KTV bar because it is just across Nena's, the restaurant that serves the infamous chicken inasal. You can't miss it! It has red chairs and tables outside, and a barbeque grill that looks like a car.
Barbie and The Drinking Coach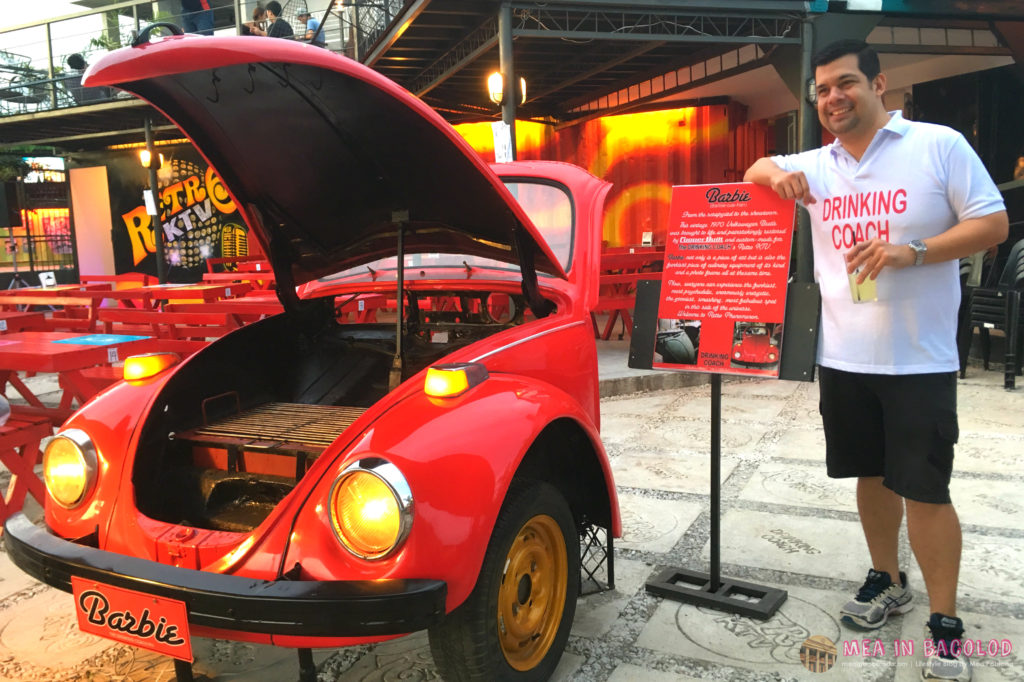 When I, along with other Negros Bloggers, visited, we were greeted by The Drinking Coach and Barbie. The Drinking Coach, also known as Mr. Manuel Barandiaran, oversees everything at Retro KTV. He also owns and manages Bounce which is a mobile bar. He is called the drinking coach because he entertains guests with drinking tricks during private events at the sound of a whistle. Barbie, on the other hand, is a 1970 Volkswagen Beetle that was brought to life and custom-made for this Bacolod bar.
Retro in the Small Details
If you miss the disco or retro era, you'll love this place because The Drinking Coach made sure that you can feel the groovy vibe even in the smallest details. This is what the tables and placemats look like from when there was daylight.

Some of the details on the floor are no exception too.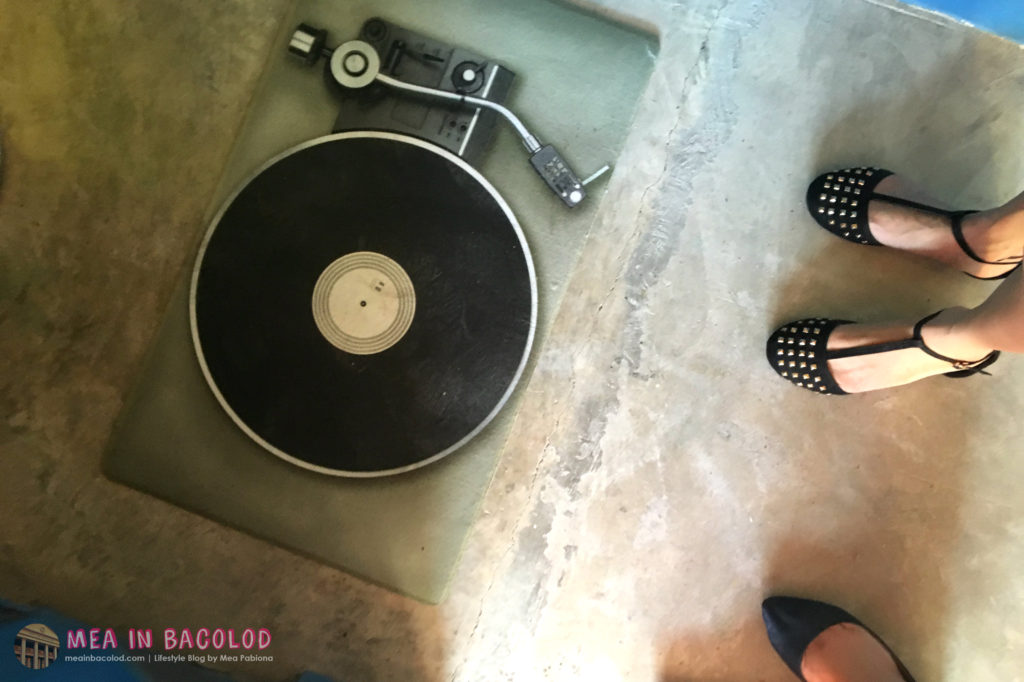 Retro in the Big Details
Did I mention that this Bacolod bar has several KTV rooms that are open for rent? Well, it has and each room is also retro-themed, complete with disco lights and a pole, yes a dance pole, in some. The room rates are consumable.
The Purple Room – 5 to 7 pax – P850/3 hours Consumable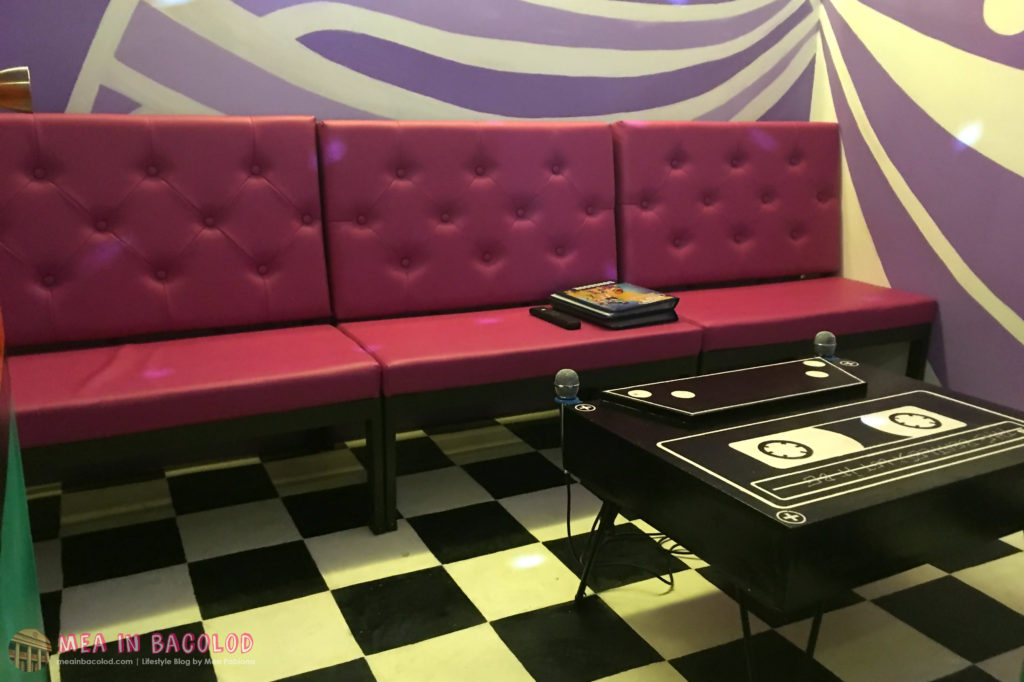 The Red Room – 15 to 20 pax – P2200/3 hours Consumable
The Green Room – 4 to 6 pax – P700/3 hours Consumable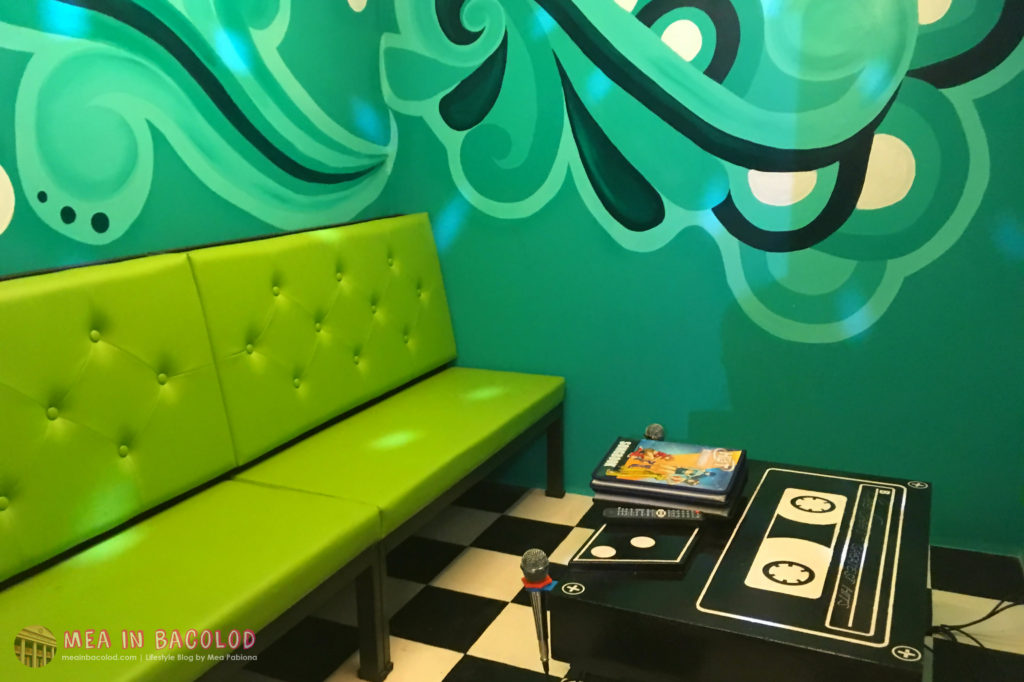 The Blue Room – 4 to 6 pax – P700/3 hours Consumable
The Orange Room Upstairs – 10 to 12 pax – P1500/3 hours Consumable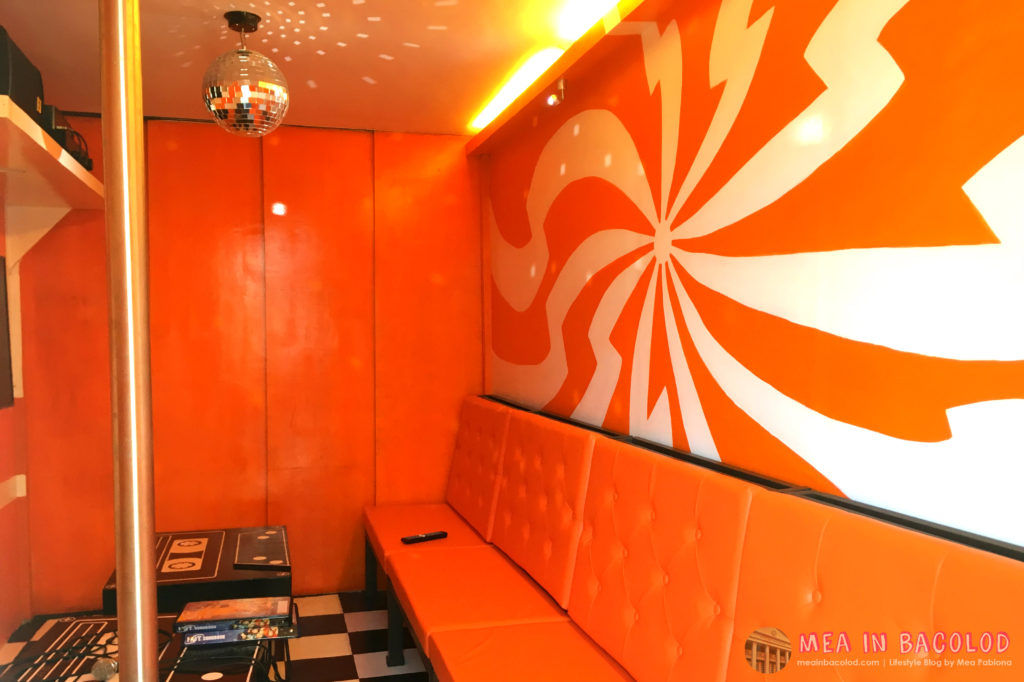 The Yellow Room Upstairs – 5 to 7 pax – P950/3 hours Consumable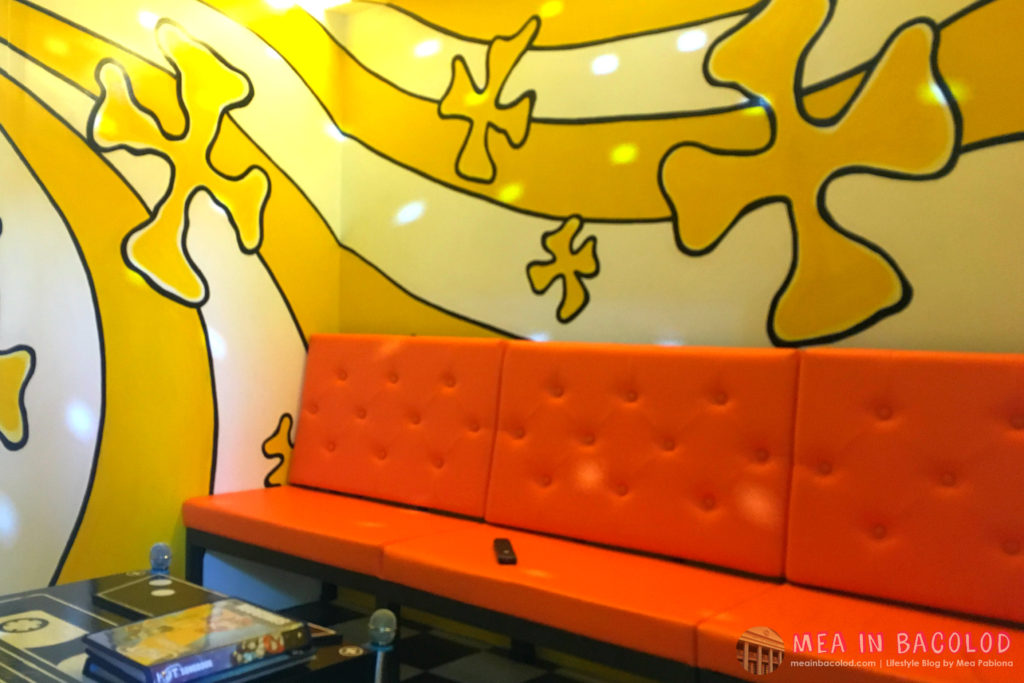 The Menu
Another thing I love about this place is the menu. You'll smile everytime you read the name of a dish because it's either a song or a popular movie title. Below, are some of the dishes they serve.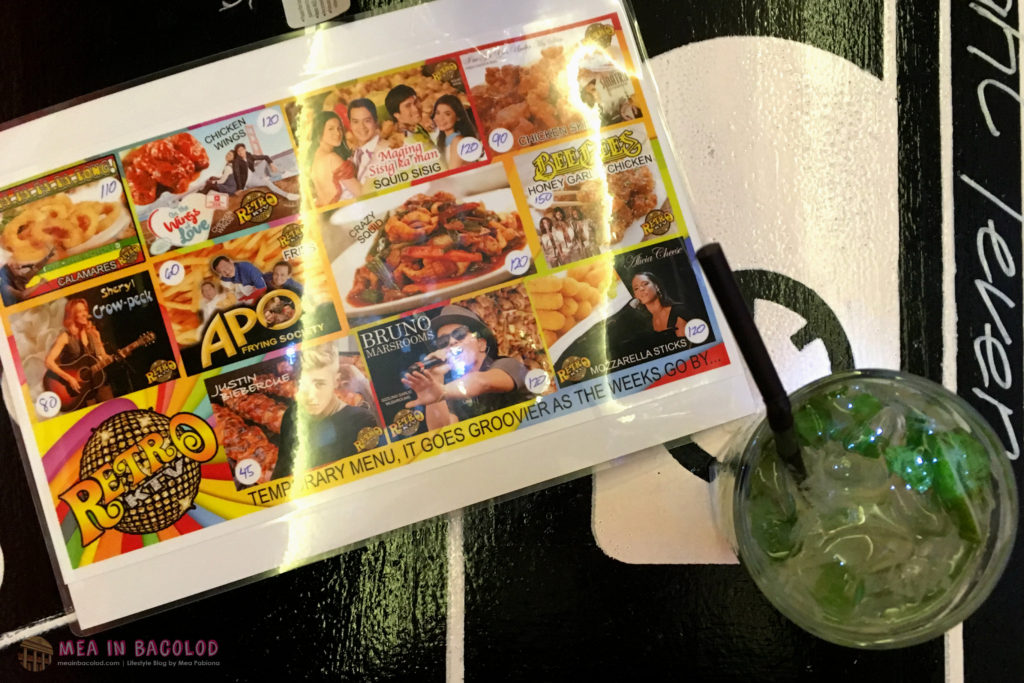 Check OUT My Favorite Menu Items From Retro KTV on MEA IN BACOLOD FB Page
Check OUT My Favorite Menu Items From Retro KTV on MEA IN BACOLOD FB Page
I would recommend that you guys try the mojito and the mudslide. The mudslide is really good. All the drinks they serve are also available at Botella which is also run by Mr. Barandiaran. It's close by Retro KTV. It's a couple of steps away.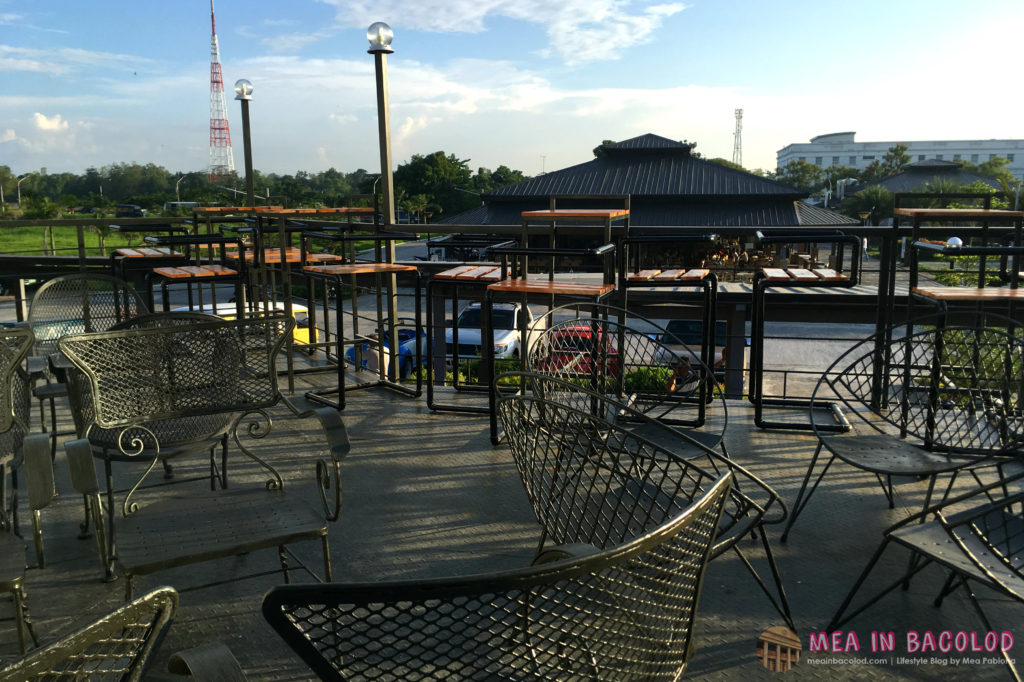 Personally, I would go here just before sunset, hang out at the upper deck or second floor, while sipping on my mudslide or an ice cold beer. You should be doing the same! Hope to see you and your friends there soon!
Retro KTV & Bar
UNIT 10, THE BOXES, MARKETPLACE EAST,

Bacolod City, Philippines

Contact no: 0917 676 5531
RETRO KTV Facebook Page