December is already here! And, it's a time to celebrate with friends and family over a hearty meal (or a buffet, in the case of those who are not into dieting). Well, aside from this, it's also a time for you to prepare your shopping money. As early as now, people are buying gifts to wrap and put under their Christmas trees. But, where can you go to get the best value for your shopping money?
#TheSMStoreBacolod 10K Shopping Money Contest
My best bet is SM City Bacolod. As their motto goes, "We have it all for you." From personal experience, you don't have to look elsewhere to find what you need. When you are on a budget, I highly suggest that you visit the SM Department Store. If you're patient enough to browse one aisle after the other, you will find the best and most affordable deals for your entire family and circle of friends. The best part about this is that the SM Department Store is giving you the chance to win a 10k-worth shopping spree with their online holiday contest.
What to Win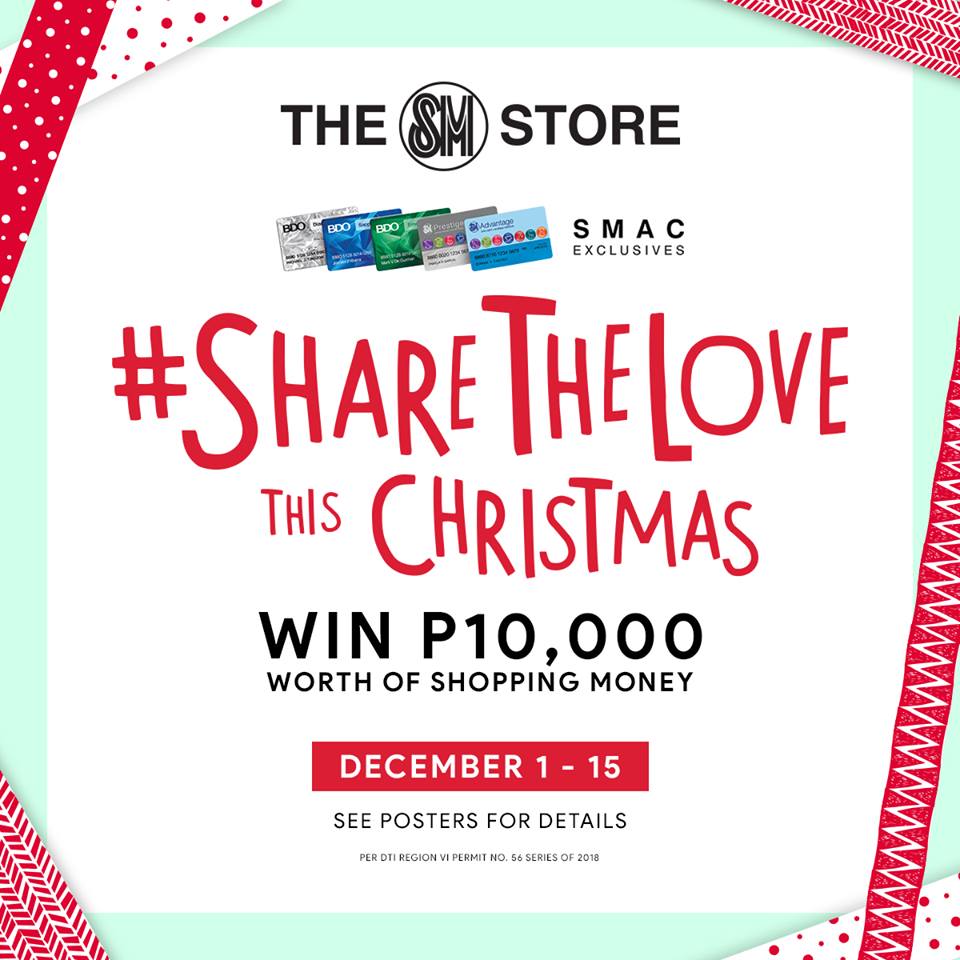 How to Enter
1. Visit the SM City Department Store.
2. Purchase items worth P1,000.
3. Use your SMAC (SM Advantage Card) with your P1,000 purchase.
4. Keep your receipt. You will need to present it if you win the online contest.
Contest Mechanics
1. Create an album on your Facebook account with photos of actual items from The SM Store Bacolod that you would like to give to your loved ones this Christmas.
2. Caption each photo as creatively as you can (ex.: Matchy-matchy headbands for my twin nieces, 199php each)

3. The total worth of items in one album should not be more than P10,000.

4. Photo album should be titled#SMShareTheLoveThisChristmas and in Public share setting

5. Album description must begin with "The season of love and giving is here, and so to my loved ones I give these gifts because…" and end with promo hashtags #SMGotItAllForYou#SMShareTheLoveThisChristmas

6. Tag the SM City Bacolod Official Facebook page

7. The most creative album with the best mix of items within the P10,000 budget wins!
Criteria for Judging
♥ Variety of Items 30%
♥ Quantity of Items 30%
♥ Creativity 30%
♥ No. of FB Reactions 10%
Promo runs December 1 -15, 2018