Vikings Bacolod is also celebrating this year's Valentine's day by presenting 10 sumptuous dishes that everyone can enjoy. These 10 dishes were specifically created for this year's Valentine's Day, so yes, you could say that it's going to be a very special Sunday at Vikings Bacolod tomorrow. Love will definitely be celebrated – mostly the love for food – with the following special dishes:
Chicken Piccata with Light Caper Sauce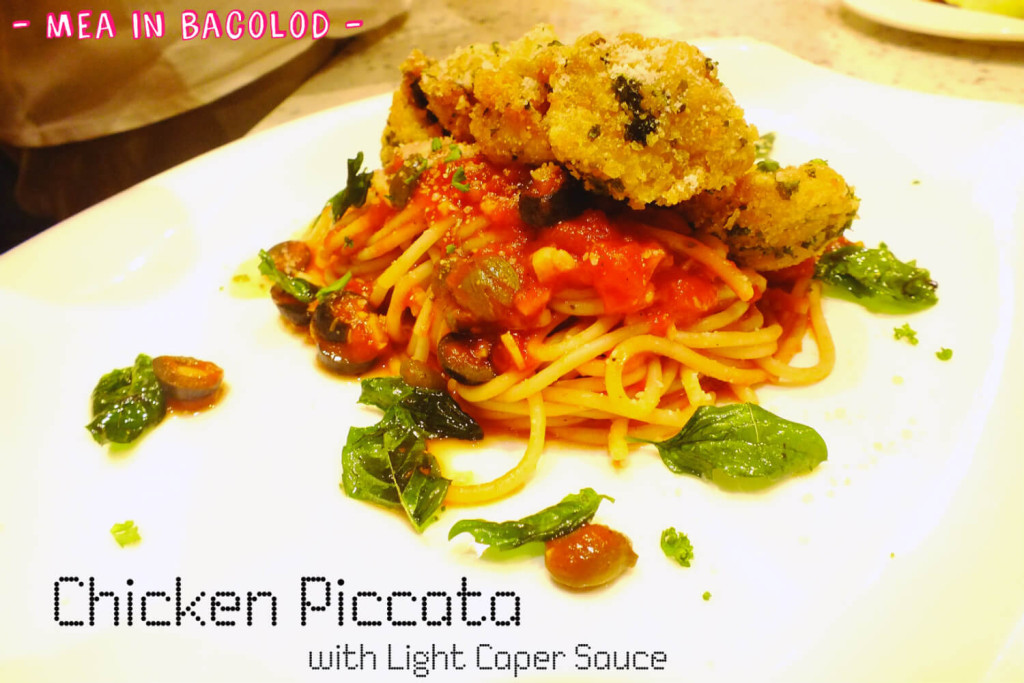 Piccata is actually an adjective for the way that something is cooked. So if it's chicken piccata, it means that the chicken was cooked in a sauce of lemon, parsley and butter.
Baltimore Style Crab Cakes with Tartar Sauce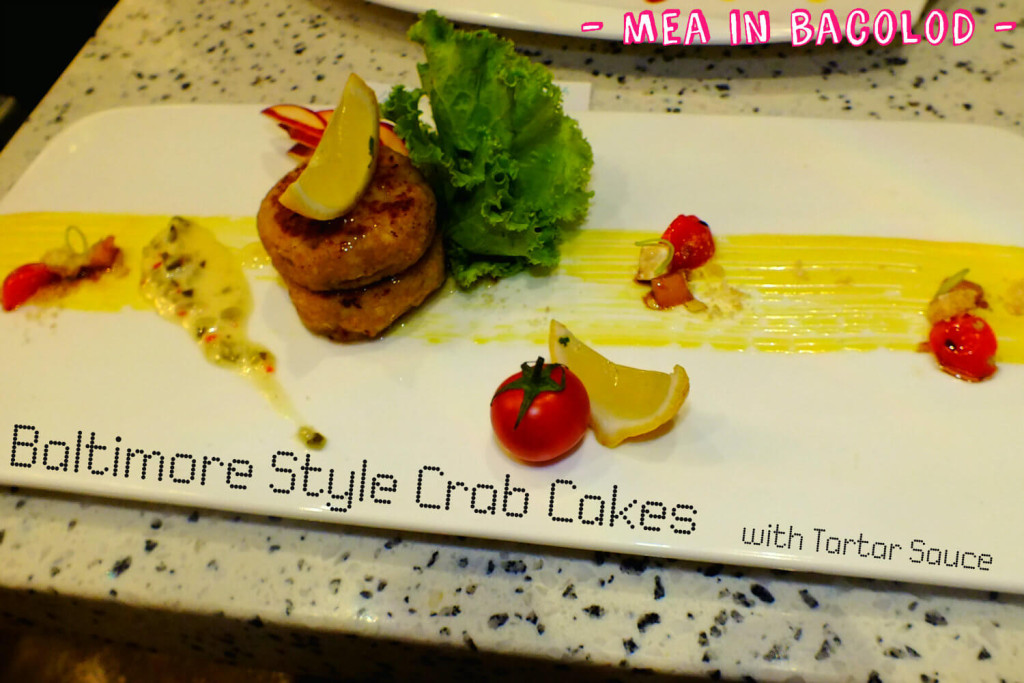 Why is it Baltimore style Crab Cakes and not Bacolod style? Well, one reason is because it is served with a lemon wedge – very popular among restaurants in Baltimore. It was delightful to find out that the lemon wedge wasn't actually full lemon. The pulpy part was replaced with frozen juice or jello.
Spicy Balot ala Pobre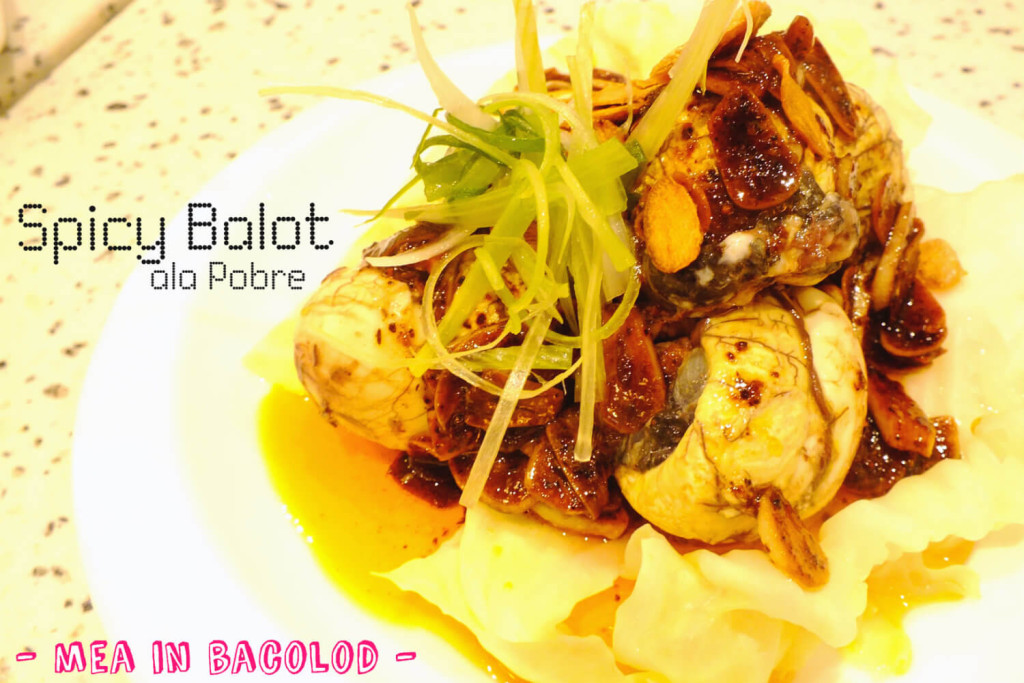 I love balot! My favorite has always been the white part even though people would tell me that it's hard to chew. I digress. Anyway, I was thinking that this dish is on the menu tomorrow because many say that it's a potent aphrodisiac. If you add the spicy factor in, you might just have an extra good time tomorrow (wink*) when you experience this dish.
Apple Waldorf and Mixed Greens in Grape Vinaigrette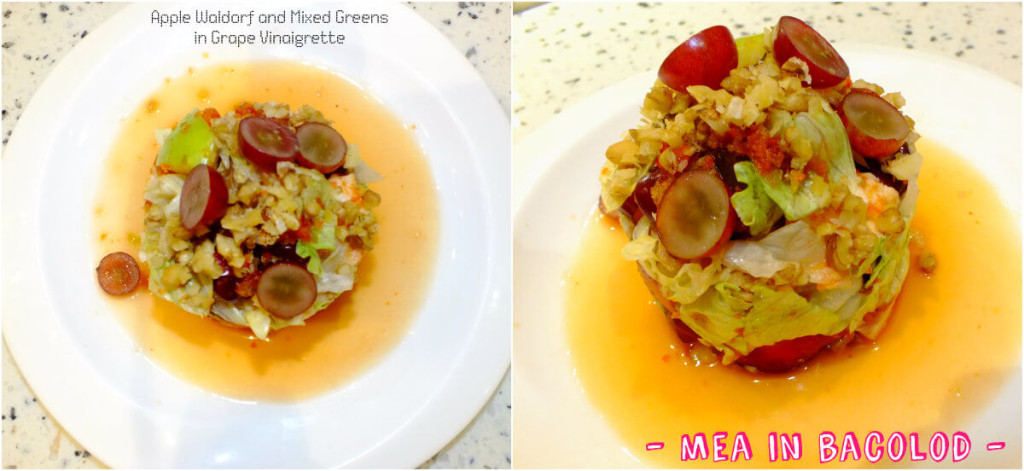 Who doesn't love a good Waldorf salad? I and my family definitely do. Apart from eye-catching presentation, the taste and feel was delicate and light. Start with this one when you visit tomorrow! It tastes as good as it looks.
Sexy Desserts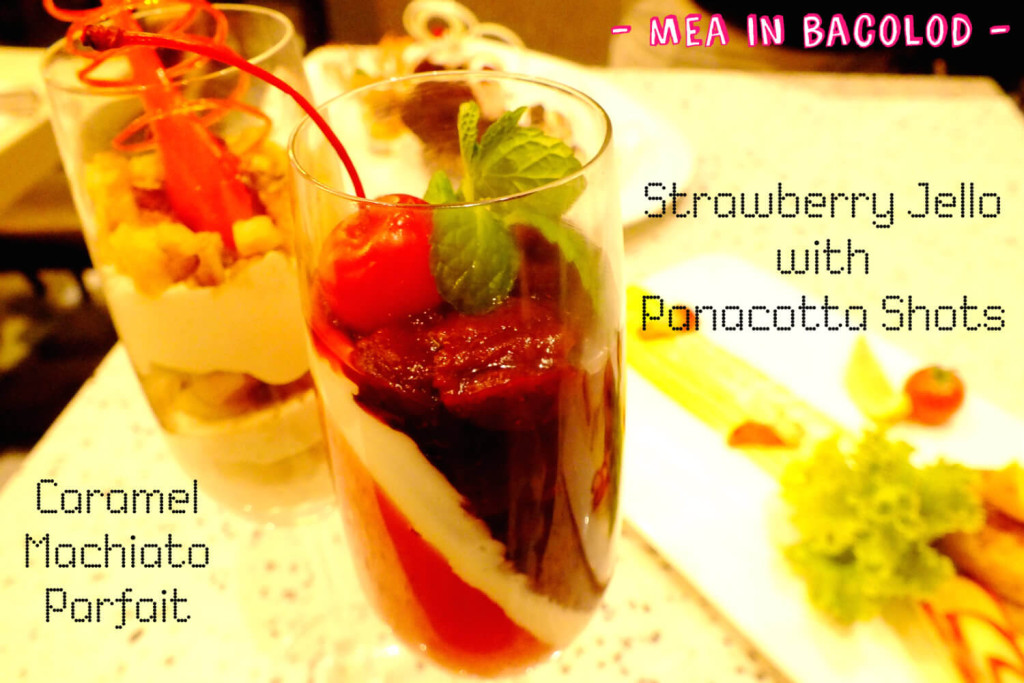 These two have to be the sexiest desserts in the Vikings menu (possibly ever). You will get to spoon-feed your husband, your wife or your lover with either a caramel machiato parfait or a strawberry jello with panacotta shots.
Triple Chocolate Brownie with Walnuts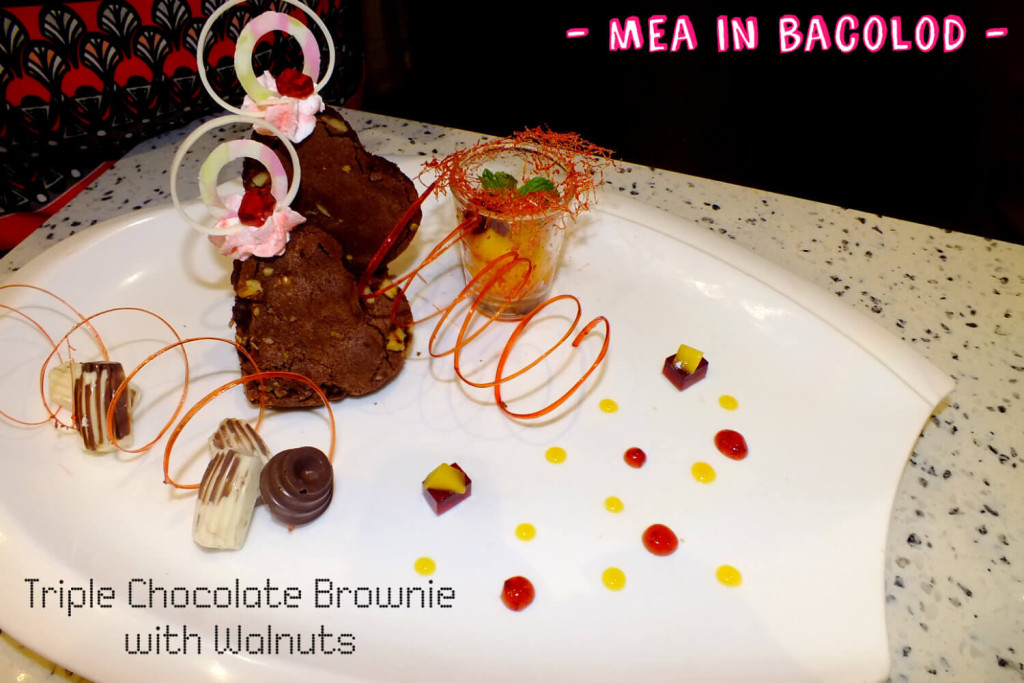 Valentine's wouldn't be complete without chocolate, don't you agree? Vikings definitely does because they're going to serve triple chocolate brownies. Let me just repeat this one more time: TRIPLE chocolate brownies. You know that this dish is going to be a highlight!
Chili Roasted Ginger Salmon Belly Teriyaki

This salmon was a little spicy but hey, I have never backed down from anything that made my palette heat up. The outside is actually chili and roasted ginger. It looks burnt but it's not. It's cooked just right when you open it up and it tastes so good too.
Oyster Cake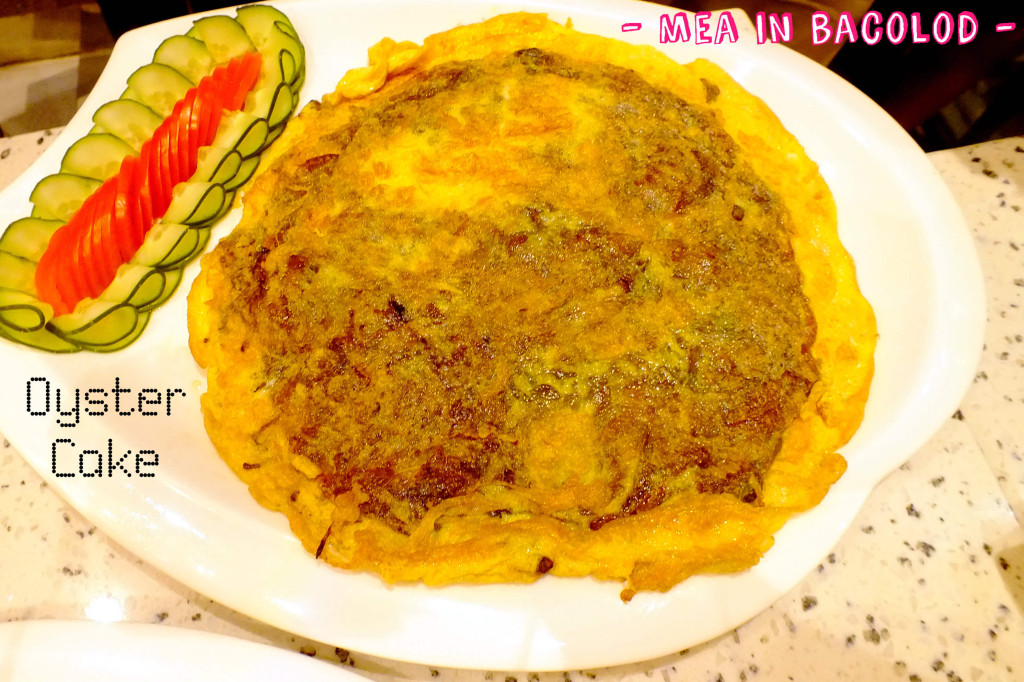 You betcha! It's another aphrodisiac on the menu. This dish is like an omelette but instead of vegies or ham inside, you'll find a lot of oysters cooked to perfection.
Sweet Lover's Shrimp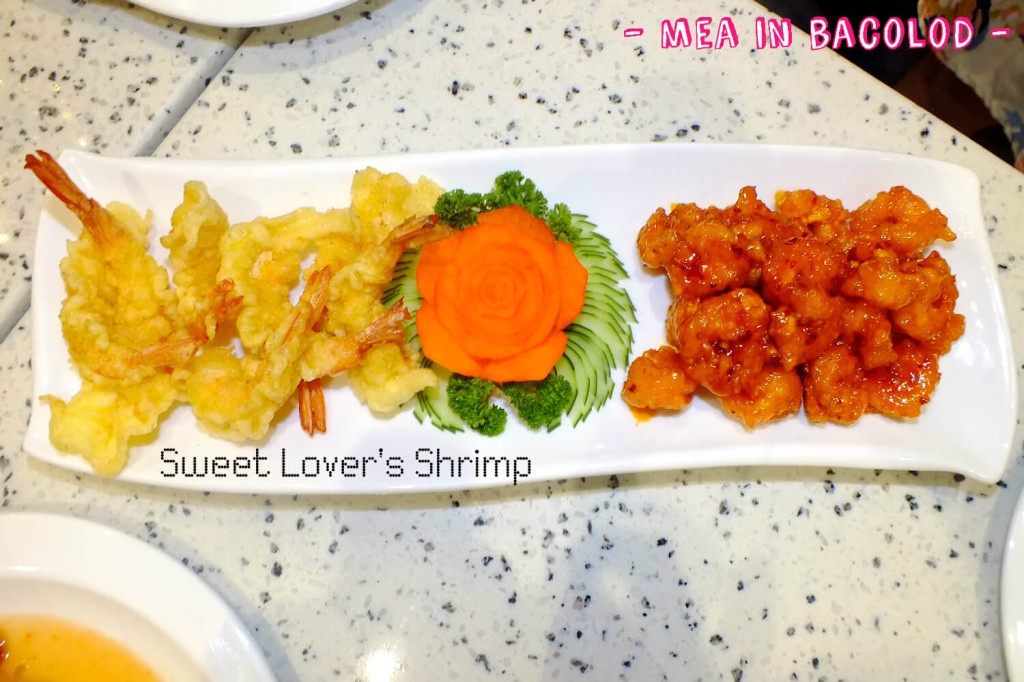 For tomorrow, most of the special dishes are made of seafood. Did you notice that? Anyway, the next special dish found only at Vikings Bacolod is the sweet lover's shrimp where you have battered shrimp on one side and a shrimp with tangy sauce on the other.
Baby Back Ribs in Spicy Orange Chocolate Sauce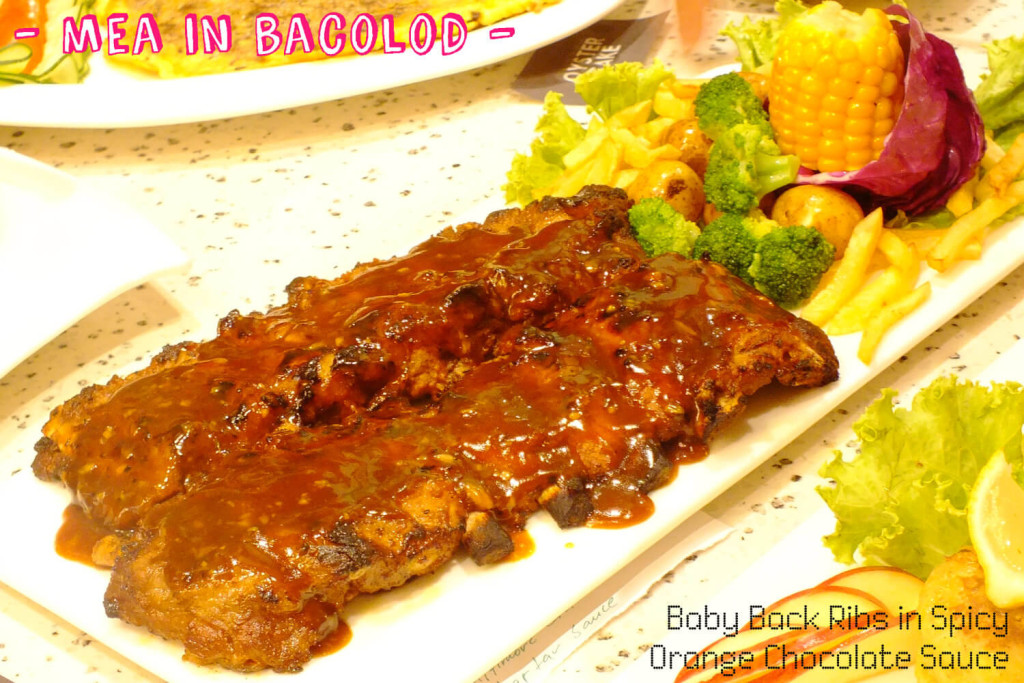 What can make a rack of ribs taste even better? A sexy dollop of spicy orange chocolate sauce, of course. As Bacolodnons, I know that you love eating ribs. Taste some in a whole new way at Vikings Bacolod.
Hurry and Reserve a Table
Please remember that these dishes will only be served tomorrow. Because these are Valentine's-specific, you're not going to be able to experience them on the next day. Also, you know how popular Vikings is so, if you want to sample any of the 10 dishes with your special someone, it's best to make a reservation now or early tomorrow.
The best way to make a reservation is through their Facebook page which you can go to here. You may also call ahead of time to make a reservation: (034) 431-3888, (034) 431-4888, (0998) 988-3888, (0917) 846-6888.