One of the best things of living in a province is you get to be close to nature. If you were born or if you grew up in a big city in the Philippines (or outside of the Philippines) that may not be your thing because life is slow, mostly quiet and mostly peaceful. This kind of life suits us Bacolodnons very well.
In Bacolod, city life is not as fast-paced as life in the Capital but its on a level that the Bacolod-city-folk can handle. If we want to slow down even more, and believe me when I say that the desire to do so really does come up, we go to the outskirts. I and my family did just that when my dad turned (secret age).
We went to the Bantug Lake Ranch and we did 7 things which you can also do with your family when visiting the place.
What can you do in bantug lake ranch?
#1: Picnic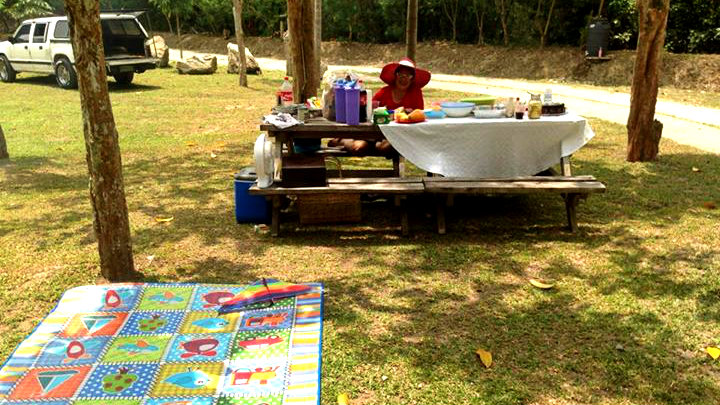 It wouldn't be much of an outing without food, right? So bring lots! The Bantug Lake Ranch has their own designated areas where you can set-up and barbecue. Some spots have tables and chairs under shades (tents or trees) but you can also do it the old fashion way: take out the picnic blanket.
Recommended food to bring: watermelon, the yellow kind
#2: Fly a kite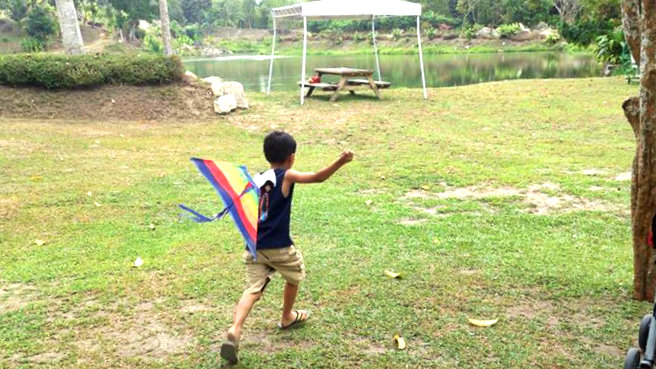 Ask yourself this: when was the last time you flew a kite? 2 years ago? 10 years ago? Can't remember? Well, the perfect time for you to do this again is when you visit the ranch. Your kids or the kids in your family will love  it! It's also a chance for you to play with them. When we visited, there wasn't much of a breeze but my son was able to run around to get the kite to fly. The ranch has enough space so I joined in on the running.
#3: Fish
In a park, ranch or resort where fishing is allowed, you can bet that my dad and my son will spend most of their time catching fish. As soon as we arrive at a place, they'll go straight to the fishing area and ask for rods and bait. This trip to the Bantug Lake Ranch was not exempt from their fisherman instincts.
Fishing recommendation: if you want to bring your own gear, make sure your hook is smaller (for tilapia).
#4: Watch animals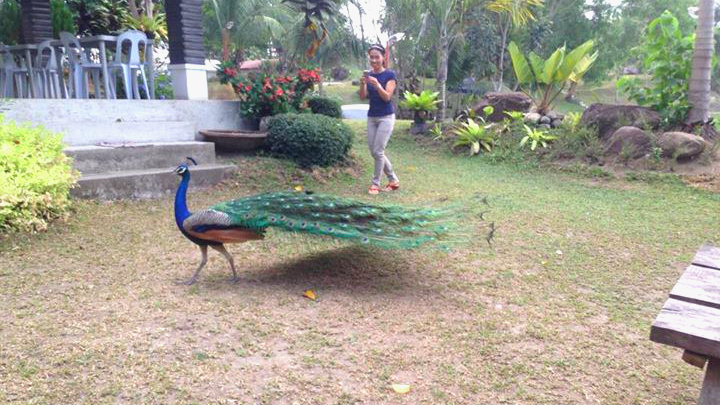 In the area we were in, there were random birds roaming about – a couple of chickens, a goose (or maybe duck) and a peacock. This peacock didn't seem to mind that we were taking pictures. At the other picnic areas, I think kids will love it there better because you'll see horses grazing freely.
#5: Canoe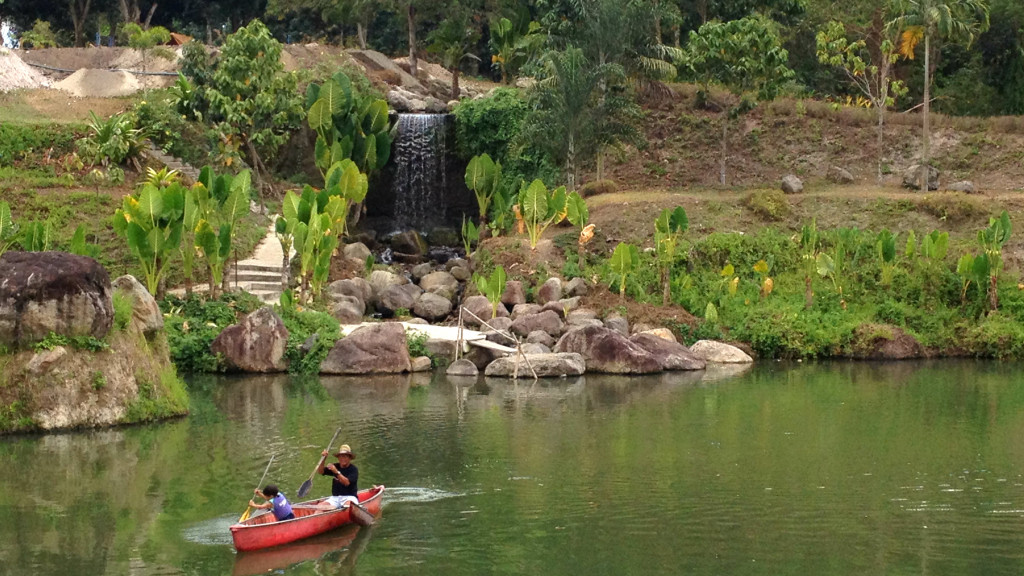 Ranch + Lake + Canoe = Super fun time – this equation worked for my son. My dad already turned (still a secret) but my son was still able to convince him to go canoeing. He was exhausted afterwards. The power of a grandson over his grandfather proved to be too great!
Canoeing recommendation: the lake is huge so you might want to take it easy when paddling. get your arms ready, ladies and gents, because your kids will most likely "ingus" [pronounced ee-ngus, our term for whining], wanting to go on the canoe.
#6: Walk

My sister and I enjoyed a good talk while walking around the ranch grounds. We were actually following my father and my son to see where they were headed. Walking clears your head but walking around Bantug Lake Ranch will wipe the entire slate clean. Can you imagine how serene and peaceful walking around this place will be?
Walking recommendation: bring a hat, an umbrella and water when you go exploring.
#7: Horse Back Riding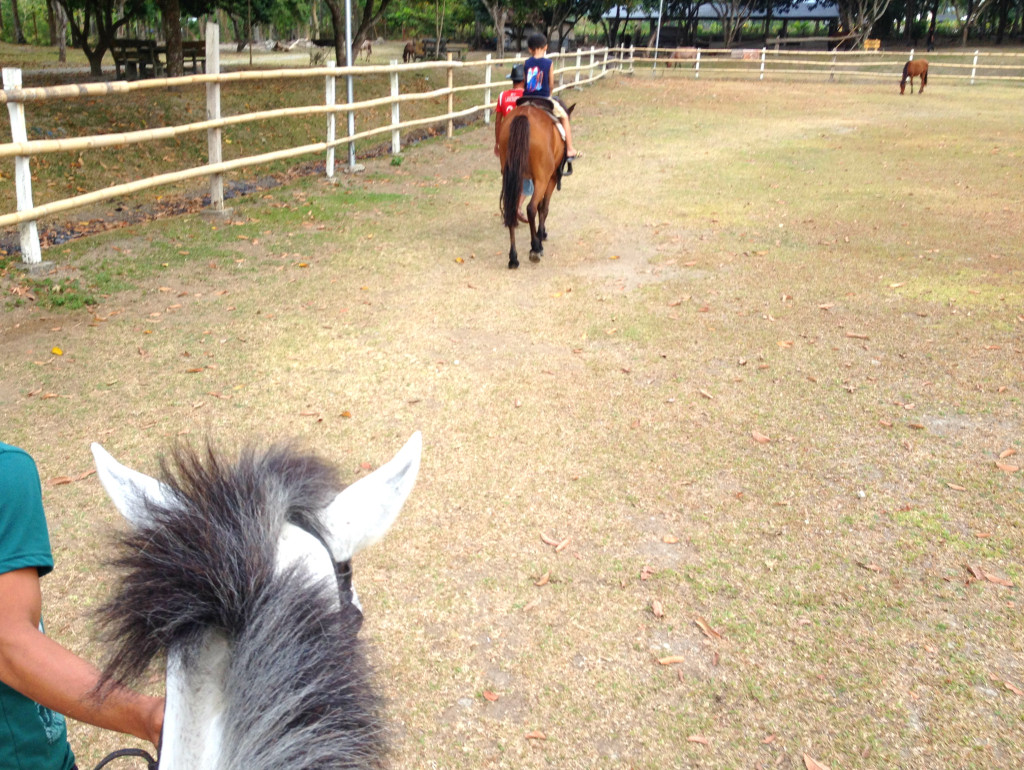 I am not about to let my son have all the fun. We went horse back riding which was fun for me too but I have never realized how tall a horse is until this moment. It felt like I was so high up! Don't laugh…
We didn't want to ride that long so we just paid, I think, 50php for a few rounds around the bullpen.
It's not what you think
It's not what you think! This is not part of my things to do anymore but, as a bonus, I wanted to show you their restrooms. I'm all for an establishment with fabulously clean lavatories being a hands-on mom and all. I'm glad to see that the Bantug Lake Ranch is such.
disclaimer: this is 

NOT

 a sponsored post