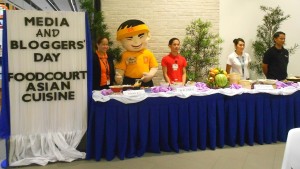 Media and Blogger Day at SM City Bacolod
When you hunt for Asian food, where do you go?
I personally go to Terra Dolce where that Korean place is (Do you know which place I'm talking about?), to Sodam (another Korean place) and to Pizzaro (yes, Pizzaro is also Korean). There are also a couple of places at the Central City Walk behind Robinson's Place Bacolod and yes, they're still, mostly, Korean. I'm a big fan of Korean food, if you can't already tell.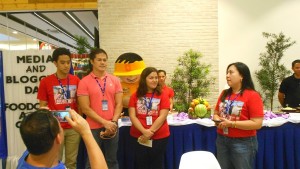 The Foodcourt Staff
Yesterday, after attending the SM City Bacolod's Media and Blogger Day, I might have to add the SM City Foodcourt to my ever growing list of places to eat Asian food. I had the chance to sample a couple of Asian dishes being served by…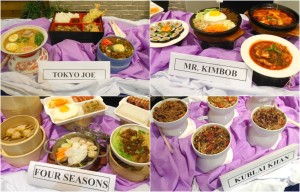 Asian Goodness with 4 Foodcourt Restaurants
Here are a couple of my recommended dishes plus my, hopefully witty and helpful, commentaries: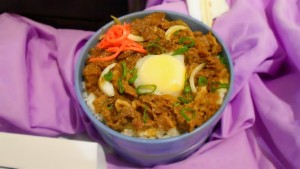 Tokyo Joe – A Gyudon of Some Sort
Gyu牛 means beef and don丼means rice bowl (with something on top). In other words, Beef Rice Bowl. (source)
I have always loved a good bowl of Gyudon. Back when there was a buy 1 take 1 deal at L'Kaisei (SM groundfloor), I'd eat Gyudon every Thursday. I would have liked a sprinkle of sesame seeds on the one I ate from Tokyo Joe but, hey, a delicious bowl of Gyudon is a delicious bowl of Gyudon.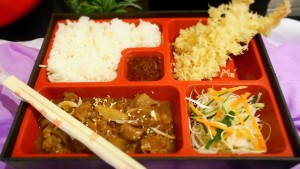 Tokyo Joe – A Bento of Some Sort
Bento (弁当, bentō ?) is a single-portion takeout or home-packed meal common in Japanese cuisine. A traditional bento holds rice, fish or meat, with pickled or cooked vegetables, usually in a box-shaped container. (source)
Hello, bento from Tokyo Joe! There are 2 reasons why I love this bento: 1. the shrimp, 2. the sauce you dip the shrimp in. All the other food items on the tray are, of course, tasty, but ultimately if it was just shrimp and sauce, I'd still eat it. I'm a squid and shrimp girl, what can I say?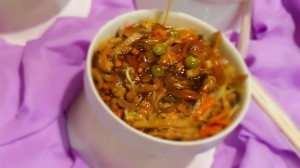 Kublai Khan – Mongolian Rice Bowl
Mongolian barbecue is a stir fried dish that was developed in Taiwanese restaurants in the 1970s. Meat and vegetables are cooked on large, round, solid iron griddles at temperatures of up to 300 °C (572 °F). Despite its name, the cuisine is not Mongolian, and is only very loosely related to barbecue. (source)
So that solves the question of Mongolian barbecue being Mongolian. Anyway, most of the dishes in Kublai Khan had catchy names like Warrior Pork, so, aside from the fact that I also love eating Mongolian rice bowls, I tasted the dish because, who wouldn't want to eat food that's been named "Warrior"? No one. That's who. There were no regrets on the consumption of one of the Warrior dishes served – delicious!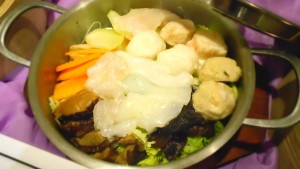 Four Seasons – I forgot what this one's called but it's wonderful on the taste buds.
Hot pot is a casserole of meat and vegetables, typically with a covering layer of sliced potato. (source)
The one that's on the picture is a little bit different from what the description says but that doesn't mean that it's less yummy. Please sir, I want some more! (<<<Oliver Twist reference)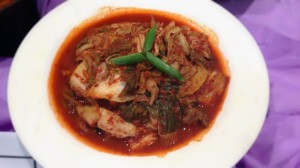 Mr. Kimbob – HELLO Old Friend!
Kimchi is a spicy pickled cabbage, the national dish of Korea. (source)
This is a staple Korean side dish and just from me saying the word "Korean", you should already know how I feel about Kimchi.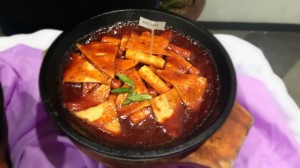 Mr. Kimbob – I'd eat this everyday if I could.
Dukbokki and Odeng are affordable Korean snacks sold by street vendors.
I once saw a Korean movie where a teenage boy was forbidden to eat dukbokki by his mom. It may be because it's considered junk food in Korea very much like how our moms tell us to avoid street food here in our country. But, what the hey, this rice cake-fish cake combo is a killer. I couldn't give this up unless my mother sews my mouth shut.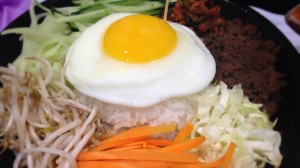 Mr. Kimbob – Meet another old friend of mine.
Bibimbap is a Korean dish consisting of rice topped with sautéed vegetables, chili paste, and beef or other meat, sometimes with the addition of a raw or fried egg. (source)
NO, Korean food isn't the only Asian food I eat, just in case you were wondering. I just happen to love the culture and the cuisine! Bibimbap is one of my favorites. The one they serve at Mr. Kimbob is not exactly the Bibimbap I usually eat but it still tastes darn good.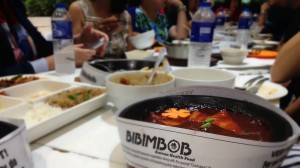 I had one heck of a time eating different Asian dishes from the SM City Bacolod foodcourt. I'm sure you've already seen a couple of these places I mentioned. Which dishes are your favorite? Are you a frequent customer of Mr. Kimbob too?