We are all used to circuses where we see acrobats, jugglers, clowns, and exotic animals. This summer, Bacolodnons are treated with a different kind of circus that's beyond the traditional. Instead of watching trapeze flyers, audiences get to interact with exhibits that boggle the senses but broaden the mind. The Science Circus is in town.

The Science Circus At The Robinson's Place Bacolod
This type of circus has to be the first in the City of Smiles. My son, Gionne, and I attended the opening last April 5, 2018. The event was hosted by Bacolod's very own John Arceo and was graced by Councilor Cindy Rojas, as well as representatives from the museum that started the traveling exhibit, the Mind Museum.
What To See At The Science Circus
[URIS id=3362]
There are plenty of interactive exhibits that you and your family can enjoy. Check the slide above to see what the different exhibits are. Basically, there are 12 sections on display. Each section has an information card which will guide you on how to work the display. Some cards contain scientific information, while some give you instructions. It's best to read the card to know what to do. There are no guides so make reading a habit.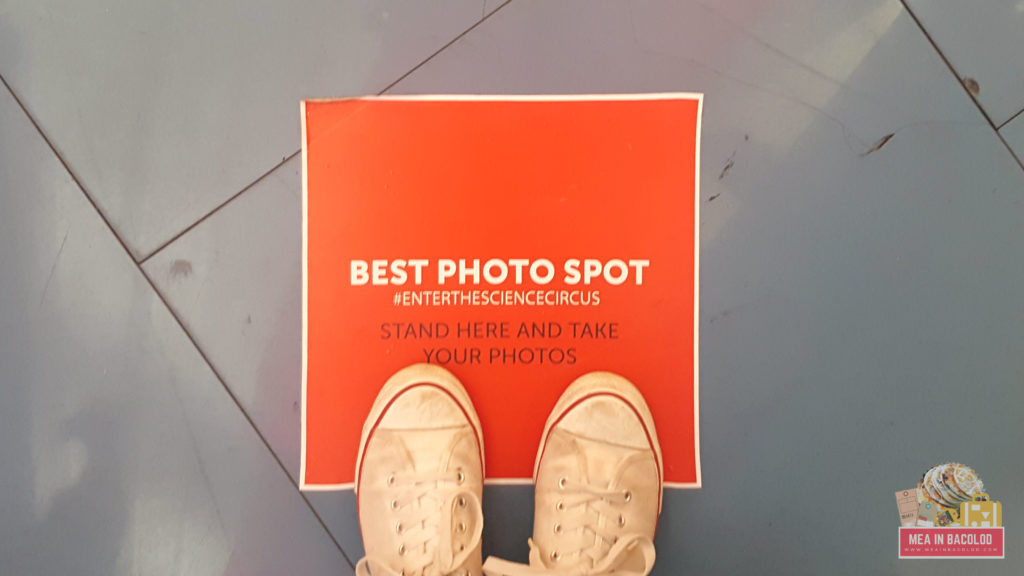 When you move to an illusion display, find the square you see in the photo above. This is where you should be standing so you can get the best angle for your photo.
FAQ
1. Who is the Science Circus for? 
The Science Circus is for everybody! It's not just kids who will enjoy discovering what each display can do. Parents will also have a good time here.
2. How can I get in? 
There are two ways you can get a ticket. Right outside is a ticket booth. You can purchase a ticket for ONLY P50.00. Another option would be to shop at participating partner stores:
Every P1000 Receipt = 1 Ticket (Maximum of 5 Tickets)
Robinsons Supermarket
Robinsons Appliances
Handyman
Daiso
Toys R Us
Every P500 Receipt = 1 Ticket (Maximum of 5 Tickets)
Alberto Shoes
adidas
Bellicimo
Book Sale
Boston Active Sports Shop
Boston Sports Lifestyle
Chowking
Converse
D VJ Jewellers
Expressions
Fetish
Galleon Enterprises
Goldilocks
Guess
Jollibee
Karat World
Levi's
MLhuiller
National Book Store
Octagon
Olivia
Olympic Village
Payless
Penshoppe
Planet Sports
Rusty Lopez
Sarabia Optical
Speedo
Toastbox
Total Sports
Every P200 Receipt = 1 Ticket (Maximum of 5 Tickets)
BCG Premier
Cantina Mundo
Chika-an
Clinica Femina
Get Pampered Nail Spa
Masskara Chicken
Moon Cafe
Negros Showroom
3. Until when will the circus be in town? 
April 5 was the opening. The circus will be packing up on May 6, 2018. It's only going to run for one month.
4. What time does it open? 
The circus will open during mall hours. If you want to take good photos, you can go there around the same time the mall opens. It's also going to close at the same time the mall will.
5. Is it already open to the public?
Definitely, you can visit the Science Circus anytime you wish. Just take note of the mall hours. You don't need to call ahead or reserve a ticket. Just go inside the mall, present your receipt if you have any, or simply buy a ticket at the booth.
For more updates and events, don't forget to LIKE Mea in Bacolod on Facebook.