Press Release: Bacolod City is PH No. 1 Model City. Bacolod was named the Top Philippine Model City among the 145 cities in the country, for being the most livable urban center nationwide. The Manila Times, one of the most respected broadsheets and the country's oldest newspaper at 119 years old, has chosen Bacolod as the No. 1 Model City among a shortlist of 37 select cities.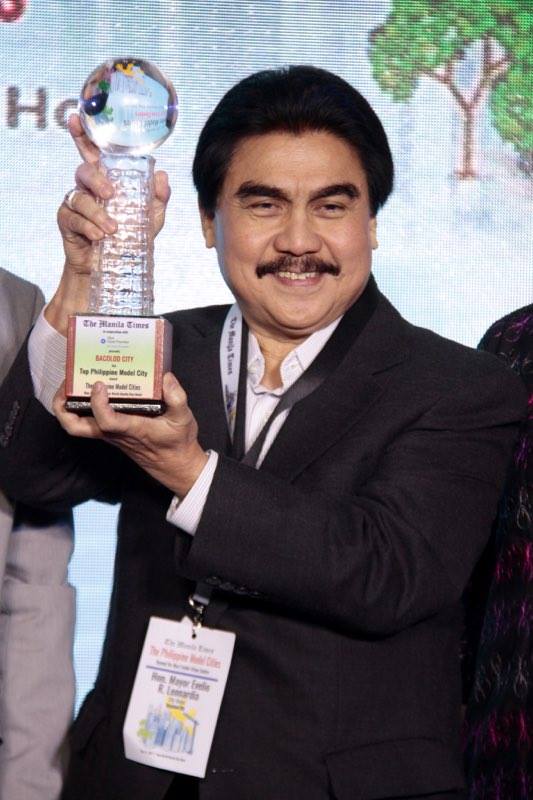 Bacolod was the only Visayan city when the list was trimmed down to 13 finalists. Mayor Evelio Leonardia led city officials in accepting the award for Bacolod City at the awarding ceremony at the New World Manila Bay Hotel in Manila today [May 11].
Joining Leonardia were Bacolod Rep. Greg Gasataya, Vice Mayor El Cid Familiaran, Councilor Em Ang, Councilor Dindo Ramos, City Administrator John Orola, City Planning and Development Office head Mary Jean Ramos, City Development Council vice chairman George Zulueta, and acting PIO head Danny Dangcalan.
Among the 13 finalist-cities, Bacolod was the only city with the top three officials present: congressman, mayor, and vice mayor.
"This credible and prestigious award validates what Bacolod is now. This inspires us even more to promote a culture of excellence, not just for contests like this, but to cultivate a high sense of responsiblity in our people," Leonardia said.
We will not allow mediocrity, he stressed. For his part, Gasataya said in a statement, "Bacolod City is indeed not just 'back on track but back on top.'" Gasataya added: "We assure everyone of our continuous cooperation for our city in order to address concerns that need immediate solution."
Familiaran said, "The award proves that Bacolod is one of the fastest growing cities in the country. Indeed, Bacolod is back on track."
FINALISTS Rounding the Final 13 in The Philippine Model Cities list are (in alphabetical order):
Batangas
Davao
General Santos
Laoag
Mandaluyong
Naga
Parañaque
Quezon
San Fernando
Rosa
Tagaytay
Zamboanga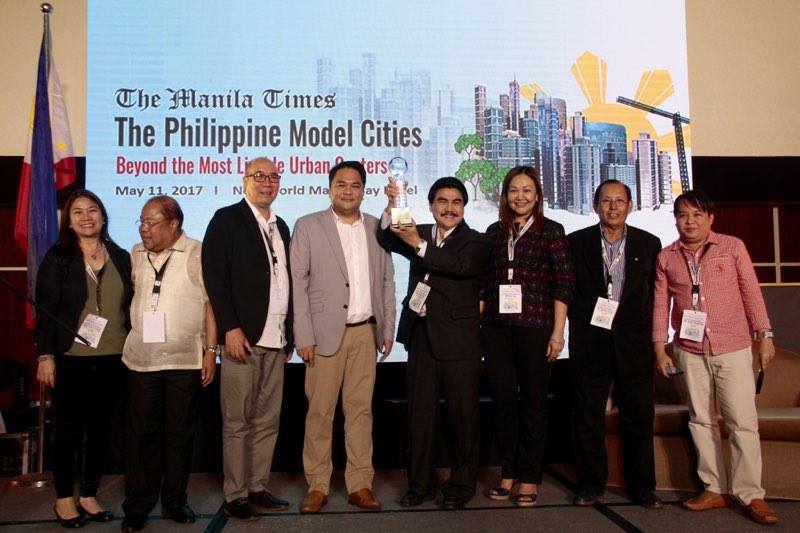 These cities also received special awards based on several social indicators in the criteria. CRITERIA The cities were rated on the following criteria:
Peace and Security
Rest and Recreation
Research and Development
Health and Education
Clean and Green
Road and Home
Livelihood and Employment
Youth and Elders
Tax and Services
Emergency/ Disaster Preparedness
In 2012, popular blog ikwaderno.wordpress.com named Bacolod as the "Most Livable Philippine City." Early this year, another social media group, The Conyo Times, ranked Bacolod as "The Best City to Live in the Philippines." Likewise, in 2007, the Philippine Chamber of Commerce and Industry chose Bacolod as the "Most Business Friendly City in the Philippines."