Azucarera is a Spanish word for "sugar bowl". When translated to Tagalog, the Spanish word becomes "Asukarera" which means sugar factory – a definition that strongly points to the rich history of Negros Occidental in the sugar industry during the colonial days.
Today, we here in Bacolod, don't only associate the term with sugar. Rather, when someone says "Azucarera" we reply, "What are you going to order?"
Opened in 2017, Azucarera Bacolod is a Spanish restaurant located in 89 C.L. Montelibano Ave. As soon as you open the menu, you will realize just how much history this place has to offer with its fusion of Spanish and local flavors. More to love is their initiative to champion locally grown ingredients and products.
It is not a typical restaurant with mundane or generic interior designs. This place is inspired by sugar mills with its industrial combination of metal, concrete, and bricks. It's reminiscent of what it might be like to step into a sugar factory, giving you tidbits of historical photos and memorabilia of Negros Occidental. For the first time, we (my partner and I) tried out their dishes to see if the muffled buzz about their food is really true.
Disclaimer:
Before we go to the good stuff, let me give you guys a bit of a disclaimer. This is not a collaboration or a paid feature. All of the dishes were chosen and ordered independently, paid out of our own pockets.
---
Dishes to Try
Truffle Mushroom Php250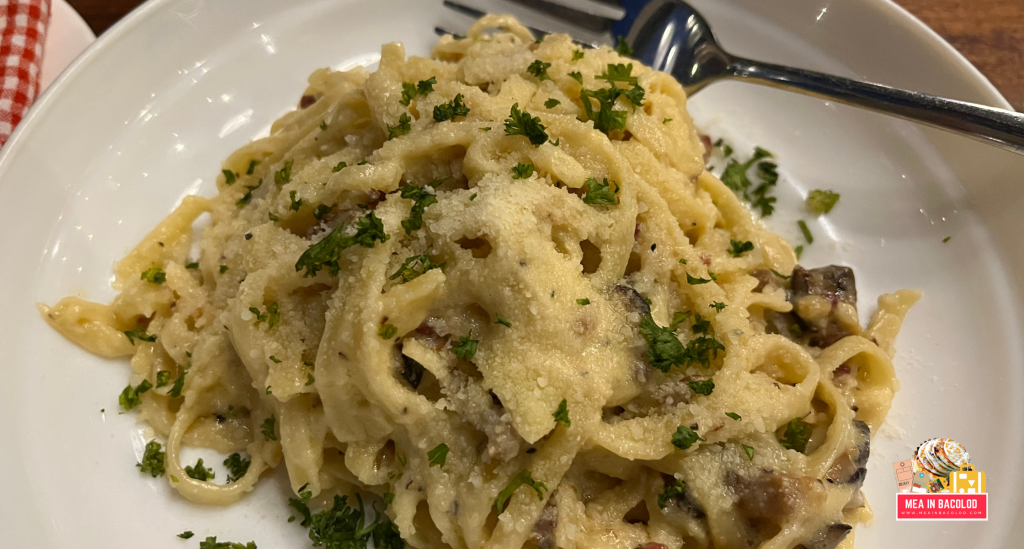 I personally liked the truffle pasta although we were expecting that it would be creamier as most plates of truffle pasta that I have tasted are. I am no connoisseur so I wouldn't know if they are meant to be creamy or not. Regardless, the flavors were full. I could tell that there was less cheese which is good because, to me, it's not really the focal point of the dish.
Salpicao de Vaca Php300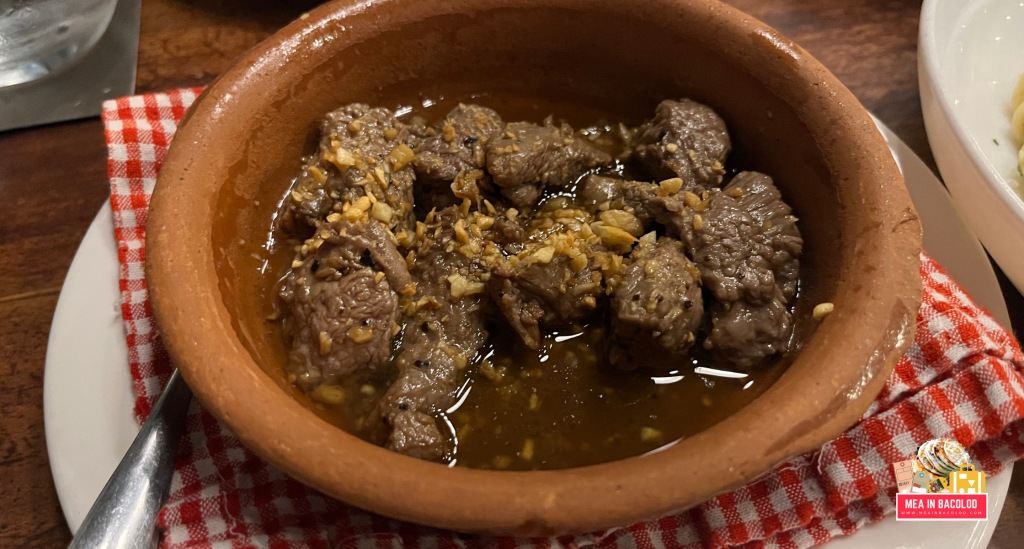 The Salpicao won over our taste buds and hearts as it was by far the best we have had in Bacolod City. What I liked most about it was the tenderness and the flavor that was just unique. If you visit Azucarera, this should be something that you include in your order.
Ensalada Verde Php195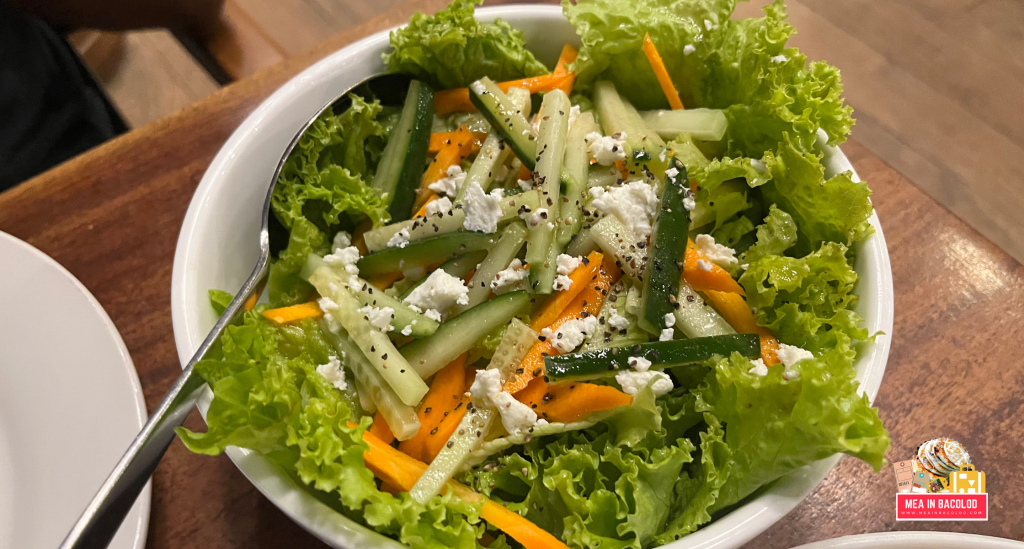 The salad was a safe choice. It had cucumber, carrots, and lettuce with parmesan toppings – the presentation was nice and simple. It was a good salad but it was just like other salads at other restaurants.
Porterhouse Php300/100g (Php900)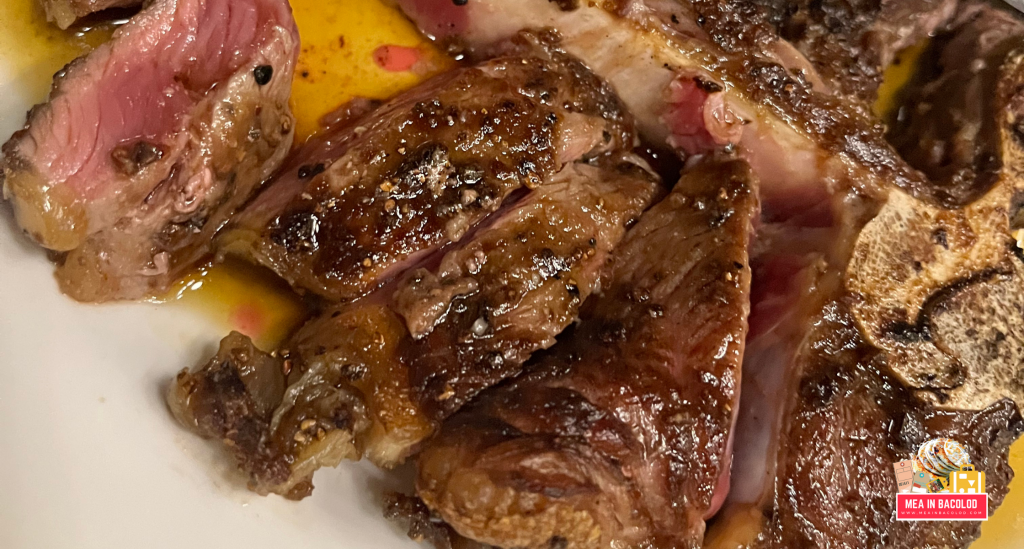 The Porterhouse is one of their steaks and they have it per 100g – we ordered 310g. It was charred perfectly with curst forming on the outside. What's promising about this dish is its smokiness, texture, and harmony of full-bodied flavors that are not overpowering.
Starters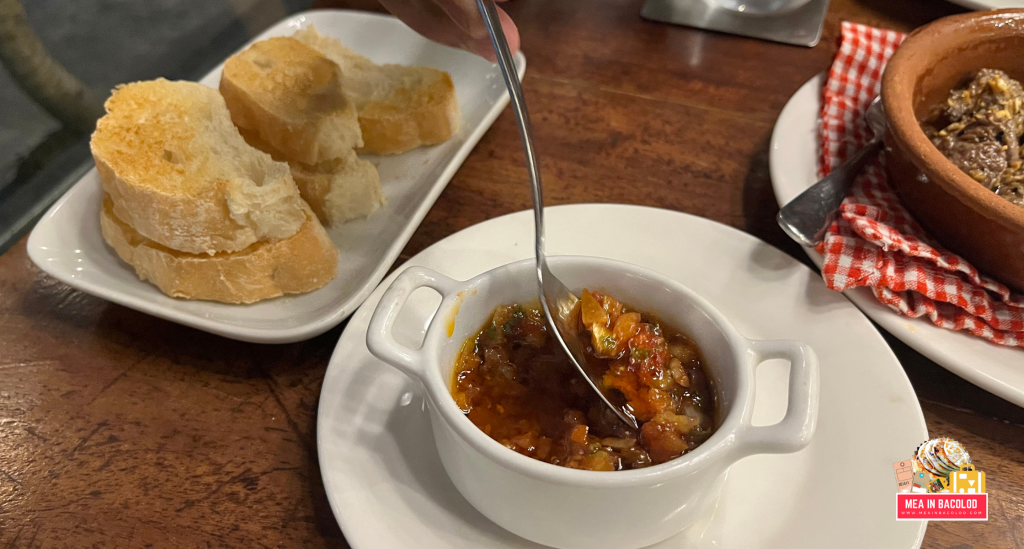 On top of what we ordered, they gave us free bread with dip. It was definitely savory which was a good starter.
I don't know the name of the dish to be honest but the bread was A+. Most likely, it was homemade – not commercial. It was toasted to perfection and it crumbled delicately while having a soft, fluffy center. Just watch yourself and remember not to eat too much to spoil your appetite for the main dishes.
Tapas Choices
What was great for me is they had plenty of Tapas choices. Whether you are into seafood, poultry, or meat, they have Tapas available for you to choose from.
Aside from the Salpicao de Vaca which we tried, I am also interested to taste their Calamares Relleno (stuffed squid), Ostras Al Horno (baked oysters), and Scallops con Crema (scallops with cream) next time.
Price Point
The place screams class. Azucarera Bacolod's prices are above average. Although other options in the city are more affordable, they're definitely not skimping on their ingredients which translates through their delectable dishes.
For most, it may not be a restaurant that you can dine at every day (unless you have deep pockets). But, in my opinion, this is the factor that adds to the charm of Azucarera Bacolod. Dishes that you can't have every day are the dishes that you always look forward to trying.
With that said, the place is great to celebrate special occasions or events. Or, if you want to show off the great food in Bacolod, Azucarera is a top option to consider.
Ambiance
With its glass walls, the place allows a good amount of natural night in during the daytime, delivering perfect lighting if you're into taking photos of yourself, your family, or of the food you ordered. At the same time, there's no shortage of light when the sun sets. The place is still well-lit.
Most importantly, Azucarera is generously spacious due to its architecture and interiors highlighting high walls and high ceilings.
The place's color palette is overwhelmingly grey, brown, black, and white which is visually elegant. The mezzanine and the interiors are rich, warm, and authentic. Overall, the restaurant has a delightful ambiance perfectly designed to deliver a sense of poshness to those who choose to go through its doors.
Service
As expected from a restaurant that comes at a price, the service was excellent. I wasn't able to get the name of our server but he was very attentive during our visit. He proactively refilled our glasses with water although we didn't ask.
I always give plus points to restaurants with phenomenal service. I'd give Azucarera a rating of 9/10 for their service.
Recommendations
The restaurant has a mezzanine floor that can be reserved for private functions. It's best to check out their Facebook Page to see how much it will cost.
Eating in the restaurant does not require any reservations, regardless, I would suggest that you call them beforehand if you're planning to dine in.
Seating is limited which is great as it allows servers enough space to pass between tables, and it allows guests a certain degree of privacy through space.
Generally, I recommend this place for special occasions – celebratory dining, birthdays, graduation dinners, etc.
We did not have something for dessert because Bob's pastry shop inside was closed. I am not sure if Azucarera is serving desserts and coffee independent of the pastry shop.
Parking is challenging. If you do find a free spot, you'll be momentarily disrupting traffic to park properly if you go there during dinner hours.
I'd like to highlight that I recommend this place to bored couples who don't know where to eat for dinner but feel like they have tried everything in the city. Overall, our experience was enjoyable – great interior, excellent service, and hearty meals. Although parking was a bit difficult, our first experience got me curious about what else Azucarera has to offer. We will definitely be back for some more of the Salpicao.
Basic Information
👉 Opening hours: Tuesday – Sunday 11:00 – 2:00 and 17:00 – 22:00
👉 Contact number: (034) 445 2867
👉 Location: 89 C.L. Montelibano Ave, Bacolod CIty, Philippines
👉 FB Page: https://www.facebook.com/azucarerabcd