Don't you just hate it when it's been raining cats and dogs the entire day? Don't get me wrong because I love the cold weather, and I can definitely get on the hygge vibes, snuggling up under the blanket and just watching Netflix and taking naps – now that's the life! But, if you're like the rest of my family, it's likely that you have always found it challenging to acclimate to the cold and rainy weather because of allergies, runny noses, and congestion. What you need is Aqua Maris – a 100% natural nasal spray made from seawater. I was given three kinds to try out, so I am sharing my first impressions today.
Pay Attention to your Nasal Hygiene
More often, we don't really pay attention to our nasal passages. As long as we can breathe or as long as the air can pass through, then we're good to go. When we have allergies or a cold, we just wait it out, drinking lots of water and taking vitamin C. Those work, of course. But, our road to recovery is paved with plenty of tissue papers to sneeze on or dry our nose with.
Just like you, I didn't really know that you could be rid of all the discomfort with just a few sprays. Nasal hygiene wasn't really something that I thought about. Now that I've tried Aqua Maris, it opened up a whole new world of easy breathing, as well as clean and moisturized mucosal membranes. When your nasal cavity and sinuses are clean, you don't have to worry about irritation, allergic rhinitis, a congested nose, possibly nose bleeding, and gunk build-up.
What is Aqua Maris?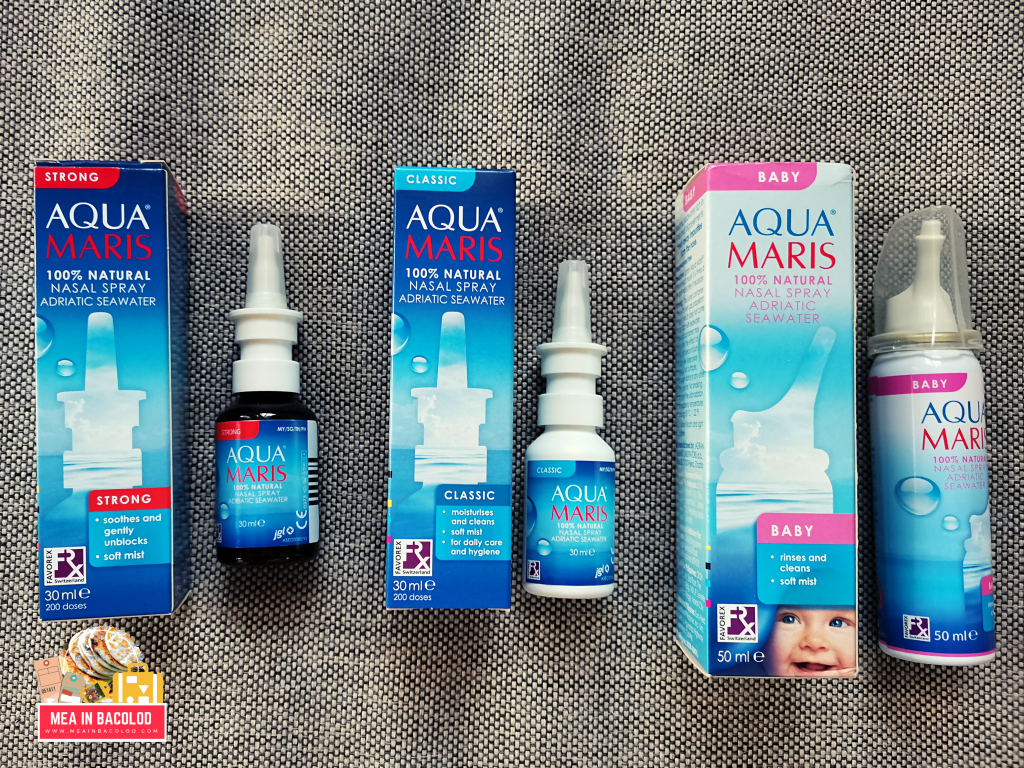 Aqua Maris is a brand with products that are based on purified seawater from the Adriatic. All of the products are for ear, nose, and throat use, addressing the specific needs of infants, children, and adults, providing relief for breathing difficulties, and helping to regulate sinus problems, allergies, and rhinitis.
Personally, I like natural products. I appreciate the fact that Aqua Maris is free from preservatives or additives. Also, they are manufactured to pharmaceutical standards for sterile production, in accordance with European GMP standards.
Aqua Maris Classic
This one I like the most because it is suitable for everyday use. It's a beneficial and natural Adriatic seawater treatment that's rich in salts and oligo-elements, that moisturizes and cleans dry and irritated nasal cavities.

I am saving this for my twelve-year-old who gets nose bleeds from time to time because of dryness and irritation. It's always been hard for him when the weather changes because his rhinitis always acts up. I haven't tried it on him yet, but I am excited to do so.
Aqua Maris Strong
The Strong variant's active component is Hypertonic Adriatic seawater which unblocks the nose naturally in cases of colds, allergies, or flu. Because of its high salt concentration, the hypertonic solution encourages the "extraction" of surplus fluid from the nasal mucosa by osmosis. As a result, the swelling of the mucosa is reduced, and breathing through the nose is improved.
I'd say that this is the kind that you need when you are actually sick, like if you have a fever, or if you feel like a cold is coming on.
Aqua Maris Baby
Aqua Maris Baby nasal spray is used on children with colds and allergies. It's great for eliminating allergens, viruses, bacteria, and impurities. Its main component is Isotonic seawater which is rich in salts and oligo-elements. What's great is the tip was specially designed to cater to a newborn's nostril.
I can't really say much about this except that my niece, the youngest in our family, love this one. Her nose was a little bit runny when I tried this on her. Though she didn't really have severe breathing difficulties, it seemed that her nose was cleaner after the spray.
Where can you find it?
You can find Aqua Maris products in leading drug stores like Mercury Drug, Med Express, and Watsons.
How to Use the Aqua Maris Nasal Spray
What I love is that anyone can use the Aqua Maris Nasal Spray. It's safe for pregnant women and little kids because there are no preservative or additives. It's not complicated to use too. All you have to do is aim the tip at the entrance of each nostril then depress the spray 1 to 2 times.
You can use it all throughout the day or as needed. Just remember not to share the nasal spray. It should only be used by one person for hygiene purposes.
Know More About Aqua Maris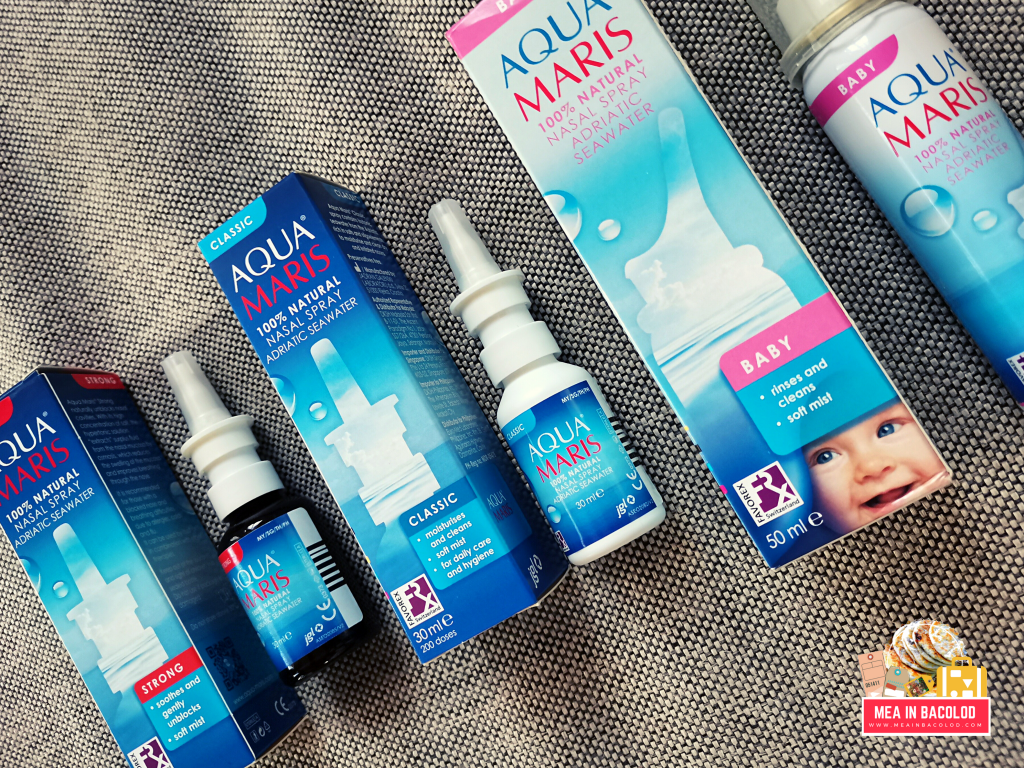 To know more about Aqua Maris, make sure to check out their official accounts on:
• Facebook: www.facebook.com/aquamarisphilippines
• Instagram: www.instagram.com/aquamarisphilippines/
You can also follow the hashtags: #BreatheFreeBreatheClean and #AquaMarisPhillippines