What do you do when you feel a sudden itch in your throat? Pre-pandemic, most of us would just drink water. Now, however, the slightest throat itch, body pain, and sneezing can lead us to a spiraling journey of Googling symptoms, checking if we still have our sense of taste and smell, and drinking more than enough Vitamin C. These are not bad steps to take when you feel like you're coming down with the flu but there's an all-natural remedy that can help make us feel better – the Lola Remedios Food Supplement Syrup.
What is it?
The Lola Remedios concoction is a ready-to-drink food supplement packaged in a tear-off sachet. You can either buy it individually or buy one whole box. Each packet has about 15ml of food supplement syrup. When you go with one box, you get 12 sachets inside.
It is recommended that you drink 1-3 sachets a day to help with "Lamig" – the feeling of being unwell or under the weather.
What's in the Lola Remedios Food Supplement Syrup?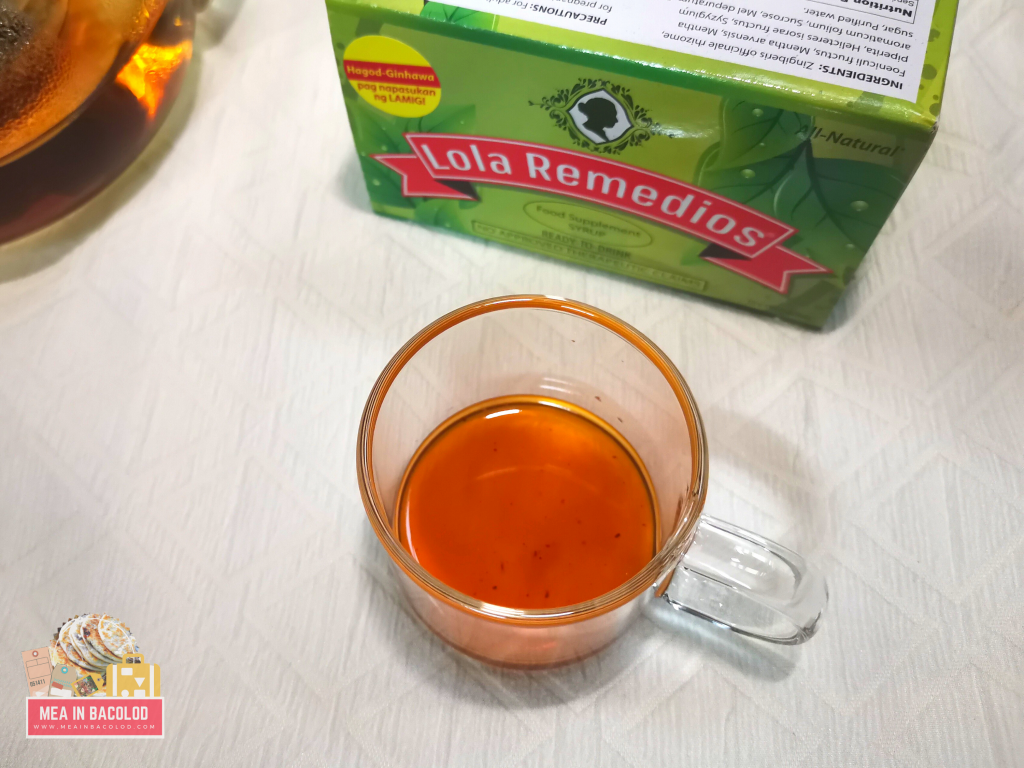 The Lola Remedios Food Supplement is all-natural. It's made with familiar ingredients like ginger, clove, honey, fennel, and mint:
• Ginger (Zingiberis officinale rhizome) – In traditional medicine, ginger is used for its anti-inflammatory properties. It's also been used as a natural remedy for indigestion, nausea, the flu, and the common cold.
• Clove (Syzygium aromaticum folium) – Here's an interesting fact: did you know that clove can help with toothaches? It contains eugenol which is a potent anti-oxidant and a natural analgesic. The Lola Remedios Food Supplement contains clove which can help common pains.
• Fennel (Foeniculi fructus) – Fennel contains fiber, potassium, folate, vitamin C, vitamin B-6, and phytonutrients which can be benecificial to your cardiovascular system. It's also used as an antitussive and expectorant in alternative medicine.
• Wild Mint and Peppermint (Mentha arvensis and Mentha piperita) – Personally, I love the smell of peppermint. Not only is it uplfiting but it also help with decongesting clogged noses. On top of that, it feels really good on the throat, helping with any itching or soreness.
• Indian Screw Tree (Helicteres isorae fructus) – This ingredient can help with abdominal and gastrointestinal problems. Traditionally, it was used for diarrhea and colic.
• Honey – Everyone loves honey but what you may not know is that it has been found to help with symptoms of upper respiratory tract infections.
Does it taste good?
To me, the peppermint is very prominent when you down one sachet of Lola Remedios Food Supplement Syrup. As I said earlier, it's really effective when you feel a bit of an itch on your throat or if your throat is sore. I haven't tried drinking it while feeling under the weather, however, I let my dad drink it when he was coughing (an allergic reaction because of the sudden change in weather). I noticed that his coughed eased up after a few days. I'm readying the boxes that I have left for when my parents get their flu vaccine.
Where can I get a box?
You can buy The Lola Remedios Food Supplement in leading pharmacies and drug stores nationwide. I recently went to the Metro Supermarket, and they have boxes at the cashier, sold per sachet. You can even buy a box online through the Watsons website.