When we went to Cagayan last year (2016), the white water rafting tour we went on was one of the most memorable activities I and my family did. It was my second time going on the same tour with the same company, and I have to say that the experience was as amazing as the first.
Company: Great White Rafting Tour
Rafters, White Water Rafting Outfits and FYI
I went with my cousins and my sister on this tour. I and my sister had gone through the same tour with the same company a few years back, but for the rest of my cousins, it was their first time. So before we go into the review, let's talk about what you need to know and bring as a first-timer:
When you go white water river rafting, you have to wear the right outfit:

Long-sleeved rashie to protect your skin from the sun.
Swim shorts or board shorts are the way to go. You can move easily.
Ladies, do bring a tie for your hair. You're going to need it.
Slippers (they will get wet)

Do not forget your sunblock (SPF 30 or higher) and water.
Do bring towels and extra clothes for after.
You can bring your wallets and phones. The guides are going to keep them safe inside a bag back at HQ.
Quick White Water Rafting FYI
Yes, it's safe.
Yes, the guides are trained for rescue.
Yes, your valuables will be safe. The white water rafting company we chose is very trust-worthy. They make sure that everything is sealed and untouched when you leave.
Package: White Water Rafting Basic Course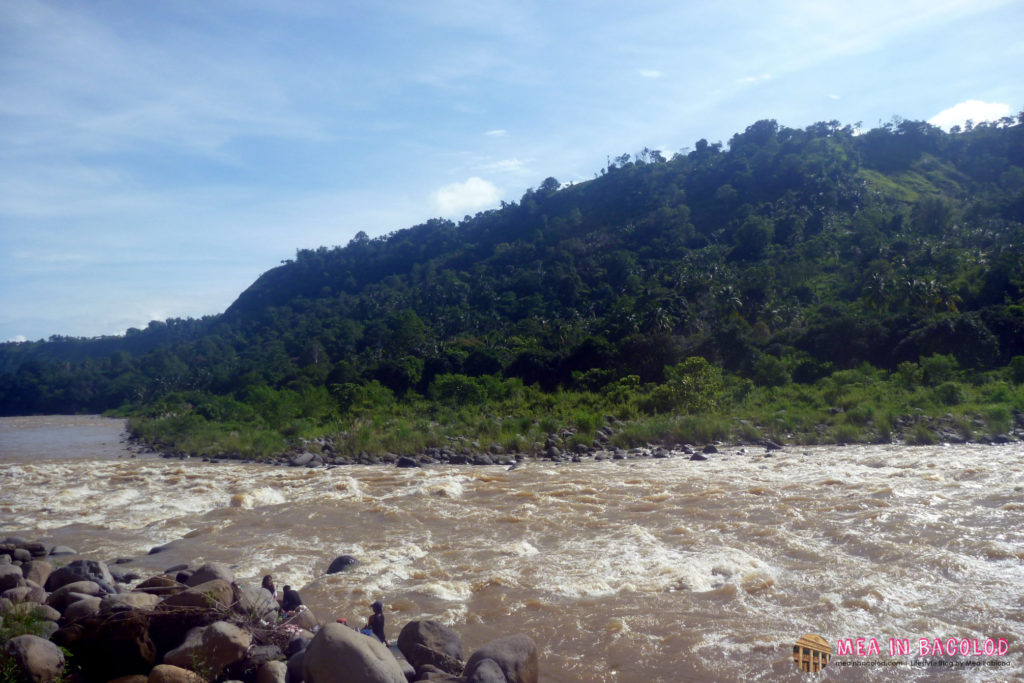 MAMBUAYA (start point) to CABULA (end point)
Takes 2-3hrs actual river run
With snack & meal =

₱ 1,400.00 as of Feb 2017 (prices may change depending on the comapny)

Inclusions:

Transfers from Hotel/Coffee Works-Divisoria to Rafting Put-in Area and Vice Versa
2 River Rafting guides
Gears and equipment
Check Great White Rafting's Other Packages Here
Getting There And Prepping
Because the package we went for included transportation, we didn't have to drive anywhere. We just waited at the hotel for the jeep to pick us up. Our time of departure: 8:00am I think.We rode the jeep to Great White Water's HQ along with other rafters.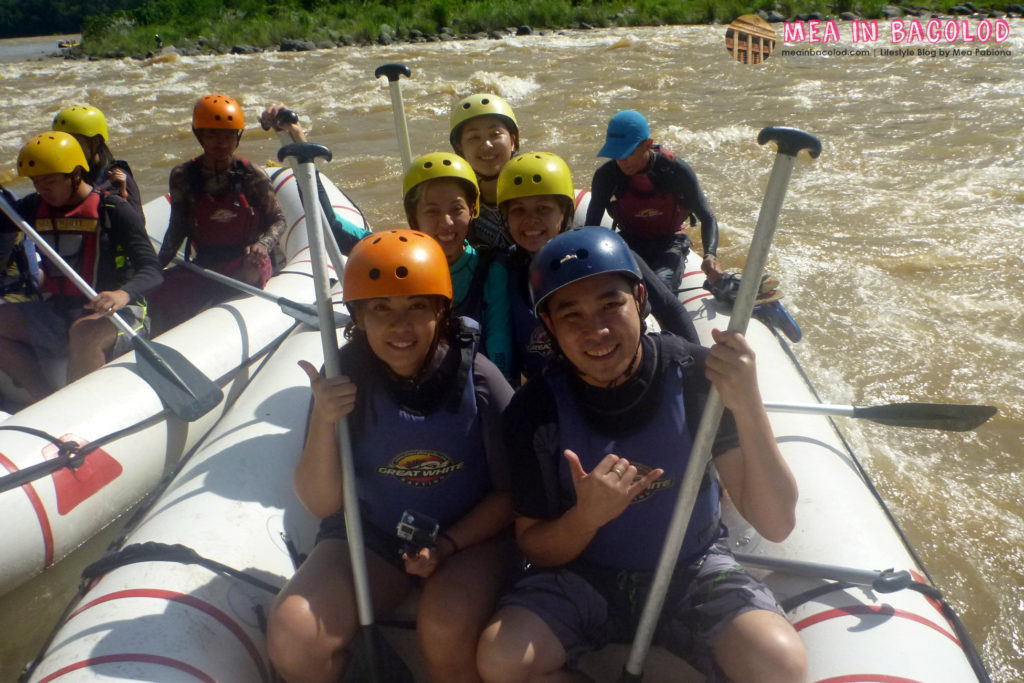 Once we arrived, they loaded our rafts on top of the jeep as we signed waivers and put our valuables inside a bag (which they then sealed and kept). What they allowed us to bring along were our sunblock and water. The drive to the starting point took about an hour or more. Once we arrived at the spot, they prepped us with safety our gears and instructions.
Your slippers will be tied together in a ball. The guide will take care of the ball of slippers.
You can give your water bottles to the guides too.
Your sunblock, on the other hand, you can put inside a pocket on your vest.
Rapids And Pictures
I forgot how many minor and major rapids we went through, but the course run for about two and a half hours. The minor rapids were manageable. They even had our team do tricks like standing up as the raft was moving over small rapids.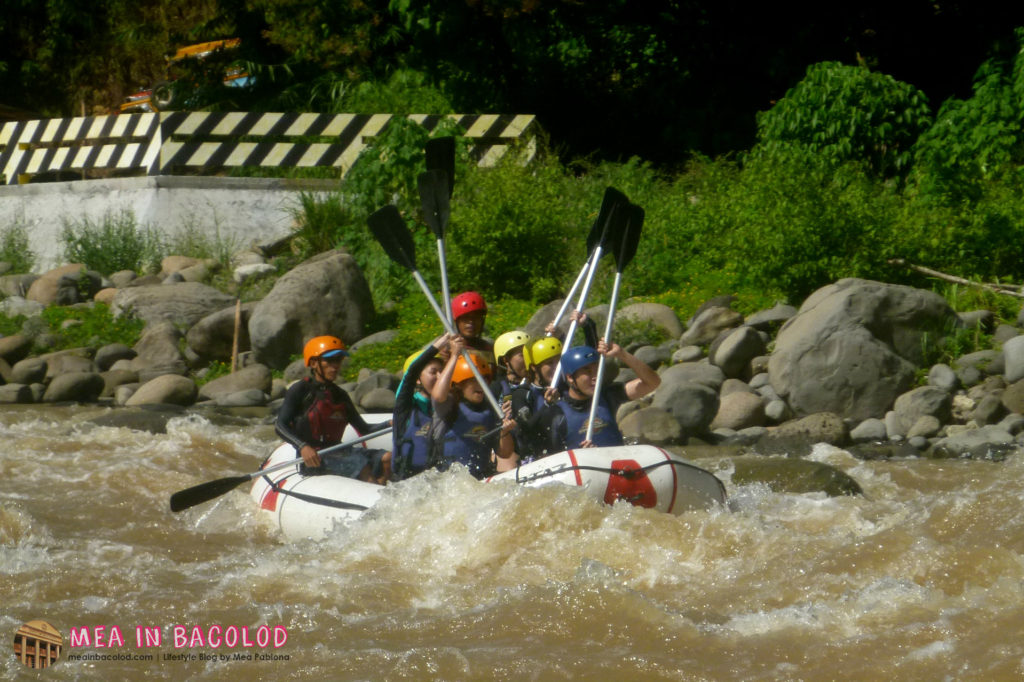 Every rapid we conquered deserved a team cheer. I forgot what ours was but it was most likely the Spartan "Awoo" sound from the movie 300.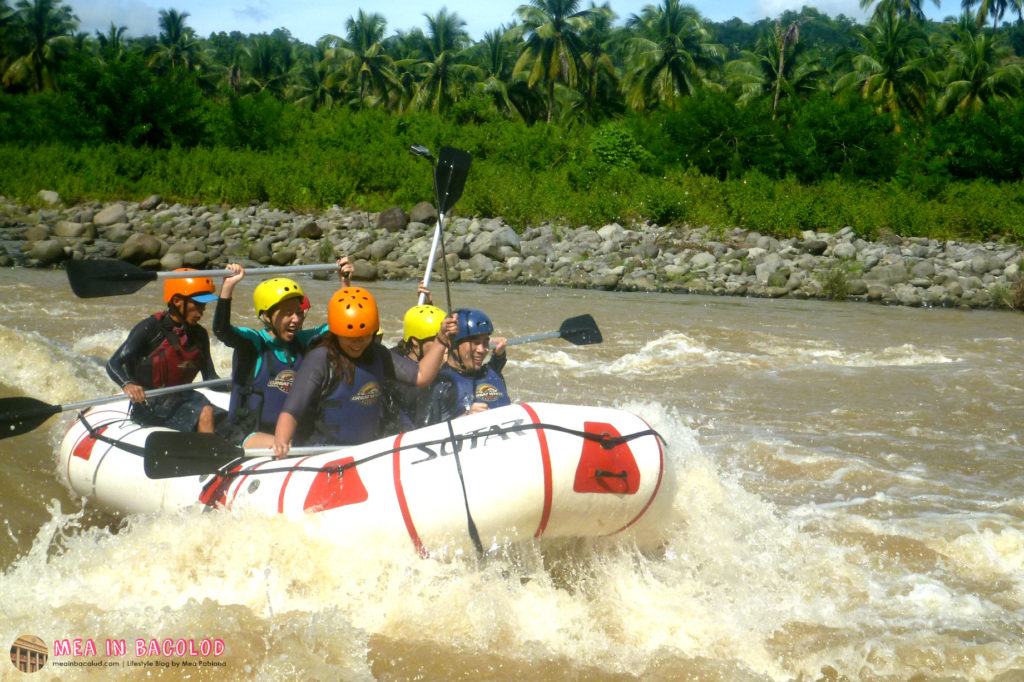 Managing The Heat
It got pretty hot while we were white water rafting because there was no shade for the boat to go under, so to cool you off, the guide will take off his helmet, scoop water from the river, and then pour it on you. You can do it yourself too with your helmet. Don't forget to reapply your sunblock.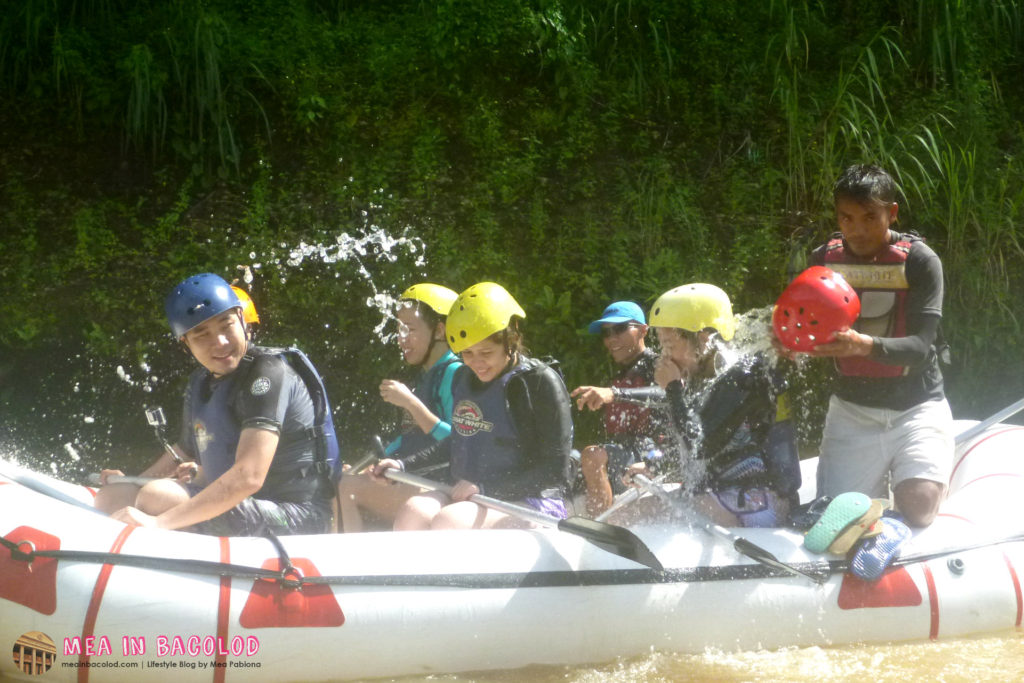 Down Time
Throughout the course, you will have a bit of downtime. This is when you're just cruising along the Cagayan de Oro river, admiring the sights. Don't worry because your guides will entertain you with interesting trivia and unlimited jokes. The jokes aren't corny too so you'll definitely enjoy even the downtime.
You're also going to have your snacks during a down time. They served Cagayan's infamous pastel and mineral water. You have to keep your energy up and that's why they chose an iconic snack that's sweet.
"AMBAK" (Meaning: Bisaya for Jump)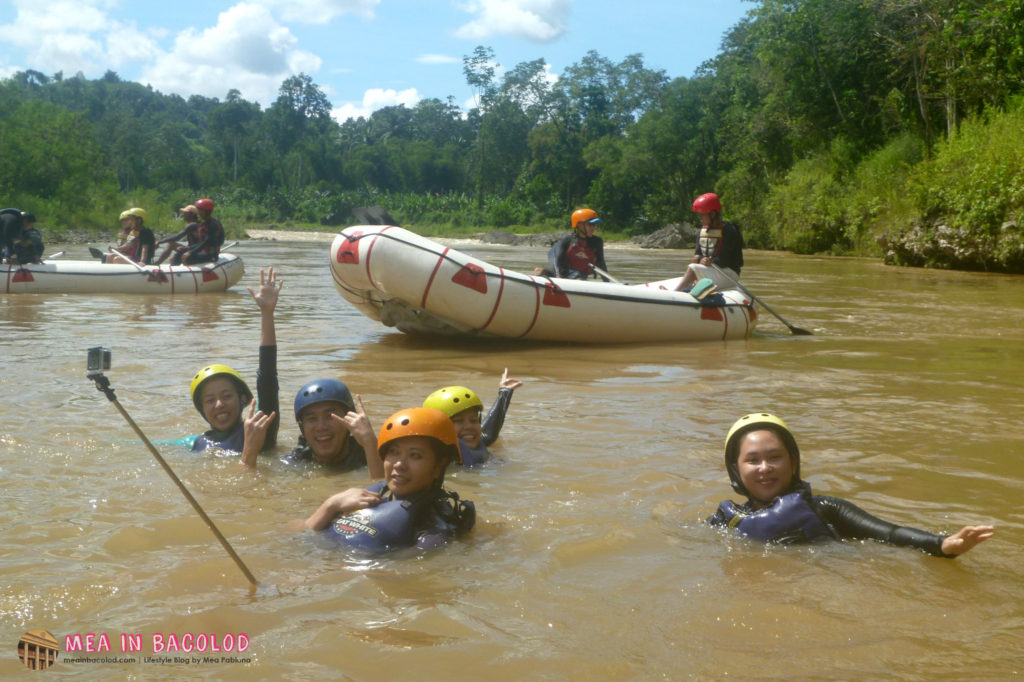 Jumping off the boat is definitely OK if the guides say so. At some point, the guides' going to tell you that it is ok to jump off and swim for a while, or just lay back and let the current move you.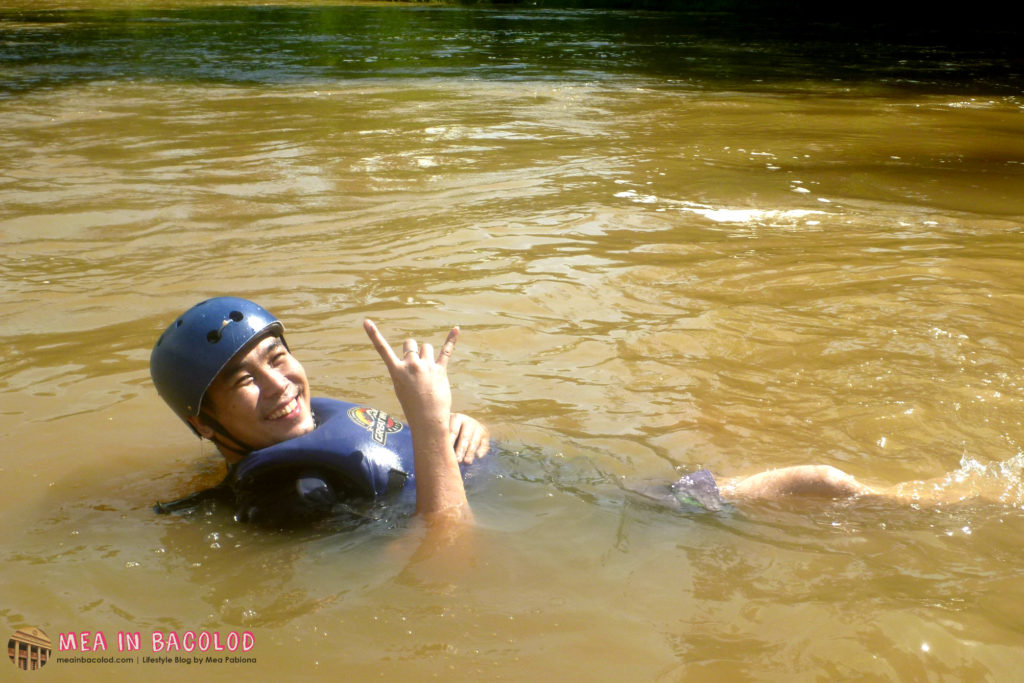 They're going to let you know when to come up. You don't need to worry how you're going to do it because the guides will do all the work for you. They're going to hoist you up by grabbing on your life-vest. Or, you can climb up if you have the upper body strength to do so.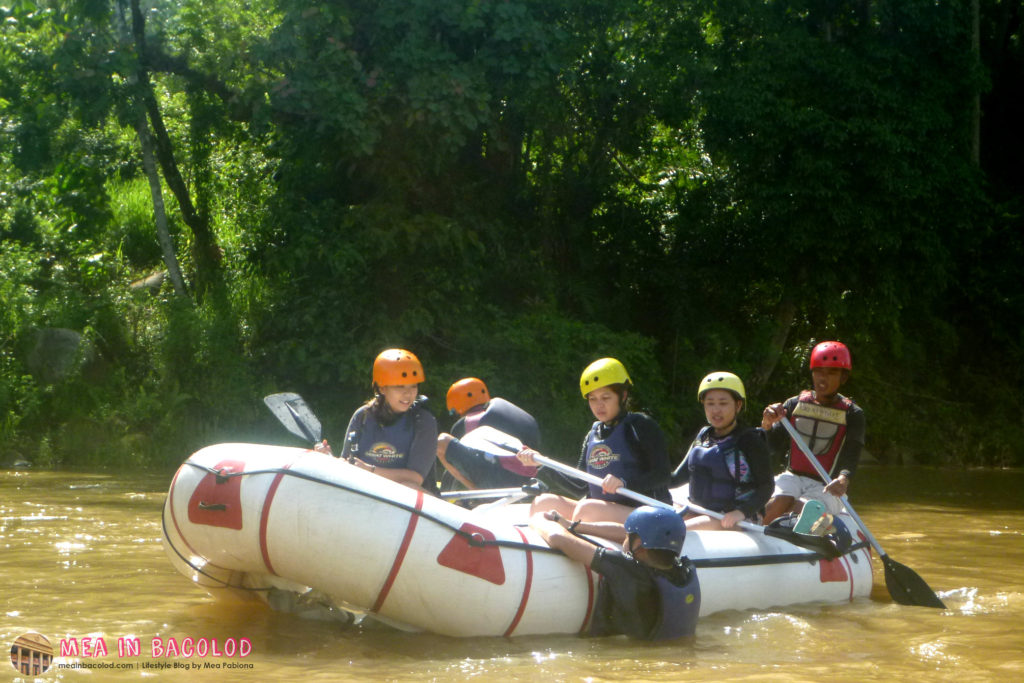 A Variety Of Views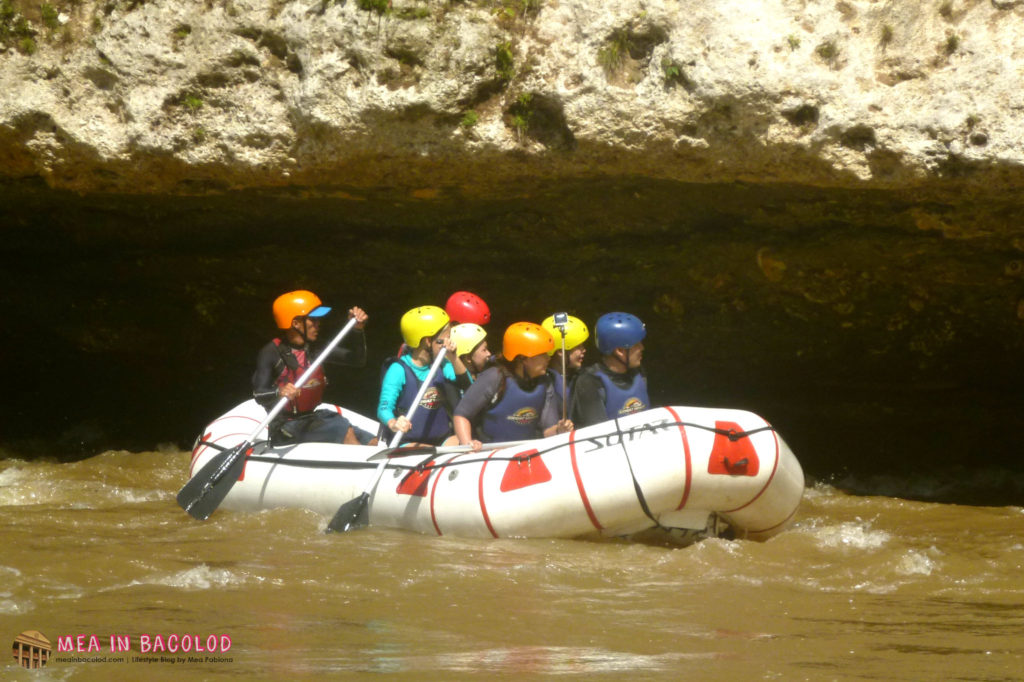 White water rafting along the Cagayan de Oro river is a chance for you to appreciate nature. We saw caves, tiny waterfalls, locals fishing, a few animals and more. So, it's not just trees and mountains. For example, we passed a bridge that was destroyed by the typhoon Yolanda. It was being rebuilt, but the locals, temporarily, built another one out of ropes so they can get across.
Major Rapids on The Basic Course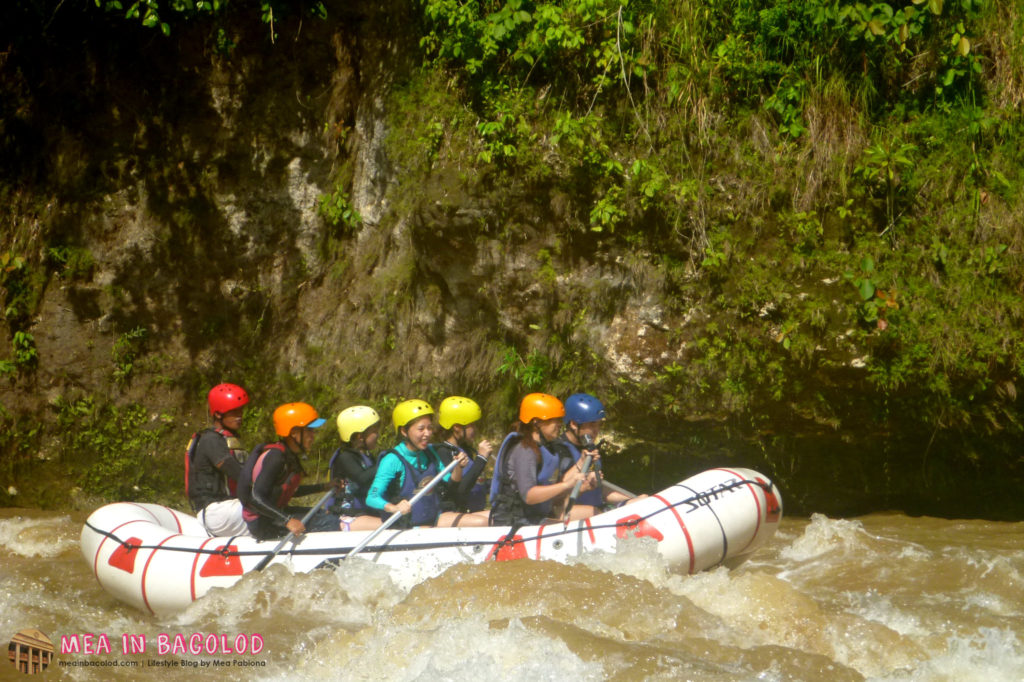 The guides telling you to get ready for a major rapid kind of makes you feel anxious, but you shouldn't be because even the major ones are manageable. They are a bit scary because of the sound of water rushing, but you will survive it. We did.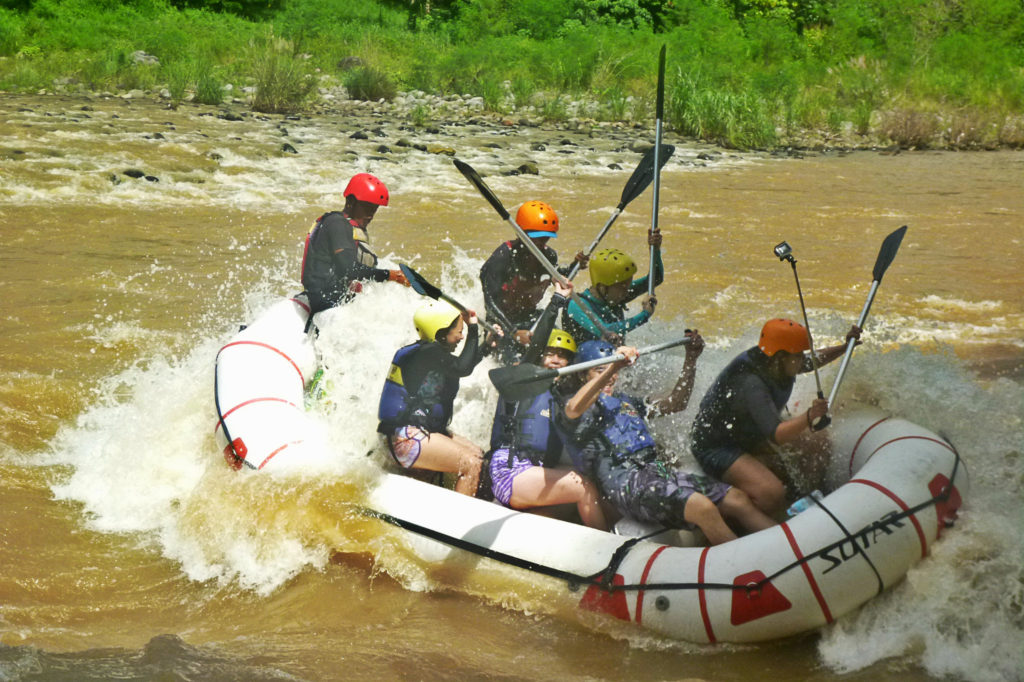 Check Our Video
Overall Experience With Great White Rafting (9/10)
I would love to do it again, but the next time around, I'm going for the advanced course. Once you conquer the basic, you're going to want to experience something more extreme.
The guides were amazing. I think any guide you get from Great White Rafting will be as funny as heck.
We had lunch back at HQ. We also changed our clothes there.
The price is affordable for the experience you get, trust me.
FYI this is not a sponsored post. I genuinely loved my experience with the guys from Great White Rafting.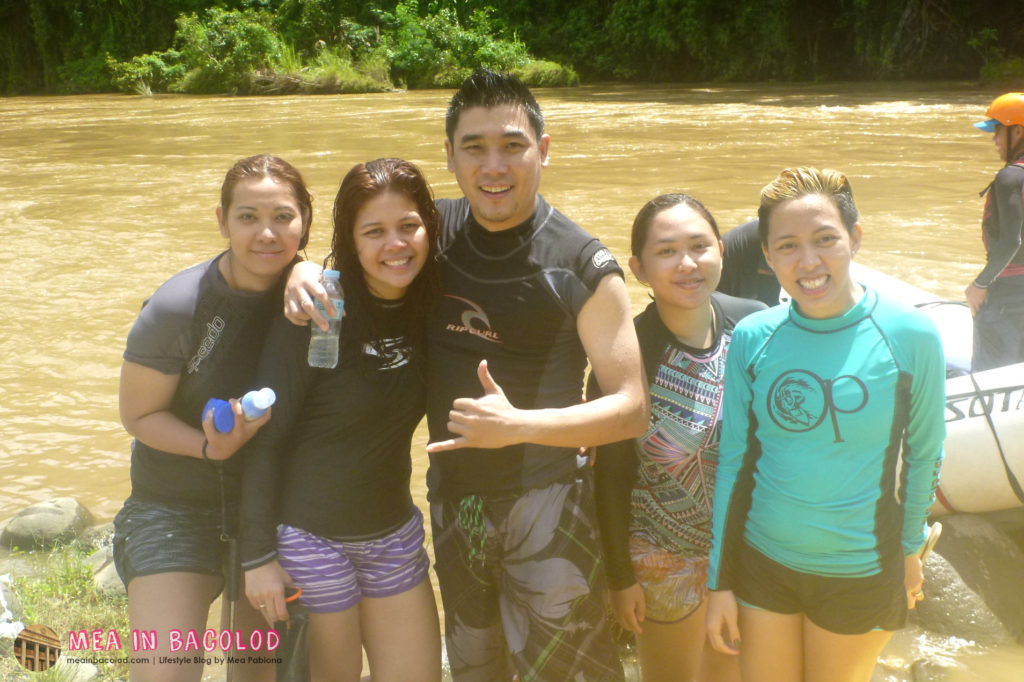 I want to give a shout out to my team: (L-R) Lizette, we miss you already. To manong Jun-Jun and manang PJ, thank you for the company. Iloilo soon! And to my sister, Trixie, I dare you to go with me on the advanced course.




Great White Rafting Contact Information
Great White Water Tours, Upper Carmen, Cagayan de Oro City, Misamis Oriental
Telephone #: (088) 851-7856
Mobile #: +63-917-706-0677