Is it just me or has Bacolod had a lot of organic restaurant openings over the past year? It's probably just me because I'm at an age (I'm 29) where you come to your senses and realize that your indestructibility, more commonly known as youth, is slowly leaving your body year after year.
Whatever the case, I'm all for eating healthy at any age.
One cafe in the city that embodies the very idea of healthy eating is Merkado (ni Maria) Cafe. They invited me, along with fellow Negros Bloggers, over for some fresh, all natural, sumptuous lunch. The invite was very much appreciated as I have been eyeing to visit this place ever since a good friend of mine told me about it.
Merkado (ni Maria) Cafe Location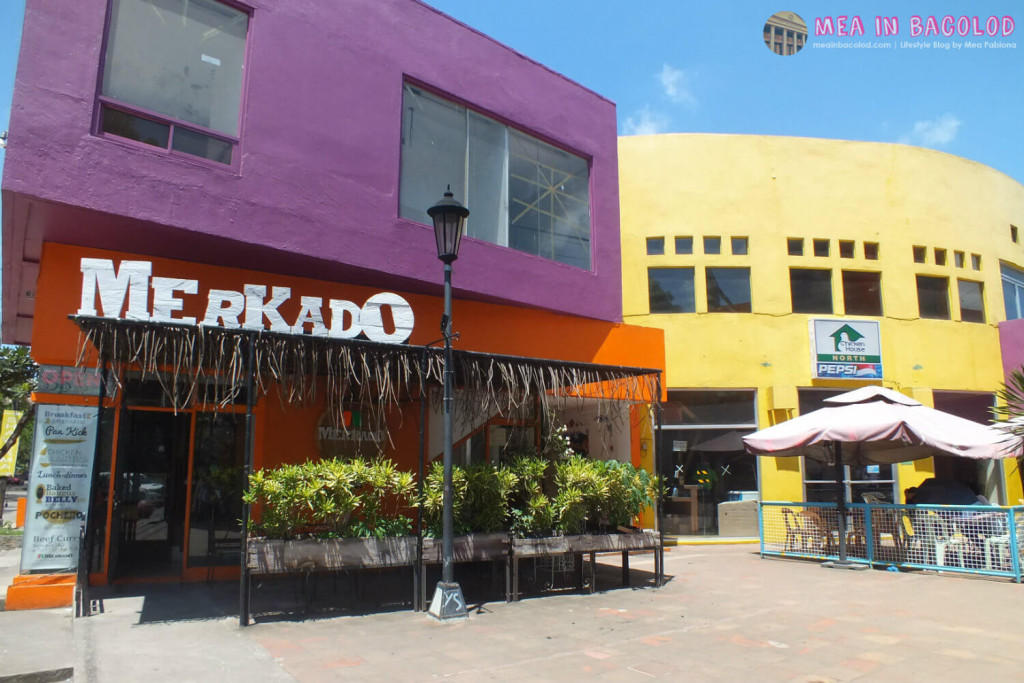 You can find the cafe at the Art District along the Mandalagan area. You can't miss it if you enter through the main entrance. It's right beside Chicken House and it's visible from Select which is right across the street.
Cafe Details
Opening hours: 6AM – 10PM
Serves: Breakfast, Lunch & Dinner
Dishes: Mostly Filipino
Nice to know facts about the cafe:

A believer in the farm-to-table concept
Slowfood cooking process (this is not to be mistaken for slow service ladies and gents, it just means they cook food in a more traditional way)
Ingredients are organic and, mostly, whenever possible, locally sourced
Inside and Ambiance
The inside of the cafe is very homey. You'll see a lot of nature-elements in their design and decor, like wood, without sacrificing its chic vibe. Merkado Cafe is comfortable to eat at & the ambiance is pretty relaxed. It's pretty much casual dining for this cafe.
Merkado Cafe Menu
Pica-picks Beer Match
1. Chicken Tenders & Lumpia Prito
The chili sauce is so good. The rest of the bloggers thought so too and so we asked if they sold this in bottles. The answer? No, but they're working on it. Watch out for this chili sauce guys.
2. Camote Chips
This is crisp fried in virgin coconut oil, by the way.
All-Day Breakfast
1. Pan Kick – Highly Recommended
The best thing about this breakfast dish is the maple syrup. It's pure organic maple syrup and not just sugar and water. It goes very well with the pancakes. It's really called Pan Kick, I didn't misspell it.
2. Chicken Galantina
Chicken Galantina is chicken that's been stuffed with beef and organic vegetables. This is one of Merkado Cafe's best sellers.
3. Beef Tapa
4. Prito Nga Bangrus
It's wonderful that all breakfast items come with your choice of organic black, brown or white rice, scrambled or sunny side up, free-range egg, and whatever fruit that's in season.
Lunch & Dinner
1. Kare Kare
You can add extra ginamos for P10. This dish has ox tail and leg, peanut sauce, pechay na bisaya, eggplant, puso sang saging, string beans and, of course, ginamos.
2. Beef Curry – Highly Recommended
The beef was really tender and the sauce was, for lack of a better term, "nanam". I'm sure ya'll know what this word means.
3. Pochero – Highly Recommended
Aside from this dish being my favorite, the Pochero that Merkado Cafe serves just tastes like old school, memory-inducing, good ol' pochero from my younger years.
4. Bakes Bangus Belly – Highly Recommended
The Bangus Belly is another one of the cafe's best sellers. It's topped with tomatoes, garlic and onion.
5. Fish Tinola
The tinola is NEW on their menu. This traditional dish comes with the basic ingredients of red onions, tomatoes, balatong and talong with either Sea-Bass, Red Snapper or Lison.
Pasta
1. Spaghetti with Fresh Organic Tomatoes
2. Spaghetti with CLAMS
Both pastas are NON-GMO, with EVOO (Extra Virgin Olive Oil), garlic, tomatoes, basil/parsley, and Pecorino Romano cheese. The difference is one has wild-caught nylon shells and the other doesn't.
Salad
J's Greens – Highly Recommended
This can only be found in Merkado Cafe. J's Greens was one of my favorites. The entire plate is good for two, but you can have it yourself if you love veggies and you don't like sharing. I would recommend this for lunch or merienda. It's so healthy and the calamansi vinaigrette is simply amazing with the greens.
Sandwhiches
CB&C
CB&C stands for cheese burger & chips. There's only one burger per serving, please take note. The buns are whole wheat, the patty is pan-grilled local ground beef and the dressing is Merkado Cafe's own.
Drinks
1. Calamansi Slush & BaNanANana Smoothie – Highly Recommended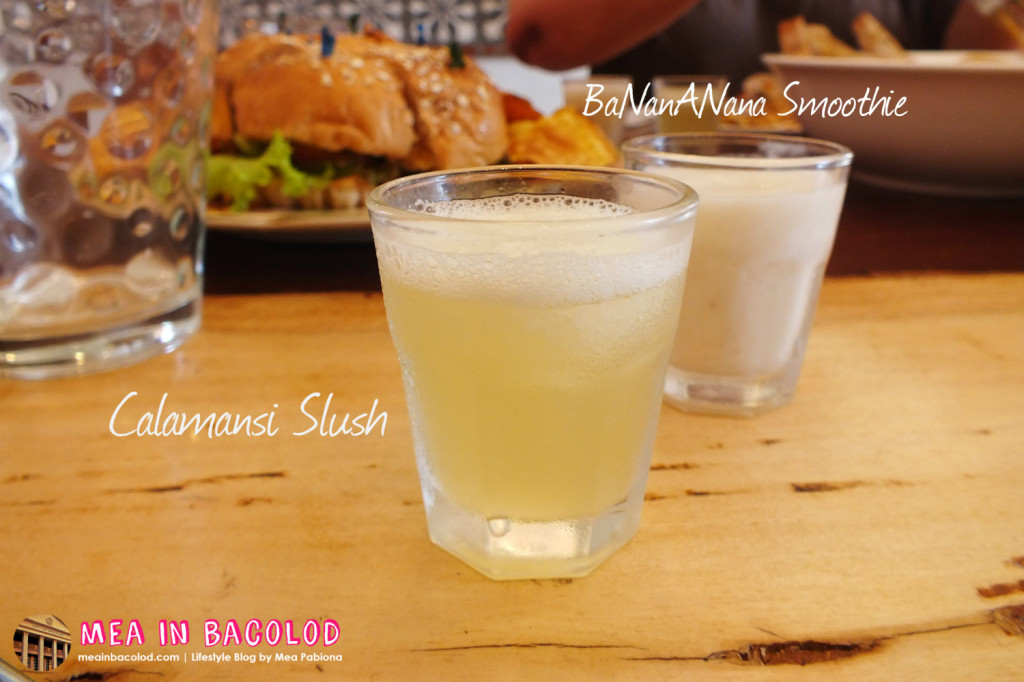 Both of these drinks get a thumbs up from me. Both are equally refreshing, but what's great to know is the Calamnsi Slush can actually be spiked with Tanduay Rum which makes it a Calamansi Slush Punch.
2. Merkado Iced Coffee – Highly Recommended
All you need is one cup of this. If you're a beginner coffee drinker, maybe you can take half. That's all I'm going to say. Because its Kanlaon coffee, you know that it'll be one of the best iced cups you'll ever have in your life.
Desserts
Creme Brulee
One of my favorite desserts has made it into Merkado Cafe's menu. Creme brulee, in general, tastes like yema and heavenly clouds. I'm guessing because the ingredients of the creme brulee Merkado serves is local and natural, the taste becomes more like what angels in heaven have for dessert.
So that's a wrap for Merkado Cafe. Don't forget to follow them on their social media accounts. I highly recommend that you visit the cafe one of these days. Bring your friends! If they're not from Bacolod, all the more that you should share Merkado Cafe's goodness with them.