Campuestohan Highland Resort is a destination that needs no introduction. Bacolod locals are either familiar with it or they've actually been there once or twice already. It's so notable that locals recommend it to guests when guests ask which places to visit in Negros. It's one of a kind here in the island of Neg Occ and, the great news is, it's not that far from the City of Smiles.
Resort Profile
Location – The resort is located somewhere in the boundaries of Talisay City and Bacolod City.
Type – It's a nature park and a theme water park and resort combined.
Area Measurement – I don't have an accurate measurement but all I can say is it's massive.
Opening and Closing – 7am to 6pm, Monday-Sunday.
Amenities you might want to know about:

Pools
Rides and Attractions
Spa
Bathhouse and Public restrooms
Playgrounds
Resort Restaurant
Several accommodation options
and more…
How to Get There
You have 3 options: private/rental cars, resort shuttles and the off the beaten path type of transportation option.
Private/Rental Cars
If you have one, all you have to do is drive up to Campuestohan. From Lopues East or Mcdonald's East, take the road that goes up to the mountains. Go straight. There are actually signs that tell you where to turn when you reach Granada, a small barangay that you'll pass through. When in doubt, ask for directions.
Resort Shuttles
There are different options for resort shuttles:
30-seater Sarao with A/C. Costs P100 per head and travels during the weekend. You will see this parked at the Villa Angela Arcade, right across Lopues East or, more specifically, right across Jollibee East. The Sarao can also be rented for private groups. It is a 2-way service costing P3000. You can choose the pick-up and drop-off point as long as it is within the city of Bacolod.
Nissan Urvan. You can rent the van for the day with a maximum of 15 persons, costing P1500, or you can rent the van for an overnight stay. The same maximum capacity applies, costing P2500.
Off the Beaten Path
From the Burgos Market, look for the Alangilan jeep stop. Wait for the jeep to be full. Tell the driver that you are going to Campuestohan. He's going to drop you off a tricycle terminal. Rent a tricycle and tell the driver that you're going to the resort. I'm not sure how much this option would cost you, but I don't recommend that you go for this one. It's a bit of a hassle especially if you have kids with you.
Entrance Fees and Other Fees
As soon as you arrive at the resort, you would need to pay the entrance fee. It's P150 per head. Kids who are below 2 years old can go in for FREE, but the ones over 2 years need to pay the same fee as the adults. Parking is, of course, free and you'll find that you have plenty of space to park your private or rented vehicle(s) in.
In fact, they were working on a bigger parking lot (I think parking lot B) so visitors have more space to park their cars in. This parking lot wasn't open when we visited but when it does, it'll be more convenient as there will be 2 entrances to the resort. I saw a ticket booth on the closed parking area which will make getting into the resort easier.
Cottages and Accommodation Options
For day trips, you have 3 types of cottages to choose from:
Big Cottages – good for 20 people – P1000
Small Cottages – good for 12-15 people – P600
Umbrella Hut – good for 10 people – P500

You can double check where you can pay the fee. I think you can pay at the entrance booth or at the restaurant.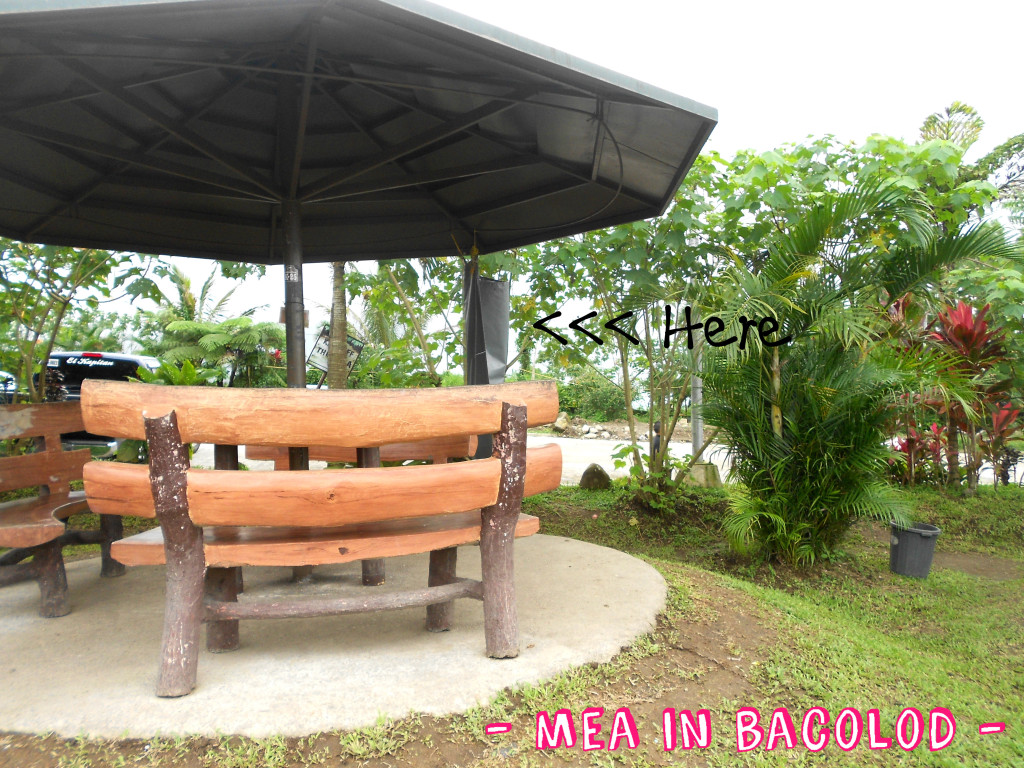 Here's what I like about the cottages. They have covers that, I assume, you can use when it rains. The bigger ones also have the same covers. It's a very nifty feature as Campuestohan makes it easier for its visitors to take shelter when it's raining.
As for accommodation, either for overnight or for a few days, you have several options to choose from:
Bonita Huts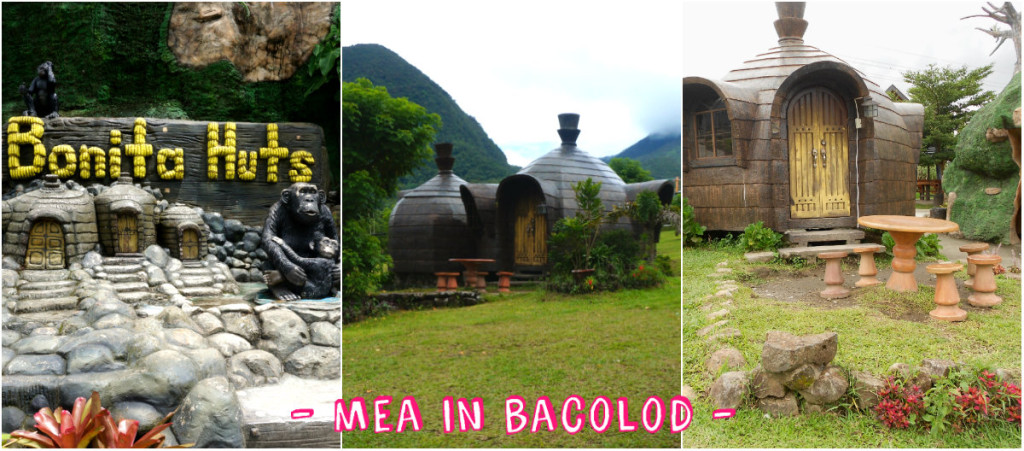 Inside
Good for 4 people; maximum of 6
P2500 for an overnight stay
The 4 people already get free entrance passes
Excess of 4 people is P300 per head
No A/C but with restroom
You might be worried that it doesn't have an A/C. On the contrary, it's pretty cool inside and when night time comes, it's not an A/C that you will need but blankets.
Indian TeePees

Inside + View of Other TeePees

Good for 6 people
P5000 for an overnight stay
The 6 people already get free entrance passes and free breakfast
With A/C and restroom
Choose: family room or suite room
In case you were wondering, the toilet and the bath are separated. If you're facing the mirror, the toilet is on the right and the bath is on the left.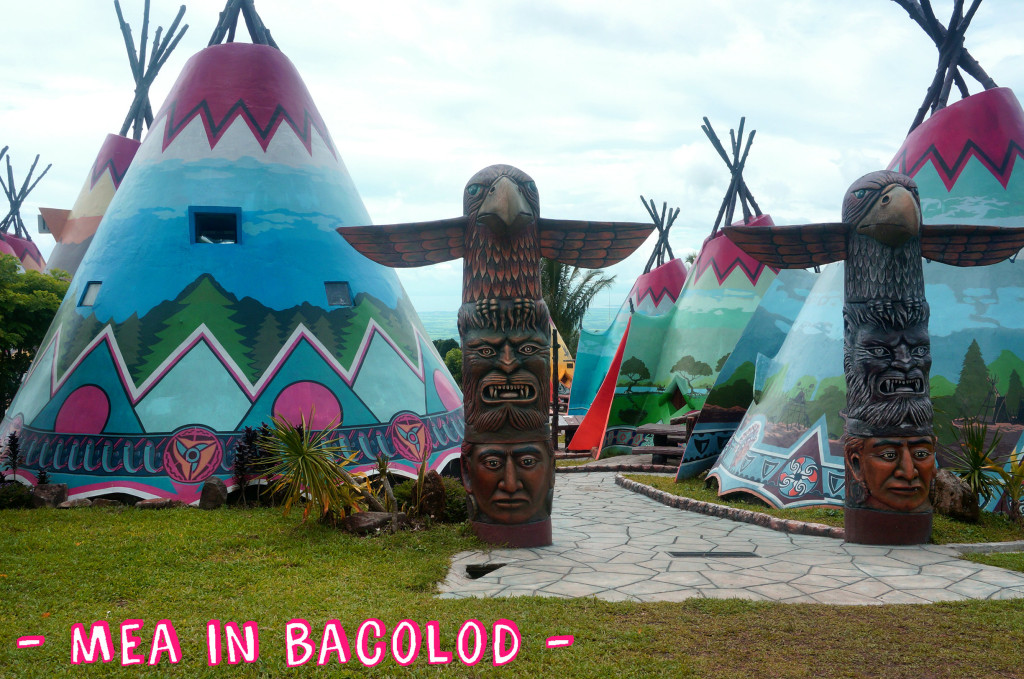 It may not feel like it when you're in the inside, but it's going to be like you're living in an Indian village. The TeePees are closer together compared to the Bonita Huts. If you like having neighbors, definitely go for this accommodation option but if you like your privacy, go for a Bonita Hut.
The Log Cabin
This is probably the closest Negrosanons can get to living like a pioneer. Well, not exactly but the log cabin factor is there.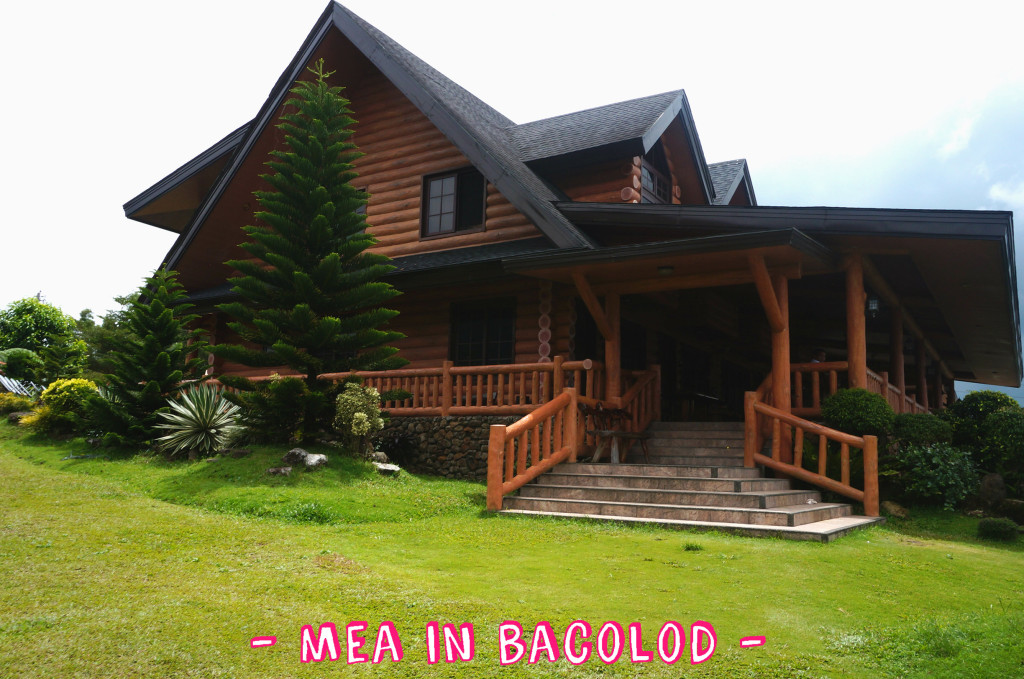 This building is more elevated thus, you get to experience a really nice view every time you step out of your room.
Inside + Outside the Rooms

The Cabins can be good for 3, 4, or 5 people
P3000 for 3 people, P4000 for 4 people and P5000 for 5 people (overnight stay)
When you book a cabin, it already includes breakfast and entrance passes.
With A/C and restroom
With WIFI but the signal is not that strong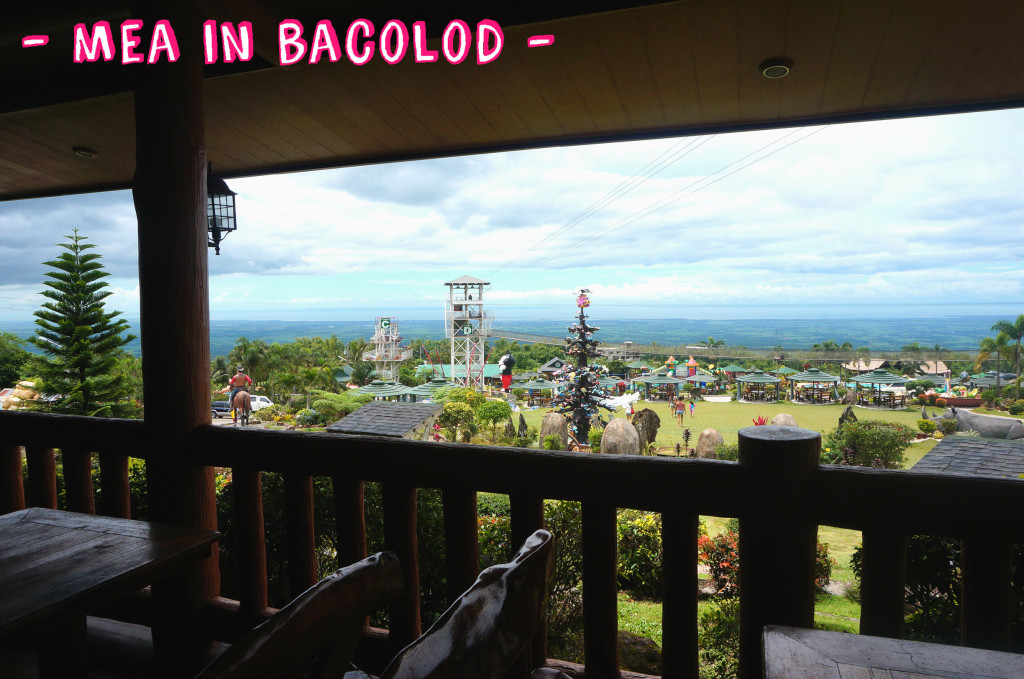 If you noticed, the veranda of the cabin has several tables and chairs which you can use for eating. There's also wooden furniture for lounging around.
When I visited the Log Cabin, there was a group of people that looked like they were having a mini-seminar. That's actually a great idea for people in an office or company. You have room for presentations, meetings and so on. Your rooms will be close together so it's more convenient to be in touch with members of your group.
King Kong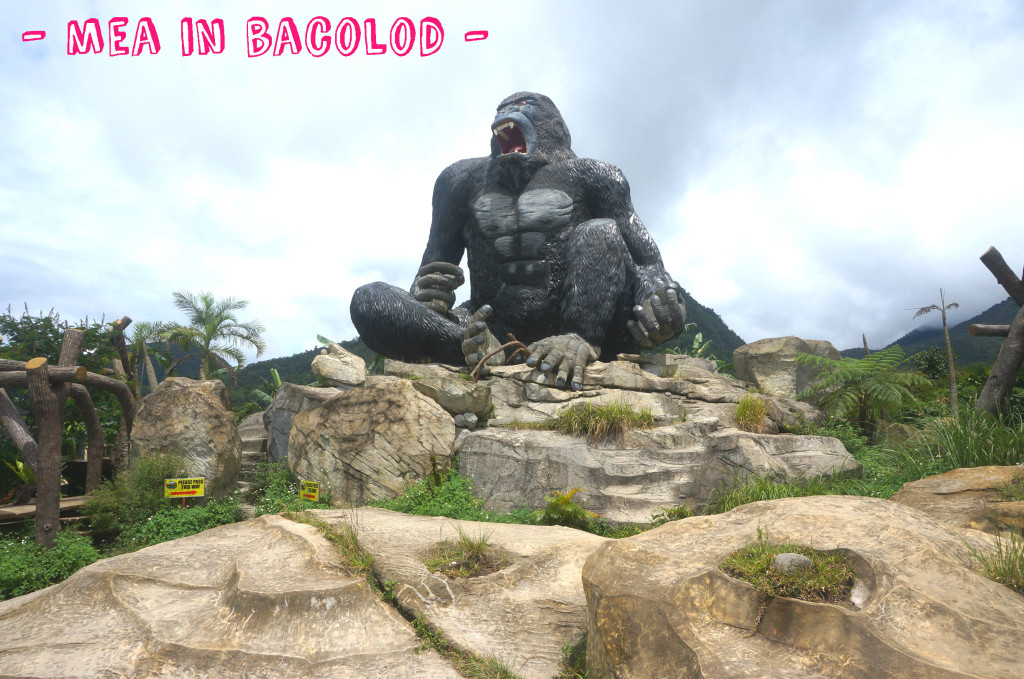 The King Kong statue is like the pièce de résistance of the resort. It's the centerpiece, so to speak. The fun thing is that you can actually spend the night inside the king of the apes.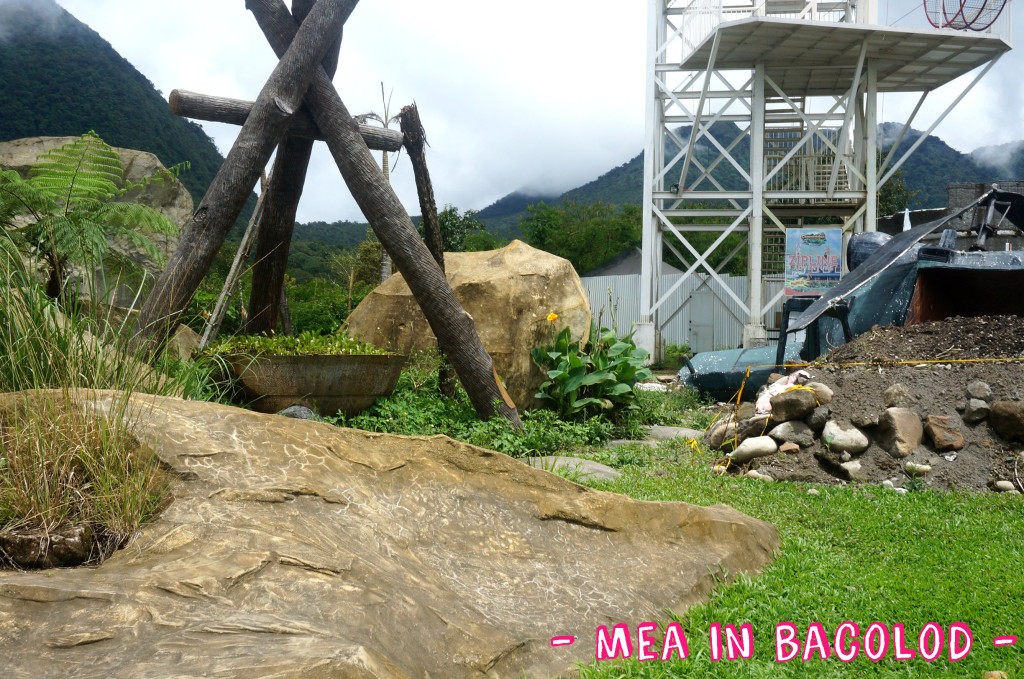 The surrounding is meant to look like a plane crash so don't be put off by its unkempt appearance. Have you ever seen a plane crash site that's kept and tidy? I don't think so.
Inside + Outside seating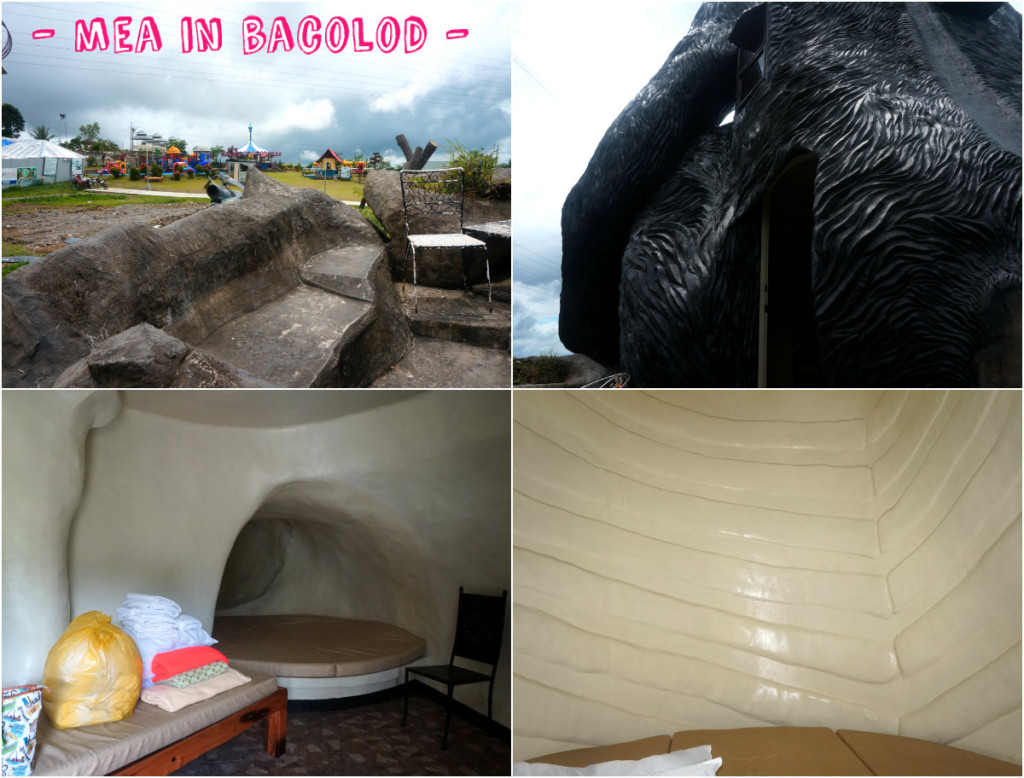 The doorway inside the great Kong can be found at the back, on its hip. The outside has a stone seating and a few chairs but no shade. Once inside, you'll see the ground floor which is mostly seating. Going upstairs, you will see the bedroom which, I think, is King Kong's rib cage. The bone design on the walls also gives the room a ribcage feel. It's fun for pictures and it also makes a fun memory to tell folks back home. You can also tell them that King Kong roars sporadically. A speaker strategically hidden from plain sight plays a loop of roaring sounds every once in a while.
Good for 6 people
Loft-type
P6000 for overnight stay
The 6 people already have free breakfast and free entrance passes.
With A/C, restroom and seating
Excess persons can pay P300 per head minus the free breakfast
Bathhouse
This is probably not on the website. So, the resort has 2 pools (we'll go into more details about these later). The older one, which is the one that's NOT shaped like a foot, has several cottages that surround it. It also has bathhouses for both males and females. The upstairs of those bathhouses can be rented out as accommodation.

Good for 4 people
P2500 for overnight stay
The 4 people already get free entrance passes.
Excess persons can pay P300 per head
Only common restroom
The great thing about staying in a bathhouse is that you get to be really close to the pool. The downside is that you won't have your own restroom.
Camping Grounds
Are you planning to rough it up? No worries. Bring your tent and set it up on the resort's camping ground. You'll have access to all of the common restrooms. The camping ground is near Kung Fu Panda. You can also ask if there are other areas where you can set your tent up on because the resort has a lot of open grounds.

Bring your own tent
P300 per head for overnight stay
From 5pm to 6am
Only common restroom
---
Other details about accommodations:
Check-in time: 2PM, Check-out time: 12noon
You can check in as early as 7am if you already have a room reservation
Log Cabin rooms have 32″ LED TV
All rooms have a hot and cold shower
It's always a good idea to check and book way ahead of your scheduled trip
To confirm your booking, a 50% down payment is required
Visa and Mastercard accepted
For bookings and further inquiries, please contact:
Landline: (034) 702-0964; (034) 433-3335
Mobile: 0915-211-1406; 0917-300-5007; 0925-600-8088
Contact the numbers fr0m 9am to 6pm.
---
Amenities, Safety, and Tips
Swimming Pools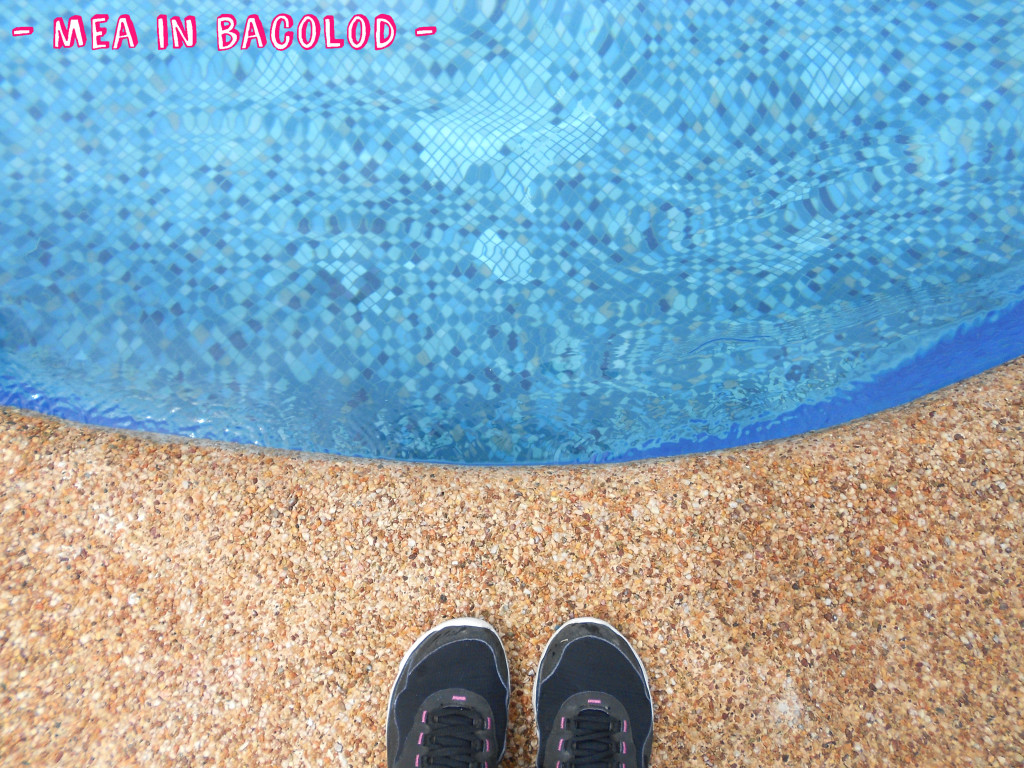 Take a look at how beautiful the bottom of Pool 2 is. I digress but, it's what makes Pool 2 all the more enjoyable to swim in. It makes you feel like you're really vacationing!
Anyway, I think I already mentioned the resort having 2 pools, right? Pool 1 is the older pool. It's supposed to be bigger. Pool 2 is shaped like a foot. Both pools have cottages that surround them as well as common restrooms that visitors can use for bathing, changing and bathroom breaks. For safety, rest assured that they always have 2 lifeguards that roam around each pool.
Bonus Accommodation Tip
Remember the nursery rhyme about the old woman who lived in a shoe? Well, you can now see how the old woman felt while living inside a shoe. The upstairs of the shoe can also be rented out as accommodation. See for yourself. Check the back of the shoe. You'll see a ladder there that leads up to the room. Go for this one if you want to be near to Pool 2 as well as a parking area.
Good for 4 people
P2800 for overnight stay
The 4 people already get free entrance passes.
Excess persons can pay P300 per head
Only common restroom
Pool Schedule Tip
Take note that the resort only opens both pools during peak seasons. When I went there, only Pool 2 was open. They alternate the opening of the pools. Let's say today, Pool 1 is open, tomorrow it's going to be Pool 2.
Spots for Kids
This I am not sure of, but I'm going to say that the resort has 2 playgrounds for kids. One is near the tower for the zip line and the other one is near Pool 1.
You'll also find rides for smaller kids: the train and the carousel. The fare is only P30 or P50 per head. Operators are on standby in the area. It's also around here that you can go horseback riding, P100 for 15mins.
Hero's Hall and Other Statues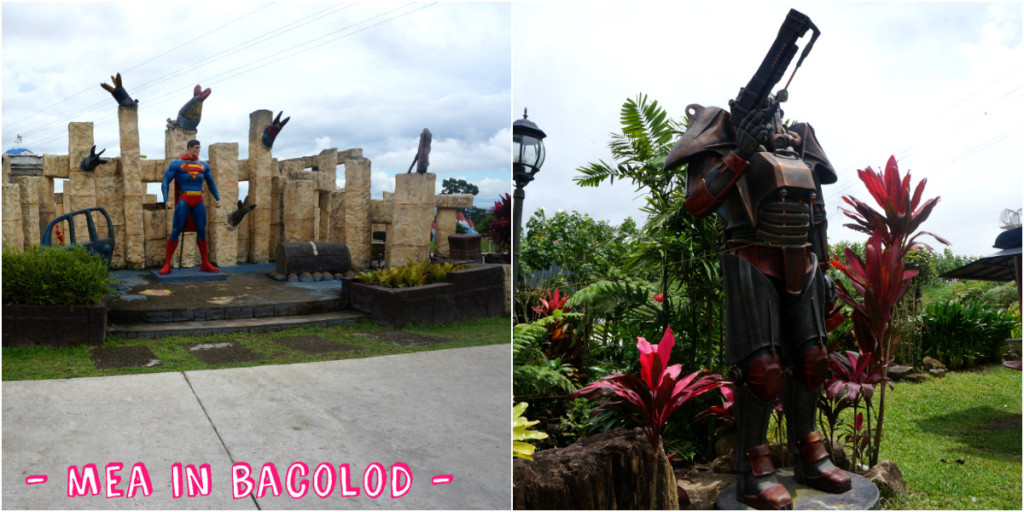 These are very popular resort features. These life-size action figures are a hit with both kids and adults. The most famous would have to be Hero's Hall where you get to take pictures with Superman, the Green Lantern, Batman and other comic book super stars. You'll also see Mickey Mouse, Po from Kung Fu Panda, and a giant Islander slipper. Take as many pictures as you want with your favorite character!
Spa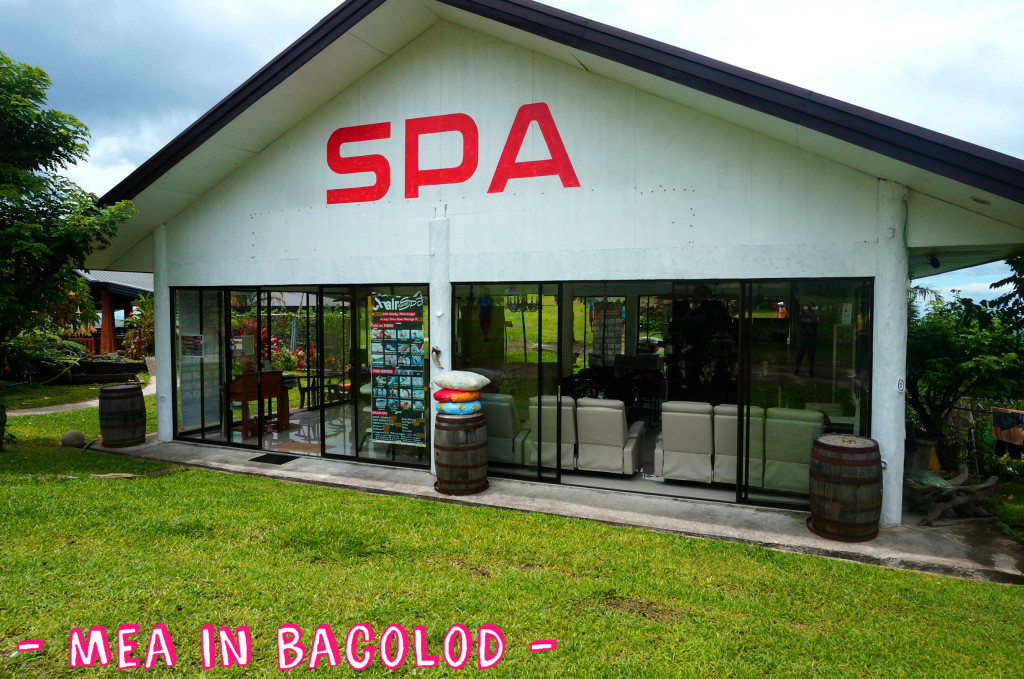 Here's a treat for you! How about you let the kids go and play and you spend an entire day at the spa? Campuestohan now has a branch of Chair Spa within the premises. The services are various but when we went there, one of my cousins got her nails done at an affordable price.
Ice Cream, Photos,and Coffee
Too bad I wasn't able to take a photo of most of these but you should know that the resort has carts for food scattered throughout the walking areas. It's not that many but you will see some while you're walking around. Fior Gelato has a big shop located at the side of a playground and a small stand or cart somewhere near the lodge, I think. Smaller carts are also parked in a certain area for selling photos and concessions. When I went there, most of these shops were closed.
The Restaurant
The Outside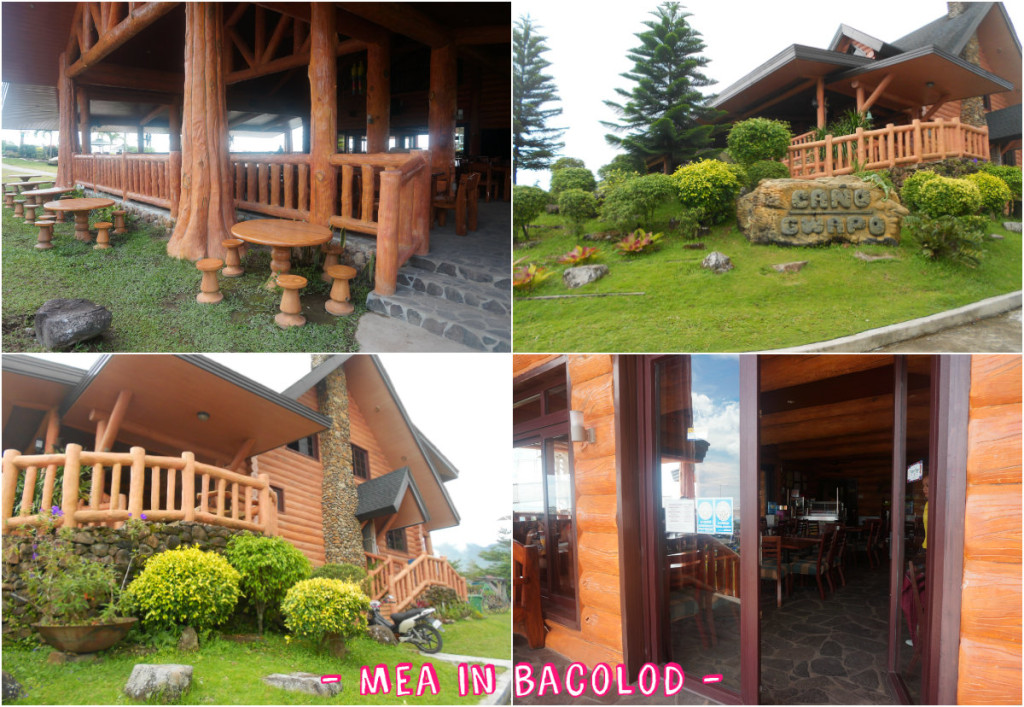 You'll definitely know that you've arrived in the restaurant's area when you see Mr. Ricardo "Cano" Tan's signature – "Cano Gwapo". Who knew that Mr. Tan had a fun side?
Inside + The Food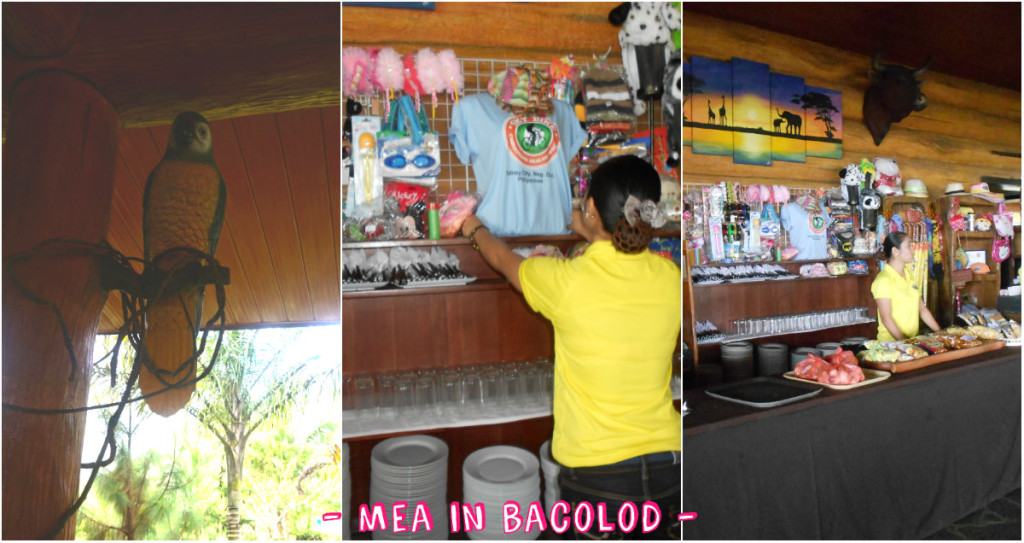 The inside has tons of seating, mostly, if not all, wood furniture. You'll also see a lot of stuffed-looking animals as well as trophy heads on the walls of the restaurant. Dear PETA, they are not real. They're merely there for display and are made of non-living materials, I checked. The restaurant is also where you can find souvenirs.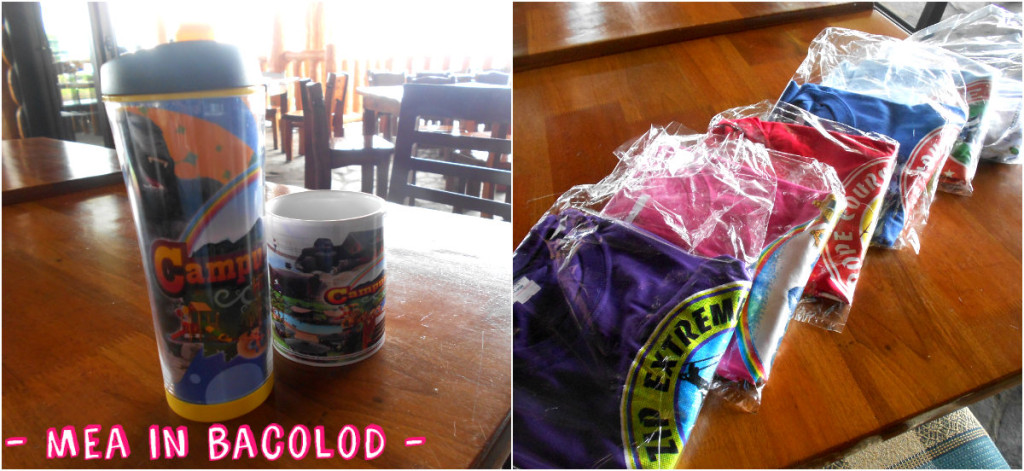 There might be other types of souvenirs available so it's better to visit the restaurant if you really want one. As for the food, well I haven't tasted any of the restaurant's food yet but they sure do look appetizing. We brought our own as most groups and families do while visiting the resort.
Food recommendations by the kitchen:
Black Pata – P420
Gising-gising – P125
Binukad-kad na Plapla – P 220
KanKong stem with Gata and shrimp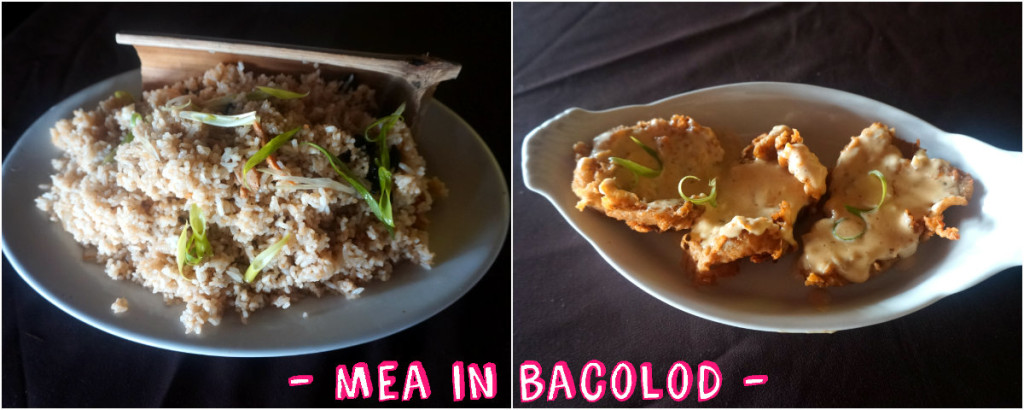 Clara's food pasalubong item's can also be found on display at the resto. In the city, Clara's can be found near Pendy's.
Bonus Restaurant Tip
Here's another thing that's not on the website. Did you know that you can actualy do events such as family reunions, weddings, birthday parties and the like upstairs? The resort's restaurant has a function room upstairs which is good for 100 people. Tables and chairs are already step-up, plus you get to use the karaoke for free when you rent the venue.

P8000 for 4 hours
Catering Menu worth P300 – P500 is available
Minimum of 50 people, additional of P50/head if in excess
Choice of soup or vegetable dish, main course, rice, dessert (this will vary depending on the cost per head)
Free use of facilities and pool (entrance fee waived)
In charge of functions: Mr. Gerard Dela Cruz
Best for receptions, birthdays and seminars
---
Let's take a breather for now! That was a lot to take in for one post so I'm breaking this guide down into two parts. Only the rides remain and you have to admit, the rides are a whole other story on their own. Stay tuned for Part 2 if you want to know more about the fantastic Campuestohan Highland Resort.
For your reservations, please contact the following numbers:
Landline: (034) 702-0964; (034) 433-3335
Mobile: 0915-211-1406; 0917-300-5007; 0925-600-8088
Office Hours: 9:00 AM to 6:00 PM
Office Address: Bacolod TP Truckers, Gonzaga St., Bacolod City
Resort Address: Sitio Campuestohan Brgy. Cabatangan/ alternate route via brgy. Granada and Alangilan Talisay City 6100 Philippines