My husband worked in Saudi Arabia for about a year. When he came home, he had already developed the skill for speaking Arabic (though not fluently) as well as the taste for Middle Eastern food. It was inevitable for him to miss both. Although it has been hard for him to find someone to speak Arabic with, it's been easier for him to have his middle Eastern food fix because of Kabbara Cafe, which serves delicious Bacolod Lebanese food.
We both ate there for the first time a couple of months ago (and you can read that story here). Recently, I was invited back to the cafe to taste more the Bacolod Lebanese food, and I have come to two conclusions:
Lebanese food is healthy and colorful. Not everyone will appreciate it because we all have different tastes, but you do not need adventurous taste buds to love Kabbara Cafe's menu. All you need to bring with you is an open mind for new things and an empty stomach.
My husband (Jingol) is crazy for Kabbara Cafe's Kabsa Lamb. It's really a must try.
MORE Bacolod Lebanese Food from Kabbara Cafe
The cafe is consistently adding new dishes to their menu because there are a lot more Lebanese deliciousness they'd like to offer to the public. Currently, they have the following new dishes:
1. Date Bars – MUST TRY

I already talked about these on my first Kabbara Cafe story here. This is another must-try on my list. Trust me! Middle Eastern date bars are to die for.
2. Mix Kebab Platter
3. Mixed Cheese & Beef Sambousa
4. Fattoush Salad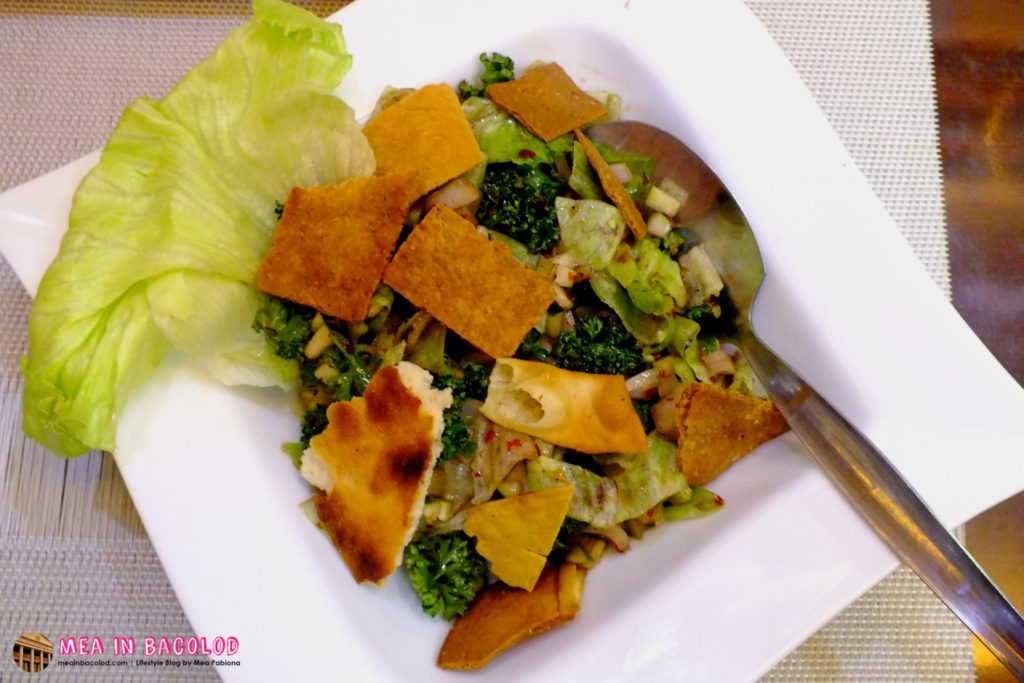 Fattoush is a Levantine bread salad made from toasted or fried pieces of pita bread combined with mixed greens and other vegetables, such as radishes and tomatoes.
5. 3 Appetizers (Hummous / Babaganoush / Mutabal) with Pita bread – MUST TRY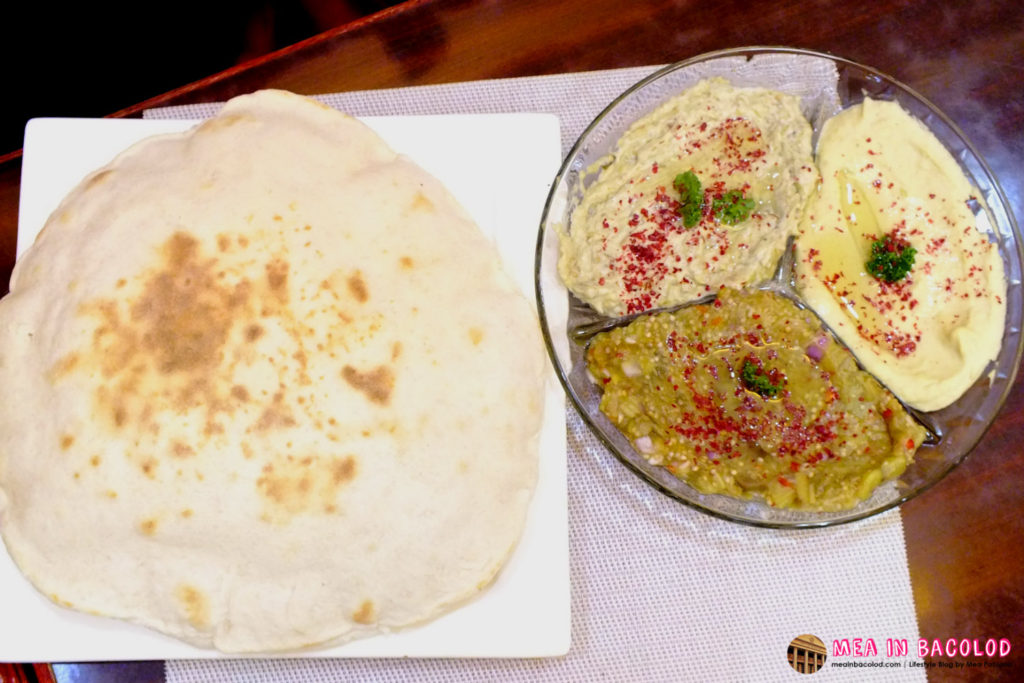 I'm not sure if Middle Easterners have this as a snack. Whatever the case, you can eat it anyway you want. I especially love the Hummus dip which is the lightest of the three.
6. Mougrabia – Can be a substitute for rice. MUST TRY.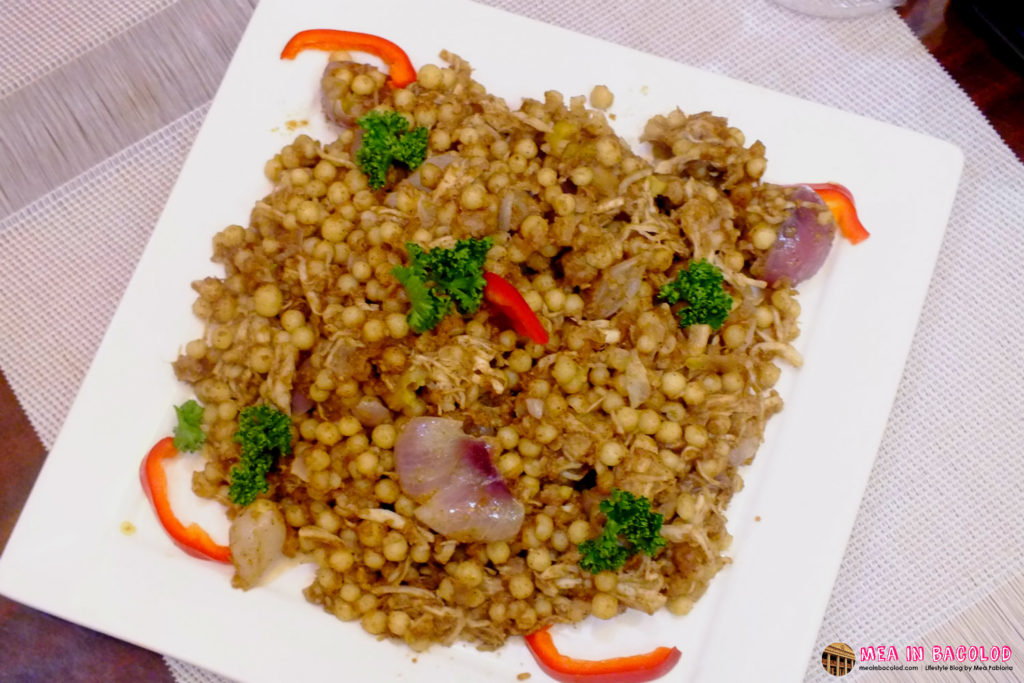 I did my research and this is actually the Lebanese version of couscous. The one that the cafe serves has chickpeas and chicken, shredded into bits.
7. Shish Taouk Chicken with Rice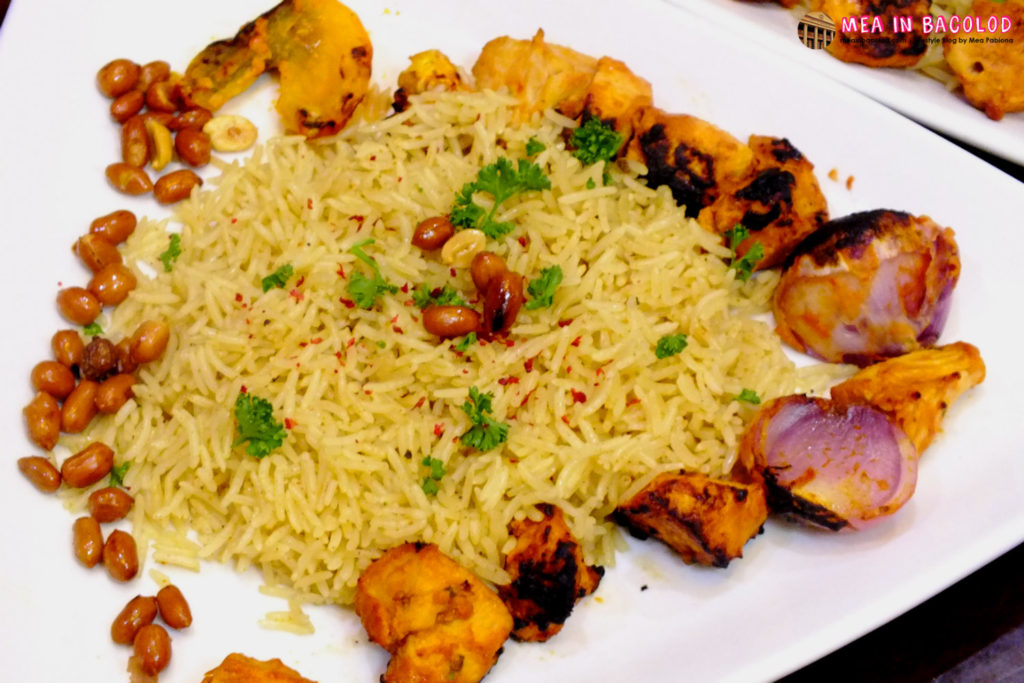 It's your basic marinated chicken shish kebab. Isn't it colorful and fun? It's interesting to me because of the nuts on the side. You have to try this one too if you visit the cafe.
6. Mango Frappe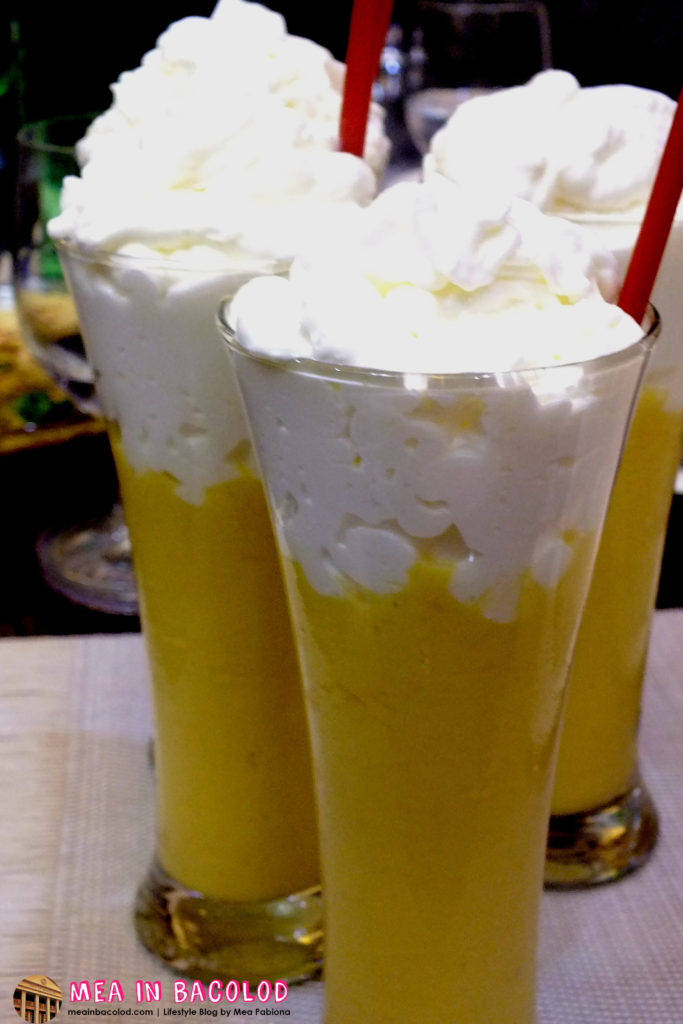 Down all of your meals with this delicious mango frappe.
8. Hummus Msabaha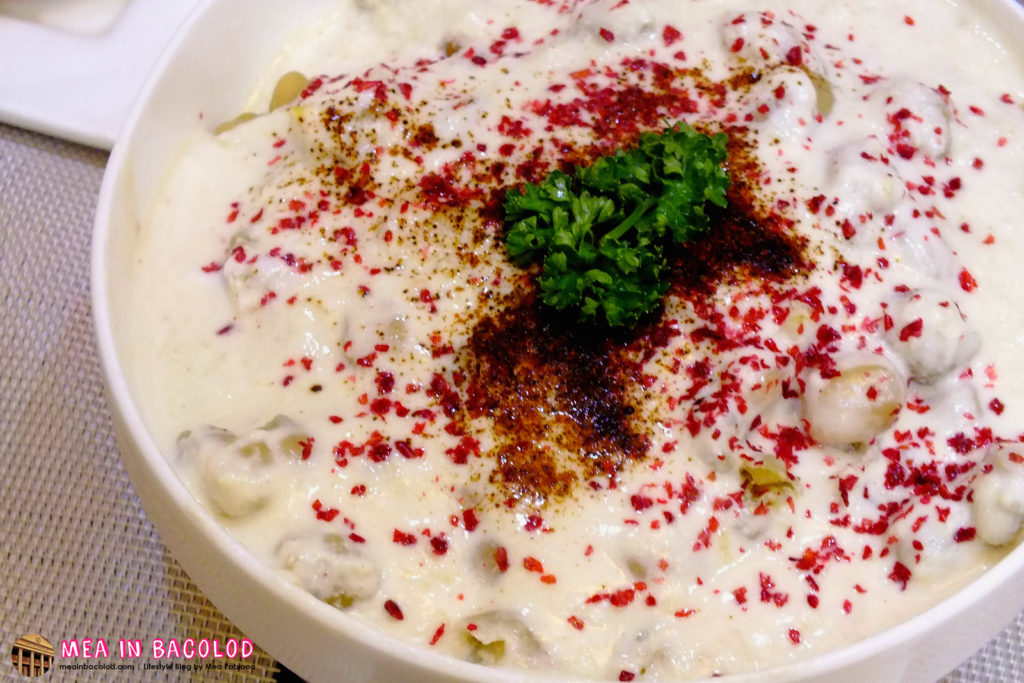 Ok so this hummus is different from the one that's used as a dip. For one, this has lemon juice in it so it is a bit sour (sour in a delicious way). At the bottom of this is whole chickpeas. According to one of the owners, this is one Bacolod Lebanese food that is common in a Lebanese household. He cooked this for me, Sigrid of sigridsays.com and Dennis of mamacooks.info, so he dialed down the sourness.
9. Laham Bagine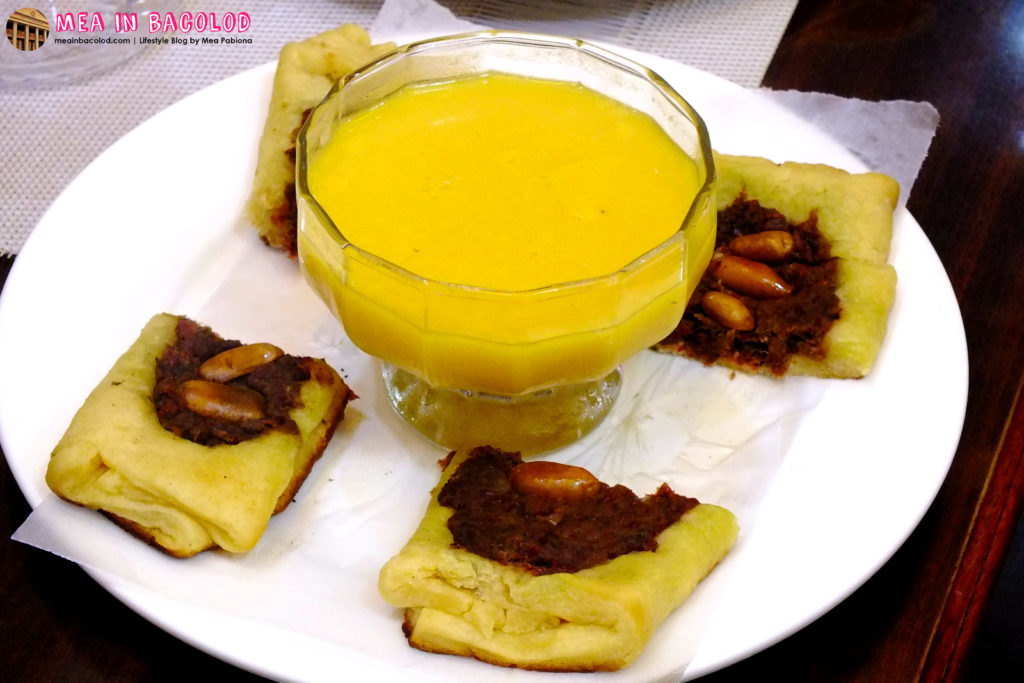 This i'd have to double check, but it's been said that this is a popular breakfast dish in Lebanon. The yellow cup at the center is very similar to our egg pudding.
10. Kibbeh – MUST TRY
The closest food item that I can liken to Kibbeh is our meatball. It is made of bulgur, minced onions, and finely ground lean beef, lamb, goat or camel meat with Middle-Eastern spices.
11. Lebanese Pizza – MUST TRY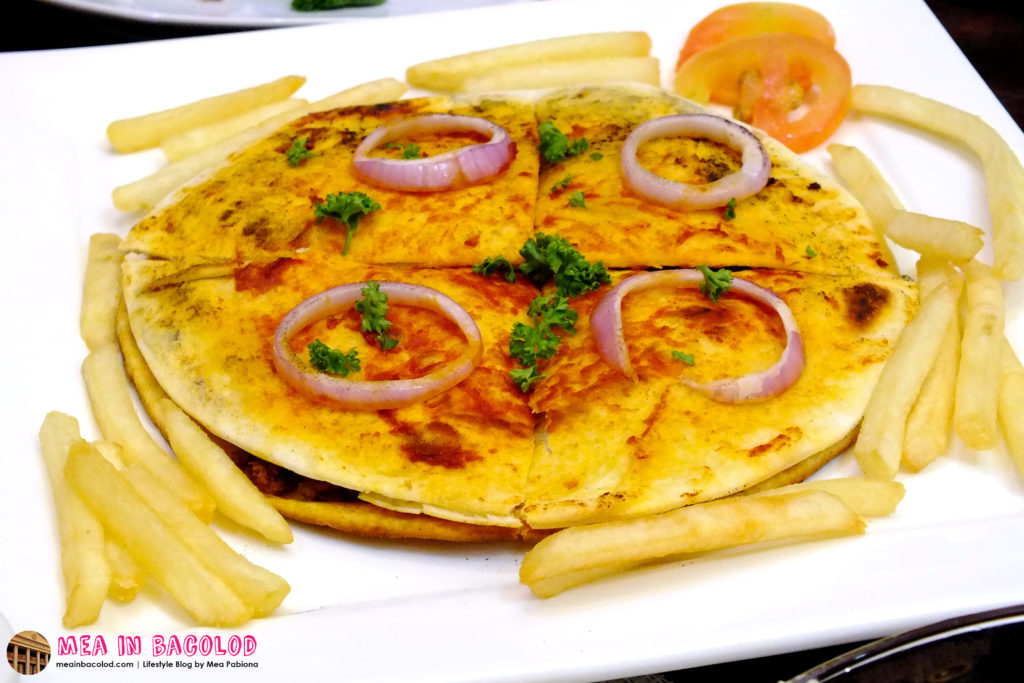 Last, but not the least, is the Lebanese pizza. It looks like a quesadilla, but it has meat in it. It's tasty and it's probably impossible for anyone to dislike this dish.
Bacolod Lebanese Food Deals at Kabbara Cafe
Mondays and Fridays are buy one take one on Shawarmas! Visit during the days mentioned and have your fill of authentic Middle Eastern Shawarmas.
LIKE Mea in Bacolod on Facebook
Kabbara Cafe
Address: BS Aquino Drive Corner Avenue Lacson St. ( Landmark is Outdoor Master )
Bacolod CIty
 Contact no: 0949 763 5377