I've mentioned Sitting Duck to a few of my friends before and I don't know why they associate it with Chinese cooking. It's probably the "Duck" part and I do have to admit that the name rhymes with Peking Duck which is a popular Chinese dish. Let me do a bit of notion-busting by writing a review of the restaurant.
Profile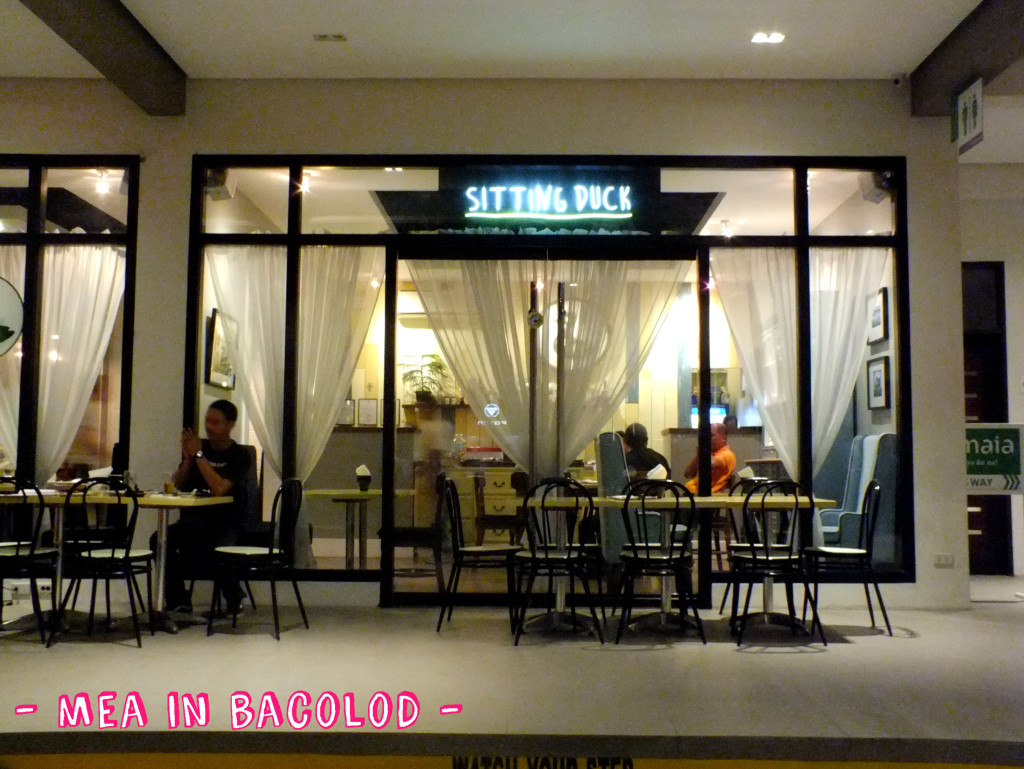 Location: Paseo Verde, Mandalagan
Price: Reasonable
Opening/Closing: 10:AM – 12:00MN
Wednesday Partner
My sister was actually the one who told me that she would like to have dinner at Sitting Duck. It was a Wednesday and I wasn't really feeling peppy from all the work I had done during the afternoon so I thought it was a good chance for me and her to catch up. I'm glad I decided to go because Wednesdays ended up being "Blogger Wednesday" for myself, my sister and two of our friends who also like to just hang out, unwind, talk and eat. The goal every Wednesday is to visit a new place in Bacolod, to taste the food, hang out and do a review. And so it was.
Menu Sneak Peak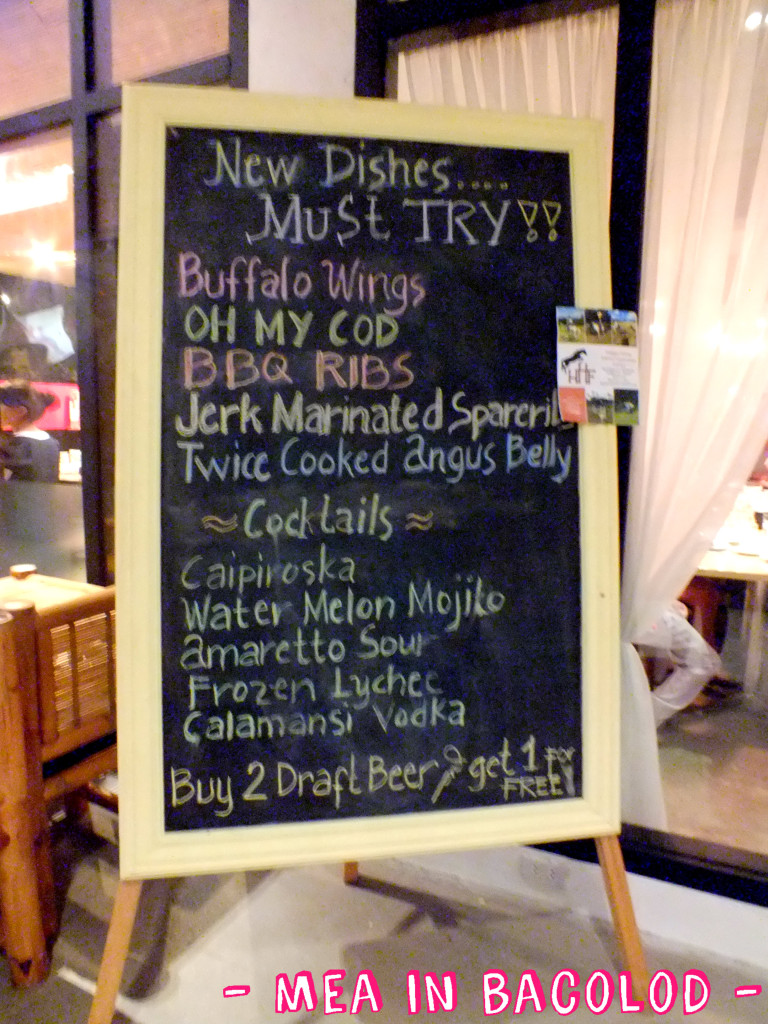 You can actually see a bit of their menu before walking in. When we went there, they featured their new dishes on the board. I thought that this was helpful as the witty dish names spiked customer curiosity and interest. I know I wanted to try "OH MY COD" but, as bad luck would have it, they didn't  have cod that time. The cocktails plus the deal on the draft beer also made it difficult not to come in.
The Place
The place is very home-y and comfortable. It reminds me of the interior of a log cabin which, I think, makes people want to linger and relax some more. People who were there probably agree with me as there were several groups that were also doing the same thing we were – eating, drinking and chika-chika.
I can't really say that it's on the fancy side but that's what I like about the place – it feels intimate and comfortable. The color combinations of the walls plus the furniture also contribute to the comfortable ambiance of the restaurant. In my opinion, the Sitting Duck is perfect for that weeknight where you feel the need to just go out with your friends and spend some quality time together.
Our Orders
Drink: Draft Beer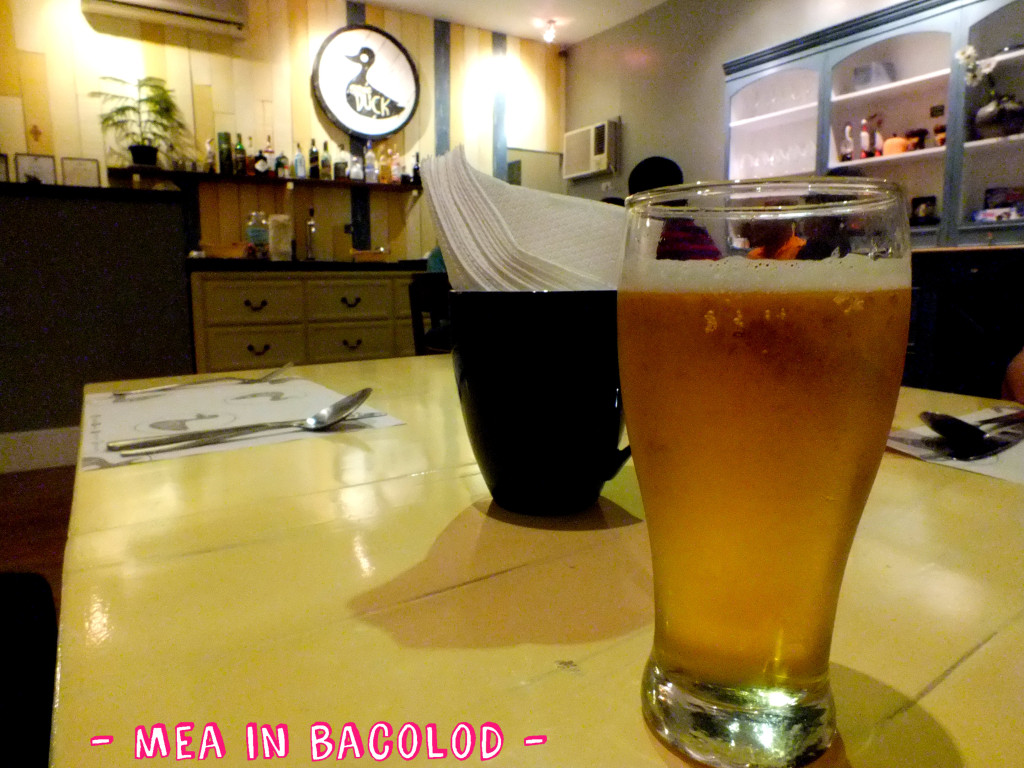 The draft beer was served in a small glass. I think, and please correct me if I am wrong, the draft they have is Pilsen which is soft and has a dash of bitter taste at the end.
Appetizer: Social Swimmers
Social swimmers are fillets of fried Tabagak, with aioli and reduced balsamic vinegar. I don't usually eat Tabagak but for this I will make an exception.
Main Dishes:
Sitting Duck's Chicken Confit
Sitting Duck's Chicken Confit was very flavorful. We didn't order rice so a bland side dish would have made this menu perfect. It did have potatoes but the they also had the same flavor as the dish. Nevertheless, side dish or not, the flavors were bursting, making the chicken very enjoyable to eat. The skin was crispy and the inside tender.
Angus Belly, Mixed Mushrooms & Shallots
Another tasty dish from Sitting Duck's kitchen. I highly recommend this one because it's got a lot of flavor as well (same as the Chicken) but this time, it has potatoes that weren't flavored all the way through to help balance out the taste. The meat was tender and it was cooked just the way I like it – dw crusty gamay sa gwa and humok sa sulod. #laway
Dessert: Fried Snickers
I don't think that I need to explain the taste of this one. The snickers is inside the twinky-like pastry. You eat it with vanilla ice cream and a little bit of chocolate syrup. No words could describe the happiness I felt when manong waiter brought this out.
Summary
The service was fantastic (10-14mins waiting time; we always had water). We obviously had the best time. My sister had the watermelon cocktail after dinner, I had coffee and Anya, another Wednesday buddy, had the beer. It was the best way to cap the night at the Sitting Duck restuarant. I highly recommend that you visit this place when you're in the Mandalagan area; bring your friends, bring your family (kid-friendly location), bring your amigas and have a few drinks!
To the staff, management and chef of Sitting Duck, please keep doing what you're doing. The food is phenomenal and expect to see me there more often!
To know more about the restaurant, please visit: Sitting Duck Facebook Page
Don't forget to LIKE MY PAGE as I will be having a few other pictures of other menus there as well as on my Instagram.